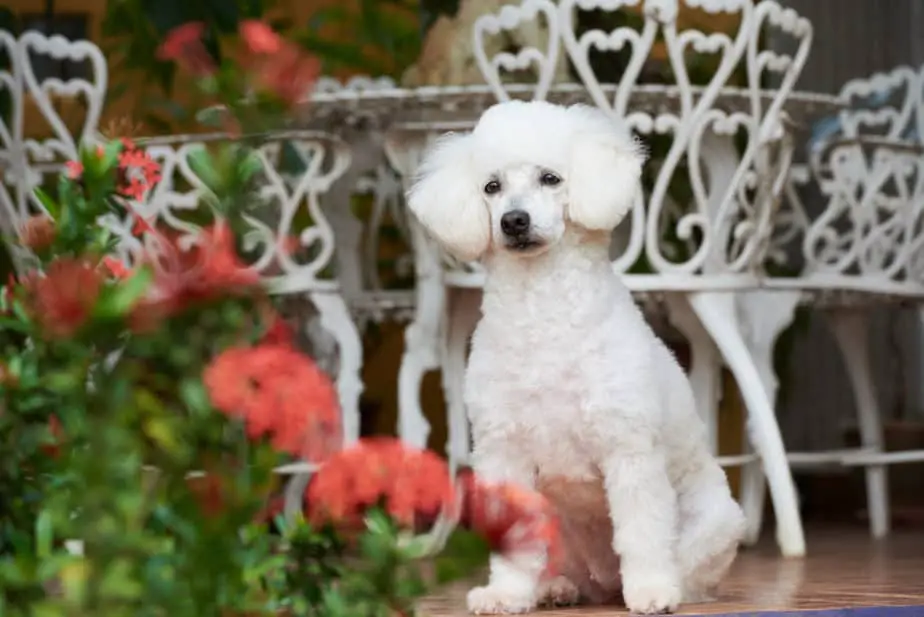 Poodles are so associated with French culture that the dogs are often used as an icon for the country. But the truth about poodles and their lineage is a little bit murkier than that. As one of the oldest standardized breeds of dog, the poodle derives some of its genetic origins from across the world. 
So are all poodles French? Probably not. Poodles are actually believed to be a German breed with their name deriving from the German word pudel, or "puddle". These Pudelhunds or "puddle hounds" were originally bred as hunting dogs and retrievers that would swim out into bodies of water to retrieve fallen waterfowl for the hunter once it has been shot. 
Because it's been a pure breed for hundreds of years, poodles have a complicated heritage. Read on to find out more about these wonderful dogs and where they really came from. 
What Breeds Make up a Poodle? 
The Poodle comes from many different bloodlines that have been crossed since the 8th century, so determining its origins can be a little tricky. Though there are plenty of illustrations and writings that describe poodle-like dogs from this time period, there were not the kinds of careful records kept of breeding that are kept in modern times. 
While poodles are known in modern history as a predominately hunting breed, many ancestors of the modern poodle breed were actually herding dogs. The proto-Germans, known as Goths, traveled across ancient Europe in nomadic tribes, and their curly-haired herding dogs went with them. It is believed that these dogs formed some of the ancestral bloodlines for the modern poodle. 
When the Goths invaded nearby France and other areas, poodles naturally spread to other parts of Europe and eventually incorporated the characteristics of other breeds. In France, the German herding poodle was repurposed as a hunting dog due to its high intelligence and trainability. 
Here are some of the other older breeds that had a hand in forming the basis for the contemporary poodle: 
Barbet: The Barbet is a black curly-coated French dog renowned for its retrieval ability in the water, and it is believed that the Barbet forms one of the major French breed influences into the poodle bloodline.


 Puli: The Puli is a herding breed from Hungary with long, coarse rolls of hair that resemble dreadlocks. It is believed that the Puli was bred into working poodle bloodlines in order to make its coat more waterproof. 
Evidence of both these breeds can still be seen in poodles, and in fact working poodles have continued to deviate into two different paths – water dogs, and herding dogs. 
They may not be as popular as some other herding breeds, but poodles have the second highest intelligence of all dogs behind the Border Collie. This makes them uniquely positioned to learn all the complex behaviors necessary to herd sheep and other livestock. 
Personality Traits of the Poodle Family
Even though they come in a variety of sizes, coat cuts, and colors, all poodles share a variety of common personality traits. Some of these traits have been bred into them in order to make them more versatile and efficient working dogs, while others have been bred into them to make them better companions. Here are some of the personality traits of the poodle (endearing and otherwise): 
High intelligence: The super intellect of a poodle makes them very easy to train with the right bonding and motivation, but this high intelligence can also lead to mischievous behavior if not properly stimulated. Poodles are one of the few breeds of dogs designed to take independent actions to solve complex problems. In other words, this is a dog that is smart enough to plan.
Active and lively: Poodles can be rambunctious companions and have a high energy level, especially as older puppies and adolescents. This can be either an endearing or annoying habit depending on how well the poodle is trained to channel its activity into appropriate behaviors.
Good sense of humor: Many poodle owners report that their poodles are the comedians of the household and their playful, sometimes ridiculous behavior can have their owners laughing for years of fun.
Attention-seeking: As either a working dog or a non-sporting toy dog, poodles are bred to be closely bonded to people and to interact with them closely on a daily basis. Without this kind of attention from their owner, some poodles can turn to nuisance barking or other annoying, destructive behaviors.
Aggression: While poodles in general don't have a reputation for viciousness, miniature and toy varieties can potentially become aggressive to people outside of the immediate family without proper socialization. Because they are so small, these dogs are often spoiled or sheltered as well. This can lead to behavior such as resource guarding or fear aggression.
For more information about why poodles can get aggressive and how to stop it, read this article.
Jumpers: Because they are so energetic, poodles can get into a bad habit of jumping up on people as puppies that can become a serious hassle as the dog grows older, especially in Standard Poodles. This jumping ability also translates to their ability to easily jump a fence, which means containment can be an issue for some of these smart dogs.
Need for exercise: As fancy-looking as they are, poodles are working dogs at heart (remember even miniature poodles were traditionally truffle hunters) and as a result of that, they are constantly itching for something to do to burn off some energy. Like most high energy, smart dogs, poodles do best when they have a regular source of moderate to intense exercise.
Loyal and protective: It's not hard to see why poodles were used as sentry dogs to guard military installations—these dogs may not be as intimidating as some of the other guard dog breeds, but they are determined to protect life and property in the event of danger. This makes Standard Poodles a good choice for home protection since they will both alert their owners and attack a trespasser.
Emotional sensitivity or skittishness: It's important when looking for a poodle that you find a breeder with temperament-proven bloodlines. These intelligent dogs can become a little neurotic or high-strung in some genetic pools, so finding a reputable breeder can be the key to finding a poodle that is well-mannered and calm. Poodles are also sensitive and do not do well when corrected harshly or struck. 
Some of these personality traits are just something you have to live with as the owner of a dog in the poodle family, but the more negative traits such as nuisance barking or fear aggression can often be prevented with a strong regimen of obedience training and exercise. 
As long as a poodle puppy is socialized and trained from an early age, these fantastic dogs can be adapted to almost any home or work environment. And with how easy they are to train, you can teach a poodle to do practically anything you want it to do as long as you treat it well.

Are There German Poodles? 
There are German poodles, and American poodles, and Chinese poodles. Modern poodles are not limited to a geographic location, and the age of the poodle's bloodline is so old that the German people do not have a solid claim on the breed. 
Nevertheless, poodles have been around in Germany for centuries and are known as pugelhunds or "puddle hounds" because of their penchant for retrieving ducks and other waterfowl. In French they are known as the caniche, or "duck dogs". Both varieties of poodle are similar in color, coat type, and temperament. 
The poodle was originally recognized by the AKC in 1887, and since then its breeding guidelines have been standardized across the world. The major differences you're going to see in poodles as a breed is in their size, their coat type, and in their function. 
What Jobs Have Poodles Historically been bred for?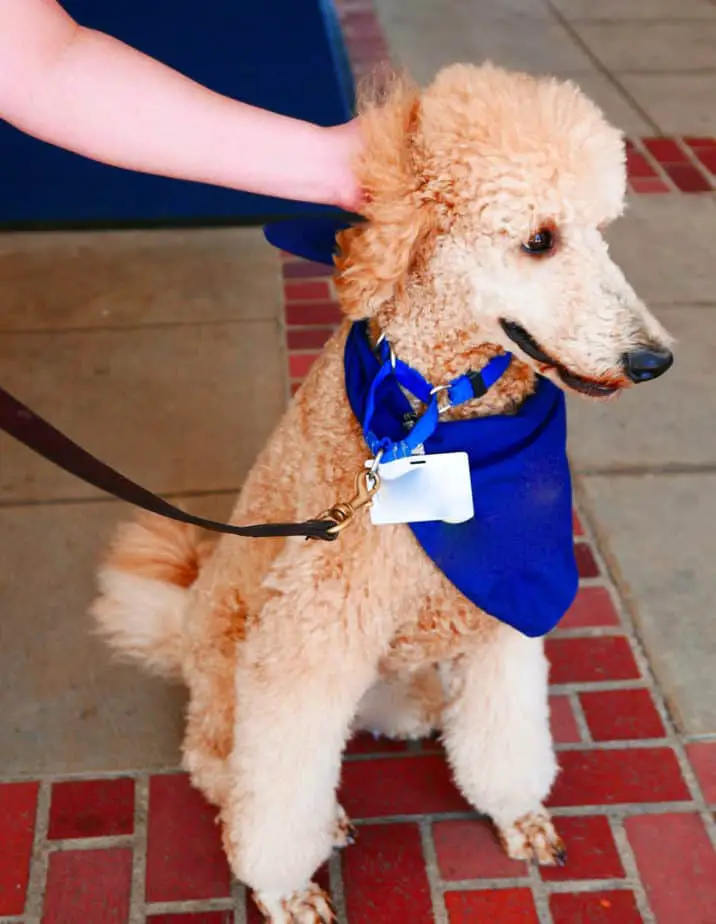 Poodles have been around for a long time and in many different European countries for centuries. As a result, they have been bred and trained to adapt to a wide variety of jobs working alongside human beings. These are some of the jobs that poodles have been bred to do over the past several centuries: 
Water retrieval dogs: First and foremost, the poodle is a water dog in both its home nation of Germany and its adopted nation of France, and it's for this function that the poodle was named . Water dogs are bred by hunters to swim out to the middle of lakes and ponds to collect ducks, loons, geese, and other waterfowl that are shot out of the sky. Their high trainability makes them excellent gun dogs.

Herding: In many parts of Europe, the standard poodle (while it might have been outranked by other European herding breeds) is still utilized as a herding dog. While it has lost some popularity in this role due to coat maintenance in comparison to short haired herding breeds, the intelligence of the poodle makes it a very independent problem solver in either a herding or retrieving role.

Circus dogs: The cotton candy-esque texture of a groomed poodle's fur, their trainability, and their comedic demeanor make them natural performers, and poodles have been showcased for years alongside clowns and other opening acts in three ring circuses. Not only can these dogs learn a tremendous amount of impressive tricks, they are usually hams that enjoy laughter and attention.


Therapy dogs: Poodles are a popular breed for therapy dogs to aid the special needs population, and they're also a great dog as an emotional support animal for both individuals and group scenarios such as nursing homes and hospitals.

War dogs: While you wouldn't know it by looking at them, poodles have been used as military dogs for many years. While they didn't make the cut for combat dogs in WWII due to their high-maintenance coats, that didn't stop the military from using them as military police dogs, patrolling scouts, and as sentries for military installations.

Truffle hunting: It isn't widely known, but the miniature variety of poodle developed in Victorian England wasn't just a lap dog—these dogs were also used to hunt expensive and delicious truffles on the reasoning that their small, light feet would be less damaging to the delicate mushrooms. 

Companion dogs: The chief role of the poodle for the past several hundred years other than working dog has been as a family pet and companion. Poodles are known to have a very loyal temperament and if properly socialized, they are exceptionally friendly with other dogs, cats, and children. Their popularity as household pets has made miniature and toy poodles as popular (if not more so) than their standard cousins. 
Some people see poodles as just a frilly show dog with a perfectly clipped coat, but it's more accurate to acknowledge that out of the several job roles poodles have held as a breed, looking pretty has only been one of many different poodle specialties. 
What Dog Breeds Originated from The Poodle?
Because they have originated from so many different types of ancient dogs, it is difficult to determine which breeds that have been lost to history are responsible for the ancestry of the poodle. However, since its inception as a breed, the standard poodle has been used to add its characteristics to several other newer breeds of dog. Here are some of the breeds that can trace their origins back to the Standard Poodle: 
Miniature Schnauzer and Standard Schnauzer: The Schnauzer is a German terrier known for its feisty and fun-loving attitude and named for its distinctive mustache. Like poodles, schnauzers are great family dogs with a reputation for loyalty and sentry duty.


Bichon Frise: The poodle was incorporated into the Bichon Frise in order to help prevent the breed from going extinct. Bichon Frise are a toy dog with a bright white fluffy coat that shows in the Non-Sporting class. These French dogs, like poodles, were popular with the nobility as a lap dog and a status symbol.


Irish Water Spaniel: Irish Water Spaniels are very similar to Standard Poodles in form and function, having been bred as another curly-coated breed of water dog. Irish Water Spaniels do not have the finer bone structure of a poodle, however, and are more reminiscent of other water retrievers in their facial structure.


Curly-Coated Retriever: The Curly-Coated Retriever is another example of the poodle being bred into another European water dog, and this retriever pretty much looks like a Labrador retriever with a perm. Even though this dog looks like a poodle-lab crossbreed, the Curly-Coated Retriever is actually one of the older breeds of water dogs.


Pudelpointer: The Pudelpointer is pretty much what it says on the tin—a stable crossbreed between the poodle and the German Pointer that resulted in an intelligence working down with both versatility and good looks. There is a strong emphasis in working performance in the breeding of Pudelpointers, with dogs being forced to pass Hunt Tests before breeding. 
As you can see, the cousins of the poodle span all sorts of other breeds, from hard-working hunting dogs to the lap dogs of Victorian nobility. The factors that make poodles popular additions to these various other breeds of dog are twofold:
Intelligence: The poodle is the second-most intelligent dog breed known other than the Border Collie, and this high level of intelligence combined with a moderate desire to please (as long as it is respected by its owner) makes the poodle a master at learning just about any complex task that is presented to it.


Coat: The poodle's unique curly fur is both hypoallergenic and waterproof, making it a popular choice for house pets and water dogs alike. Not only does a poodle's coat come in many different striking cuts that change the look of the dog, it also comes in a wide variety of colors. 
These two factors—intelligence and coat—have led the poodle to be bred into many different breeds.  
How Many Sizes of Poodles Are There?
One of the major differences you'll see in the poodle family is in the different sizes of poodles that are bred in contemporary times. There are three different sizes of poodle that are currently available in the world today:
Standard Poodle: Standard Poodles are the originating size that the breed was available in since it was derived from full-sized working dogs. A Standard Poodle stands between twenty-two to twenty-seven inches at the shoulder and weigh roughly forty-five to seventy pounds.


Miniature Poodle: Because Standard Poodles quickly became a mark of wealth and status among the elite of 19th century Europe, it wasn't long before they were bred down to a slightly smaller size to accommodate household living. Miniature Poodles are between ten and fifteen inches at the shoulder and weigh fifteen to seventeen pounds.


Toy Poodle: Toy Poodles are the smallest variety of poodle and are used almost exclusively as companion dogs for indoor living. They achieved the height of their popularity in Victorian England, where ladies-in-waiting enjoyed dying and cutting the hair of their dogs in accordance with contemporary fashion. These small dogs pack all the intelligence and independence of a standard poodle into a fluffy, portable package.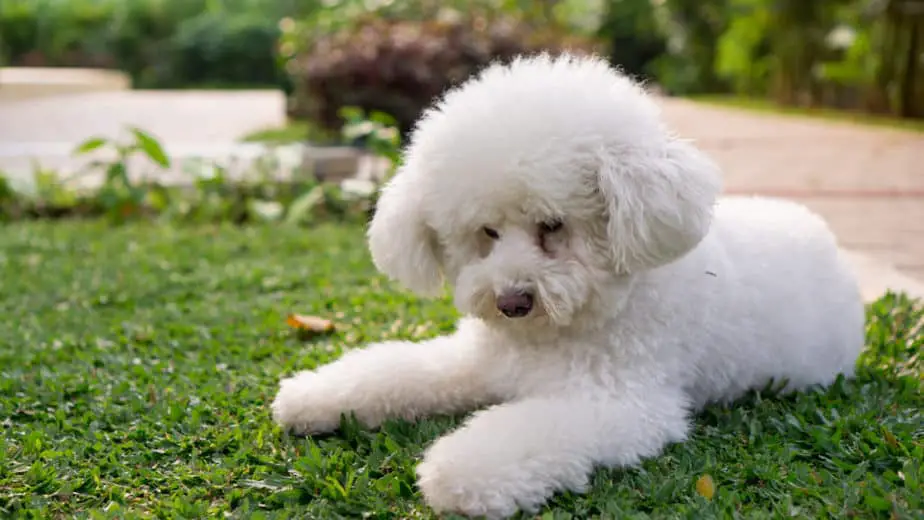 While all sizes of poodle are in the same breed family, the different sizes are judged in accordance with their function. Standard Poodles are shown competitively in the "Working" show class, while miniature and toy poodles show in the "Non-sporting" class. 
How Many Different Kinds of Coats Do Poodles Have? 
Depending on whether a poodle is a show dog, a working dog, or a household companion, poodles sport their hair in a variety of eye-catching ways. All poodles have the same basic coat type, but they are often cut or groomed to look radically different. 
Here are some of the different ways that poodles are groomed: 
Puppy cut: Puppy cuts are a popular choice for poodles that are kept as household pets since they are easy to maintain in comparison to other poodle haircuts. This is especially true in Standard Poodles, where grooming and haircuts can end up becoming much more costly than with their smaller cousins. However, because people do not expect to see poodles cut in this way, they are often mistaken for a poodle crossbreed such as a Labradoodle. 
Continental clip: A continental clip is one of the cuts that poodles are known for since it is a show cut and involves shaving the dog down to the skin in most areas except for a few spots at the saddle, chest, head, and tail. This haircut has its origins in working dog functionality, however, as these patches of hair are left on the dog to keep it warm while keeping it sleek enough to swim quickly in water. 
English saddle clip: The English saddle clip is a similar show clip to the Continental clip, except that the poodle's face and tail are shaved, and pom-poms are left at the dog's ankles. 
There are other kinds of specialty clips such as the bikini cut or the town and country cut, but these poodle haircuts are not allowed in show and instead are just some of the cosmetic variations that groomed poodles are given as household companions. 
For poodles that are used as working dogs in any capacity, a utility cut is often used that simply scissors the dog's hair short all over and removes any kind of decorative style. 
While this cut may seem spartan in appearance in comparison to some of the fancier poodle hair-dos, what this cut lacks in style it makes up for in versatility and ease of grooming. Utility cuts are also favored by poodle owners who do not want to spend extra time or money maintaining a more complicated cut.
If you would like more detailed information and pictures of these poodle coats, check out this article.

What Colors Do Poodles Come In? 
Another major way that the poodle family is diverse is in the many different coat colors that poodles can be found in. Unlike other breeds, which may be limited to only a single or a small handful of colors, poodles come in a veritable rainbow of coats. Here are the colors you can find poodles in: 

Apricot
Blue
Brown
Café au Lait
Black
Silver beige
Red
Silver
White
Gray
Cream
Parti-colored (poodles with two-toned coats)
Phantom (a set of markings similar to the points on a Doberman) 
Not all of these colors are accepted in the show ring, but all of them have gained popularity among the owners themselves, and breeders of poodles are always looking at new color combinations to try and stabilize to add to the long list of poodle family coat colors. 
Poodles and Designer Dogs 
The valuable traits of a poodle (friendliness and hyper intelligence) make them a popular dog to crossbreed with in order to produce what are called "designer" dogs.
Designer dogs are specific crossbreeds designed to perpetrate the best of both breeds while also strengthening the genetic diversity and health of the dog. Many purebred dogs are susceptible to health problems as the result of centuries of in-line breeding, but crossbreeding can help eliminate many congenital issues. 
Golden Doodles and Labradoodles

One major poodle crossbreed that has risen to prominence is the Golden Doodle or Labradoodle. These are crossbreeds of the Golden Retriever and Labrador Retriever respectively, and these dogs are thought to perpetrate the friendly fun-loving attitude of a retriever with the higher intelligence of a poodle, leading to a dog that is advertised to be a hypoallergenic superior of both breeds. 
Initially, this dog was bred to solve a working dog problem—guide dogs were needed for those special needs people who were allergic to normal short-haired Labrador retrievers, one of the most prominent breeds used in guide dog training. Wally Conron created the first Labradoodle cross and within years it was one of the most popular crossbreed dogs in the world. 
Unfortunately, if you're getting a Doodle mix from a backyard breeder, it's often difficult to determine just how stable the traits will be in the puppy you're getting. For first-generation crosses, the predominant traits shown and coat texture can vary wildly. 
Toy Poodle Crosses
Other than Labradoodles and Golden Doodles, the toy poodle is often crossbred into many other toy breeds to create a crossbreeds with a wide variety of "designer" looks. Amazingly, some of these crossbreeds can sell for thousands of dollars more than their purebred counterparts. 
The fact that the poodle's hypoallergenic coat tends to be passed down easily makes it a very popular choice for mixing with other toy breeds leading to crosses like the "Maltipoo" (Maltese/Poodle mix) or the "Yorkipoo" (Yorkshire Terrier/Poodle mix).  
Poodles Are an Ancient Breed That Is Still Making Its Mark
Poodles have become such an icon of French culture that it's harder to imagine these clownish dogs actually came from centuries of working stock. Since standard poodles, miniature poodles, and toy poodles were bred for such different functions, there is an amazing degree of versatility in what these fluffy dogs can do. 

No matter where the poodle originated from, if the prevalence of poodle crosses is any indication, this is a breed of dog that is going to be around for centuries more. 
Must Have Products For Poodles And Doodles
Thank you for reading this article. I hope you found it helpful. Here are some products that I personally believe every owner should employ to help ensure the best quality of life for their dogs. These are affiliate links, so if you do decide to use any of them, I'll earn a commission.
But in all honesty, these are the exact products that I use and recommend to everyone, even my own family.
Lemonade Pet Insurance: Lemonade Pet Insurance has enabled me to afford a very high level of veterinary care for my dog, Angus. Even after he was diagnosed with cancer a few years back. Lemonade is a great company, and I can't recommend them enough!
Brain Training For Dogs: Brain Training for dogs is an amazing online training program I found that actually helped me to understand and ultimately stop my dog's separation anxiety and destructive behaviors when I left the house. This program actually works, and at a small fraction of the cost of hiring a dog trainer!
Pet Plate: I first learned of Pet Plate when the company was featured on the TV show "Shark Tank" back in 2016. Pet Plate is the dog food subscription service I use to provide extremely healthy, pre-portioned meals for my dog. Pet Plate gives my dog Angus the highest quality nutrition at a very affordable price.
BarkBox: Without a doubt, my dog enjoys Barkbox more than anything else I buy him. BarkBox delivers a customized box of themed toys, treats, and other products to your door each month. In addition, I like that a percentage of proceeds is donated to local animal shelters.
Pawp.com: Pawp is not insurance. It's a membership program that gives you access to unlimited video calls or texts with a licensed vet 24/7 and includes up to six pets on a single membership! I Purchase this service for my dog Angus and have saved hundreds of dollars over visiting his local vet with questions or more minor health concerns. Pawp will even pay up to $3,000 if your pets experience an emergency situation! Check out Pawp's website to see why Pawp can help you save money and increase your pet's quality of care.