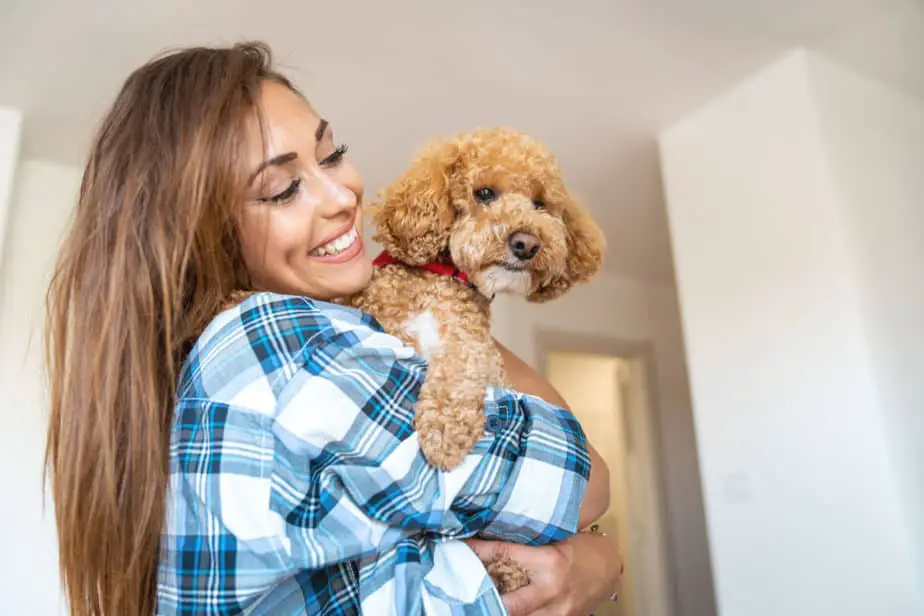 When you think of the most popular dog in the country, who do you think of? For some, it might be the adorable Golden Retriever. Others, the smart German Shepherd come to mind. But if there is one breed that everyone can agree is a number one pick, it's the Poodle. But Why?
Poodles are popular with people of all ages for their intelligence, friendly temperament, and adorable curly coat just to name a few.
Here are the top 16 reasons poodles are so popular:
They Have Amazing Personalities
Poodles Train Easily
They Are Ideal for First-Time Dog Owners
Poodles are Versatile
They Love Water
Everybody Loves Their Curly Coat
Their Coat Doesn't Shed
Their Coat is Hypoallergenic
There is a Variety to Choose From
They Are Highly Photogenic
Poodles Are Snugglers
Poodles Are Cat-Friendly
They Are Also Kid-Friendly
Poodles Are Relatively Healthy
They Have a Long Lifespan
They Become a Lifestyle
If you have ever wondered why a Poodle is so immensely popular, you have come to the right place. We will be breaking down the top 16 reasons why Poodles are so popular. Not only is this tons of fun to read, but you might end up wanting a Poodle of your very own by the end!
Top 16 Reasons Why Poodles Are So Popular
Poodles are undeniably an extremely popular dog breed. In fact, the breed became the most popular breed in America from the years 1960 to 1982. Their 22-year stint as the number 1 dog in America was the longest reign of any other dog breed. Since then, they have maintained a position in the top 10 most popular dog breeds in America and other countries.
Let's take a closer look at 16 reasons why these dogs continue to be one of the most popular breeds across the entire world:
1. They Have Amazing Personalities
One thing dog owners take heavily into consideration is personality. Some dogs are known for being stubborn and rambunctious. Others aren't great with kids because they tend to be feisty. These are all major drawbacks that you won't find in a Poodle.
Poodles are known for having stellar personalities. They love to play around and have a good time. They are even said to be somewhat goofy at times. The Poodle is also a patient fellow that won't mind the antics of smaller children. This playful attitude makes them a great playmate for children of all sizes and ages. 
Aside from being a playmate, the Poodle is also a loving, caring, and affectionate canine. He grows stronger bonds with his loved ones and can be a bit shy around strangers. He is not aggressive, though, which is a major benefit to this breed. 
2. Poodles Train Easily
Training is another major concern for potential pet owners. After all, who wants to struggle with a pup that does not want to be housebroken or refuses to listen to commands? Well, the good news is that Poodles are incredibly easy to train due to their high level of intelligence. 
Poodles are not only easily trained, but they are great listeners, too. As long as you are dominant and consistent with training, then there should be no issue with the Poodle. Keep in mind, though, that Poodles can have a bit of a stubborn side — if allowed. This is mostly acted out with barking streaks.
3. They Are Ideal for First-Time Dog Owners
Since the Poodle is a swift learner and obedient, he is also known to be a great choice for first-time dog owners. This is because he's a breeze to raise. There are no special gimmicks or needs with the Poodle. Train him young and you will be pleased with just how well-behaved your furry best friend is.
Poodles are even wonderful at learning tricks. They will love to show off these tricks on a regular basis, too, as he loves to get attention. 
4. Poodles are Versatile
Some dogs prefer to laze around all day while others need plenty of exercises to keep them happy — the Poodle can do both. To put it simply, the Poodle is a very versatile breed that adapts to the lifestyle of his family. He enjoys snuggling, playing with the kids, or going for a brisk walk here and there.
The Poodle is extremely versatile but is very keen on three activities: agility training, tracking, and walking. Owners can put together agility training courses to improve their skills. Tracking can also be set up to prune this skill as well. As far as walking is concerned, the Poodle will enjoy getting out of the house regularly for his all-time favorite activity.
5. They Love Water
Don't be afraid to take your Poodle in the water, either. Poodles are water bugs that enjoy splashing around in the water. Bring them along for all of your water adventures to the beach, creek, lake, or river. 
6. Everybody Loves Their Curly Coat
If there is one standout feature that everyone loves, it's the Poodles coat. His curly coat is simply fascinating and can easily become a fashion statement when cutting and groomed properly. 
A Poodle's coat can be styled any way you like it. This is just an added bonus of having a Poodle in the home. Keep it longer, snip it shorter. Add some quirky or eccentric styles especially around the head and legs. Make him a showstopper with elegant trimmings. These options are virtually endless.
7. Their Coat Doesn't Shed
Aside from being a charming, eye-catching coat, the Poodle's coat is popular for one more reason — they don't shed. Since any pet owner dreads the daily pickup of loose hairs, this is an extreme advantage of owning a Poodle. Their single coat won't leave a mess in corners of the home or all over the couch, which is something everyone can enjoy.
8. Their Coat is Hypoallergenic
Did we mention they are hypoallergenic? Since there aren't any loose hairs to be found roaming around the home, the Poodle is one of the best dogs for those who suffer from allergies. This means that even the individuals who sneeze even looking at a dog will find love and refuge in a Poodle.
9. There is a Variety to Choose From
Poodles certainly don't come as a "one size fits all", nor do they all come in a standard color. There is such a wide variety of Poodles to choose from. This means that pet owners can get exactly what they are looking for. 
There are three different sizes to choose from:
Standard. 15 to 23 inches tall. Weight between 45 and 80 pounds.
Miniature. 11 to 15 inches tall. Weight between 14 and 18 pounds.
Toy. 8 to 10 inches tall. Weight between 6 and 9 pounds.
There are also a wide range of colors a Poodle may have, including black, brown, apricot, cream, gray, red, silver beige, and white. With so many sizes and color options, it's easy to own the dog of your dreams. 
10. They Are Highly Photogenic
Now, this might not be the first thing that comes to mind when you think about Poodle popularity. But now that it's on your mind, it makes sense — doesn't it? The Poodles charming big brown eyes and long, elegant legs make him an instant model for the camera. 
11. Poodles Are Snugglers
We mentioned earlier about how versatile the Poodle is. He can laze around the house and be a cuddle-buddy or head out for a splash in the local lake. But we didn't emphasize just how fun and comfortable it is to snuggle up with a Poodle.
The Poodle is a true snuggler and will enjoy curling up on the couch or bed with his loved ones for a snooze. The power always enjoys it, too, especially on cold nights. Their curly coat is nice and warm while also being effortlessly comfortable. You might have the best night's sleep of your entire life while snuggled up to your Poodle pal!
12. Poodles Are Cat-Friendly
Thinking about putting a dog and a cat in a single household can feel like a nightmare. And most of the time, that's true. A lot of dogs simply don't get along with cats and the pair can be tumultuous from the get-go. But again, the Poodle comes through as a standout breed that can do almost anything — even get along with cats.
That's right — Poodles are one of the few dog breeds that can get along with a cat. In fact, a Poodle may even become protective of the cat. This is simply one of the Poodles instincts that overshadows any type of prey that might be naturally instilled in a canine. They are typically sweet and loving towards a cat, so there's no issue in having both in the home.
13. They Are Also Kid-Friendly
What's even more important is that they are kid-friendly canines. They have the patience and playful personality to handle children. Even very young kids who might not be the gentlest" playmates will get along with the easy-going Poodle. And, as the children get older, the Poodle will enjoy playing more fun and intense games.
Of course, it's important to note that the same might not be true for the smaller versions. Toy and Miniature Poodles, although have the same loving and goofy personality, might not be a good idea for children. This is simply due to their size. They can become injured far easier than a Standard Poodle.
14. Poodles Are Relatively Healthy
Veterinarian bills are expensive. Finding a dog that isn't prone to a lot of health issues is important. Dog breeds such as the Pug tend to find themselves in the vet's office more often than not, which equates to a hefty price tag. The Poodle, on the other hand, is known for being a sturdy and healthy dog that isn't susceptible to many health issues.
Why does this add to their popularity? Because they are cost-effective, that's why! You don't have to worry about costly veterinarian trips, which saves a lot of money in the long run. 
Of course, that does not mean that Poodles are immune to health issues. They need to continue to have regular checkups. They can also end up with serious health problems including bloat, Addison's disease, thyroid issues, hip dysplasia, and epilepsy. 
Lemonade Pet Insurance insurance has enabled me to afford the highest level of veterinary care for my dog, Angus. Especially after he was diagnosed with cancer a few years back. Visit the Lemonade Health Insurance website here to get a free quote and see why Lemonade is a good fit to protect the health of your dog too.
15. They Have a Long Lifespan
The Poodle is not only known for being a lovable dog with the second-highest level of intelligence and a fascinating coat — they also have a relatively long lifespan, too. Poodles generally live anywhere between 12 and 15 years. This is a bit higher than the average lifespan for similar dogs, which is between 10 and 13 years.
16. They Become a Lifestyle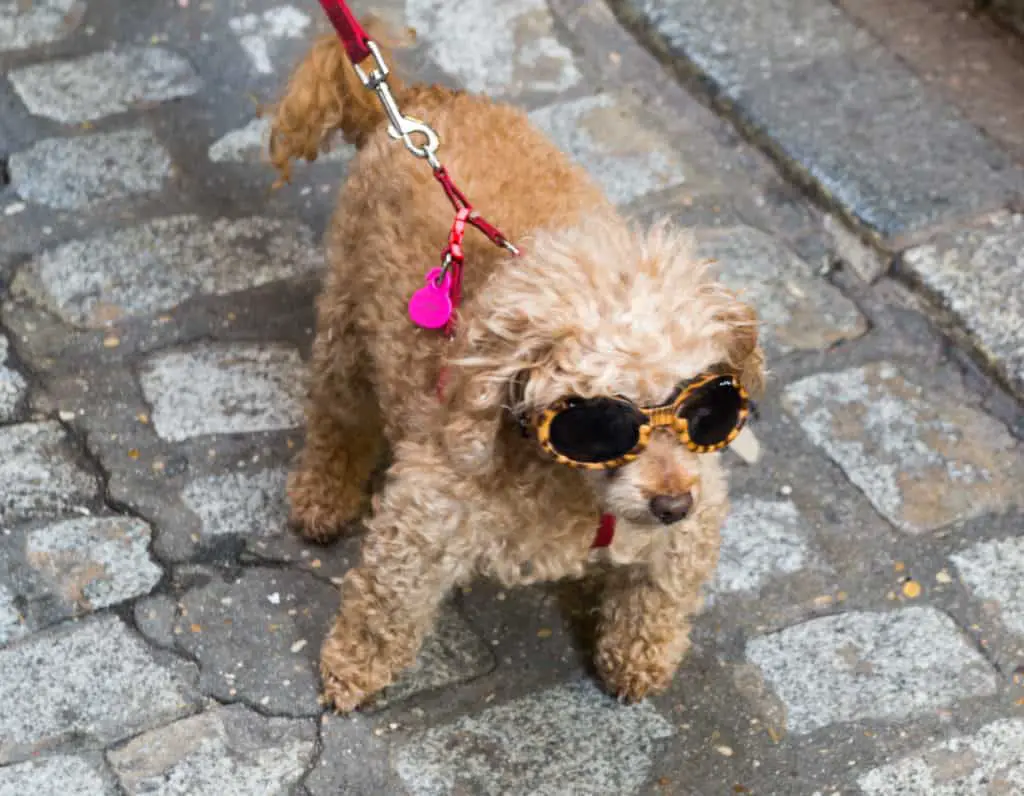 If you see someone with a Poodle, they likely have Poodle accessories, too. That's because owning a Poodle thrusts you into an entirely different lifestyle where Poodles are life. Sound crazy? It might seem like a stretch, but the Poodle lifestyle is real. Just look at all of the people who dress their toy Poodles into fashion-forward outfits and carry them around in their purse.
This "obnoxious" lifestyle is certainly something that draws people in. Even bigger, Standard Poodles create a lifestyle people enjoy. The larger variety can be groomed and trimmed into a variety of "vogue" and eye-catching coats. These intriguing looks add to the overall feel and enjoyment of owning a Poodle. 
History of the Poodle
It's no secret that the Poodle has been a popular dog breed for seemingly hundreds of years. He can be found on paintings from the past, which shows that he has a daily long bloodline. But the actual origin of the Poodle is riddled with controversy. 
Most people are under the impression that the Poodle comes from French beginnings. This is most likely due to the fact that cartoons often depict Poodles as being from France. However, the American Kennel Club states that the breed has roots from Germany where they were bred to be water retrievers. Others disagree and claim roots from Denmark. 
While there is still uncertainty surrounding the motherland of the Poodle, one thing holds true — the roots of the Poodle can be found in three different breeds. These breeds include the Barbet, French Waterdog, and Hungarian Water hound. Together, these three breeds created the Poodle we know and adore today.
With heritage coming from these water-loving canines, it's no wonder why the Poodle is still a huge lover of all things water. The Poodle's love for water has also been the driving point behind why he is considered to be of German heritage. Since the German word Pudel means "one who plays in water", it's easy to assume he has some German background.
Throughout history, the Poodle has had many different functions. He was used as a retriever for hunters in the water. He was also used as a gun dog. In some instances, he was a truffle tracker, too. 
It became clear that the Poodle was of higher intelligence than other dogs. At that point in time, owners began training the Poodle to perform stunts and tricks and quickly became a part of the circus. Their work in the circus intrigued the French popular. The Poodle quickly became a popular dog in France, which is where he got his "French" background and name.
The Popular Poodle Today
Today, you likely won't find a Poodle being used as a hunter or tracker. However, those instincts are still prominent in the Poodle. He is still a huge lover of the water and enjoys tracking activities. Anyone who owns a Poodle will want to ensure they have exercise involving water and may want to comprise a tracking activity for Poodle enjoyment.
In this day and age, it's more likely to see a Poodle working the room as a show dog. This stems from their circus background and love for attention. They are also easily trained and can perform a variety of tricks, which means they become standouts at shows. Proper clips and trims for a fabulous, eye-catching coat also help them to take the prize.
But the Poodle is more than a fashion statement, a lifestyle, or a show dog. Although he has the appearance of an elegant, snooty, high-maintenance pooch, he is extremely intelligent and can even be used as a service dog. They are top-of-the-line choices for those with visual and auditory impairment. 
Due to their smaller stature and lack of real muscle, they aren't great for mobility disabilities, though. They are also not the best pick for those with mental disabilities or seizures. 
Cost of a Poodle
You can expect to pay a bit more for a Poodle due to their high popularity. A Standard Poodle can cost anywhere between $700 and $1,200 for an "average" dog, while a high-end version can cost up to $5,000. Toy and Miniature Poodles are even more costly. Average dogs range from $1,000 to $1,500 while high-end versions cost up to $2,200.
Final Thoughts
The Poodle has always been a popular dog breed since its humble beginnings. Although he started out as a retriever and tracker, he was quickly acknowledged for being intelligent and intriguing. 
From there, he became the curly show dog we all know and love. But his popularity doesn't solely come from looks. He is also a fun-loving, caring, and even-tempered pooch that can work well in a variety of environments and situations.
Must Have Products For Poodles And Doodles
Thank you for reading this article. I hope you found it helpful. Here are some products that I personally believe every owner should employ to help ensure the best quality of life for their dogs. These are affiliate links, so if you do decide to use any of them, I'll earn a commission.
But in all honesty, these are the exact products that I use and recommend to everyone, even my own family.
Lemonade Pet Insurance: Lemonade Pet Insurance has enabled me to afford a very high level of veterinary care for my dog, Angus. Even after he was diagnosed with cancer a few years back. Lemonade is a great company, and I can't recommend them enough!
Brain Training For Dogs: Brain Training for dogs is an amazing online training program I found that actually helped me to understand and ultimately stop my dog's separation anxiety and destructive behaviors when I left the house. This program actually works, and at a small fraction of the cost of hiring a dog trainer!
Pet Plate: I first learned of Pet Plate when the company was featured on the TV show "Shark Tank" back in 2016. Pet Plate is the dog food subscription service I use to provide extremely healthy, pre-portioned meals for my dog. Pet Plate gives my dog Angus the highest quality nutrition at a very affordable price.
BarkBox: Without a doubt, my dog enjoys Barkbox more than anything else I buy him. BarkBox delivers a customized box of themed toys, treats, and other products to your door each month. In addition, I like that a percentage of proceeds is donated to local animal shelters.
Pawp.com: Pawp is not insurance. It's a membership program that gives you access to unlimited video calls or texts with a licensed vet 24/7 and includes up to six pets on a single membership! I Purchase this service for my dog Angus and have saved hundreds of dollars over visiting his local vet with questions or more minor health concerns. Pawp will even pay up to $3,000 if your pets experience an emergency situation! Check out Pawp's website to see why Pawp can help you save money and increase your pet's quality of care.