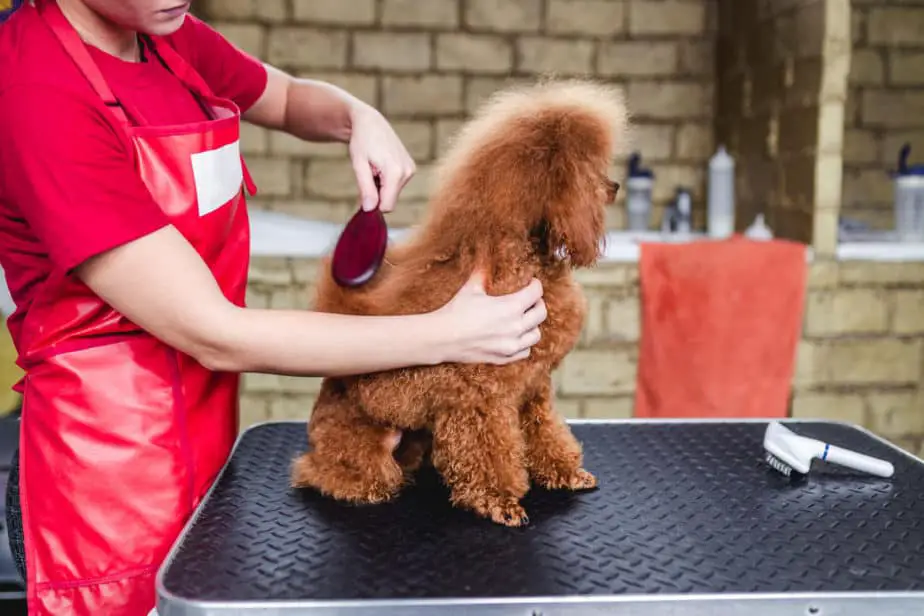 Cutting your poodle's hair can often feel more like a challenge than a chore. A poodle's coat grows differently than most other dog breeds and can be a real undertaking to properly maintain and style. Fortunately, there are a myriad of different haircuts you can offer your poodle, depending on size, age, location, and personal preferences.
The Top 25 Haircuts for poodles include:
Continental Cut
English Saddle Cut
Royal Dutch Cut
Dutch Cut
Puppy Cut
Teddy Bear Cut
Winter Cut
Summer Cut
Princess Cut
Royal Tail Cut
Corded Cut
Cupcake Cut
Lamb Cut
Miami Cut
Town and Country Cut
Scandinavian Cut
Modern Cut
Urban Cut
Bob Cut
Fifth Avenue Cut
Jacket and Pants Cut
Bolero Cut
Pony Cut 
German Cut
Tassel Cut
Poodles are known the world over for their distinctive and creative hairstyles. Read on to learn more about these awesome poodle hairstyles and discover which style is right for your dog.
What Are the 25 Different Poodle Cuts?
The following are 25 of the more common and popular poodle haircuts and styles:
1. Continental Cut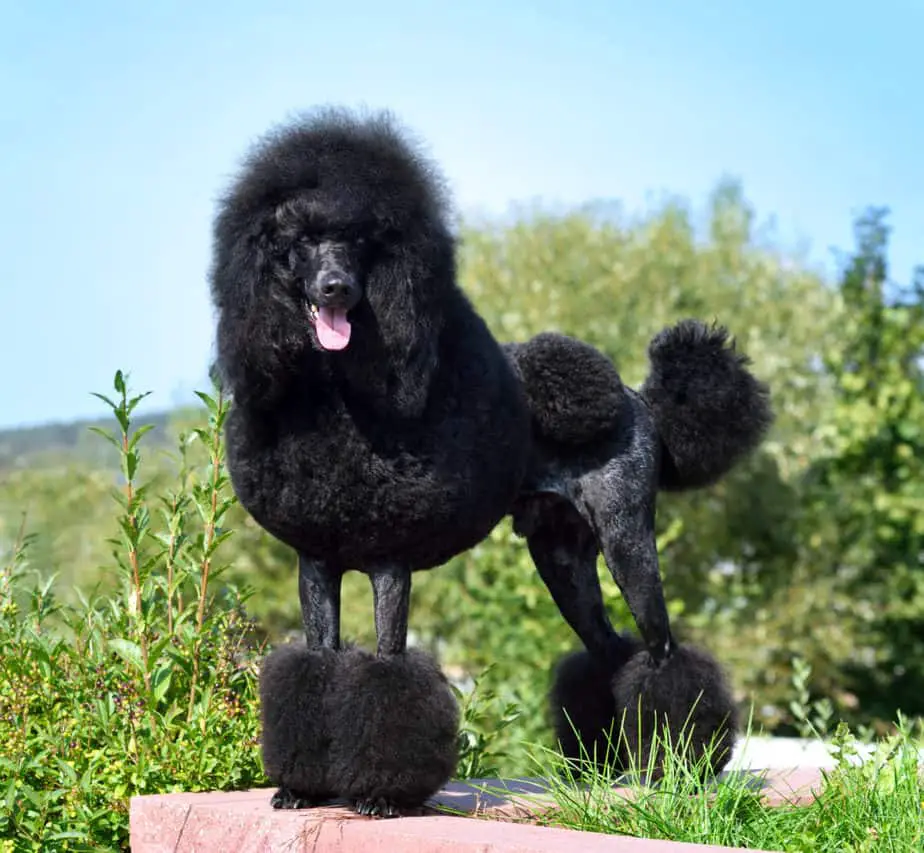 This stylish cut replicates the traditional "poodle" style in popular culture by only shaving the body of your poodle, leaving "poofs" of hair everywhere else. A modified version of this cut also exists, leaving the entire poodle's lower body shaven.
If your poodle is a show dog, this is one of the two American Kennel Club approved cuts. 
2. English Saddle Cut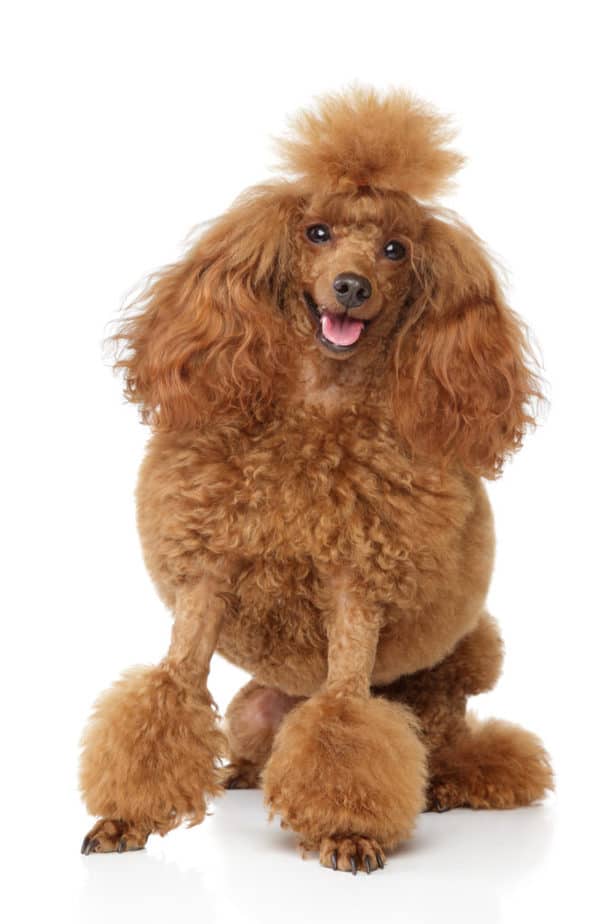 This pompous yet elegant cut focuses more on styling your poodle's hair into "poofs" rather than shaving or cutting, making him look like a snowball. It is similar to a continental cut but allows for more hair to remain on your poodle's back.
This is the second American Kennel Club approved cut, in case your poodle is a show dog.
3. Royal Dutch Cut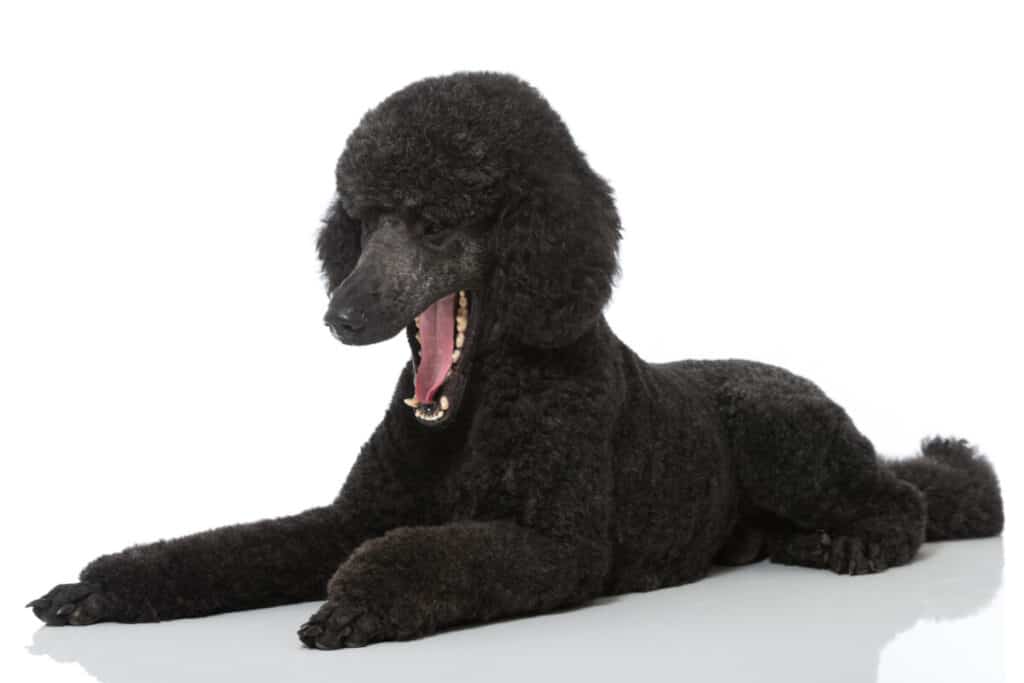 Also called a banded Dutch cut, the royal Dutch cut is unique in that it involves the shaving of your poodle's face, neck, and waist in a "band" like shape, styling the rest into a "poof" that will pop out.
The baggy-like styling of the poodle's fur with this cut is how it got its name; it replicates the traditional Dutch baggy pants.
4. Dutch Cut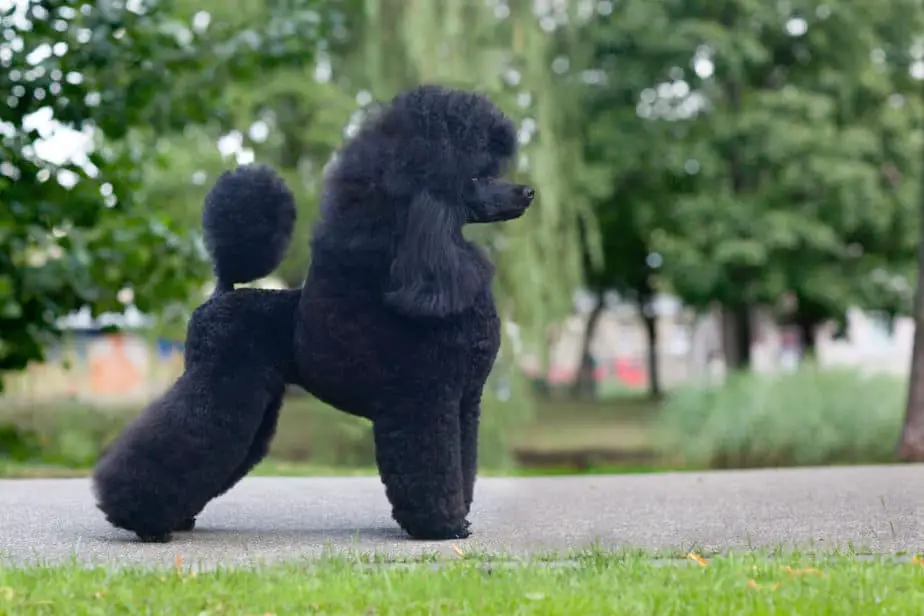 A standard Dutch cut differs from the above royal Dutch cut by having no shaved "bands," but rather a uniform hair length all over your poodle, with a small "poof" at the end of your poodle's tail.
This is a popular and fitting style for any poodle size and is one of the approved cuts of the UK Kennel Club.
5. Puppy Cut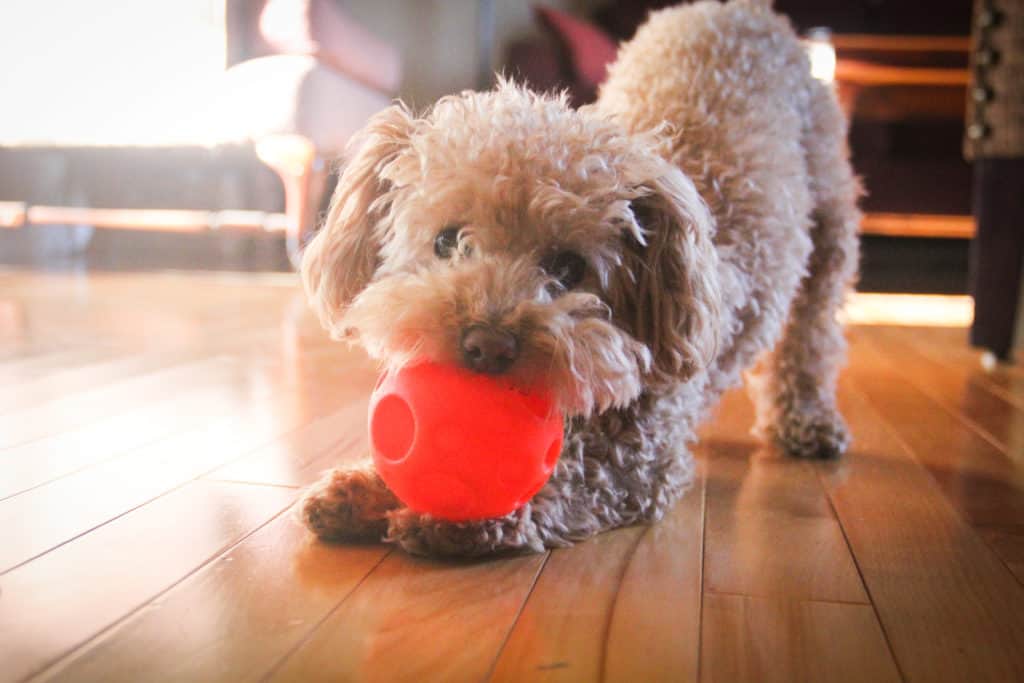 One of the most popular hairstyles for young poodles, the puppy cut, is fluffy, soft, and consistent all over the poodle in regard to hair-length. It is easy to replicate and is a good starting point for newcomers to poodle grooming and styling.
This style is not necessarily suitable for older poodles, though, and the American Kennel Club only allows this cut for poodles under a year old.
6. Teddy Bear Cut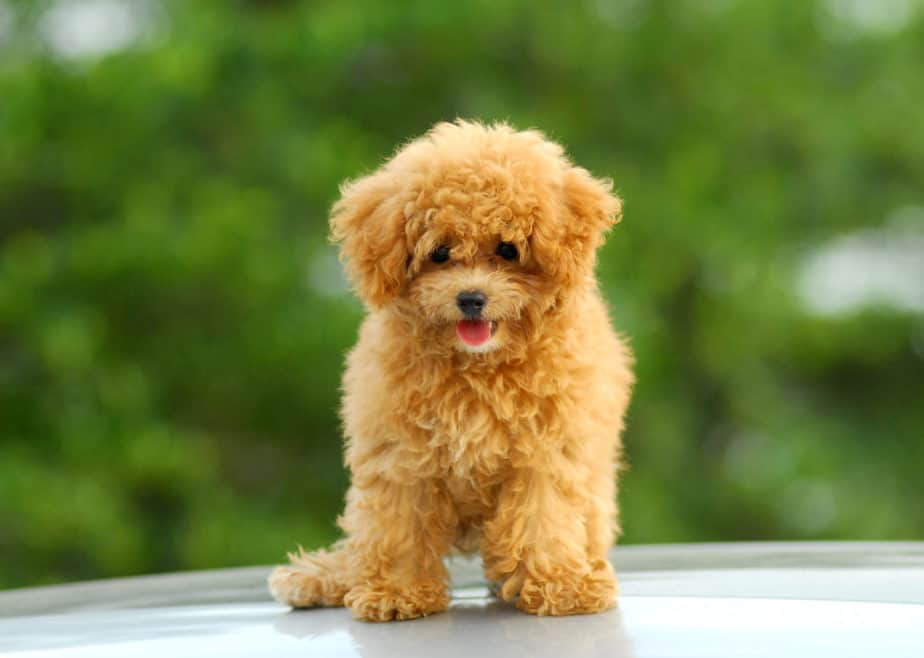 The teddy bear cut is almost identical to the puppy cut, but there's one crucial difference: The hair on your poodle's face is longer than the hair on their body. This is because the key to this cut is styling the poodle's face to make it look as soft as a teddy bear's.
This is also a cut more suitable for younger and/or smaller poodles, as other poodles can't necessarily pull off a "small and adorable" look. However, it is still an easy poodle cut to do.
7. Winter Cut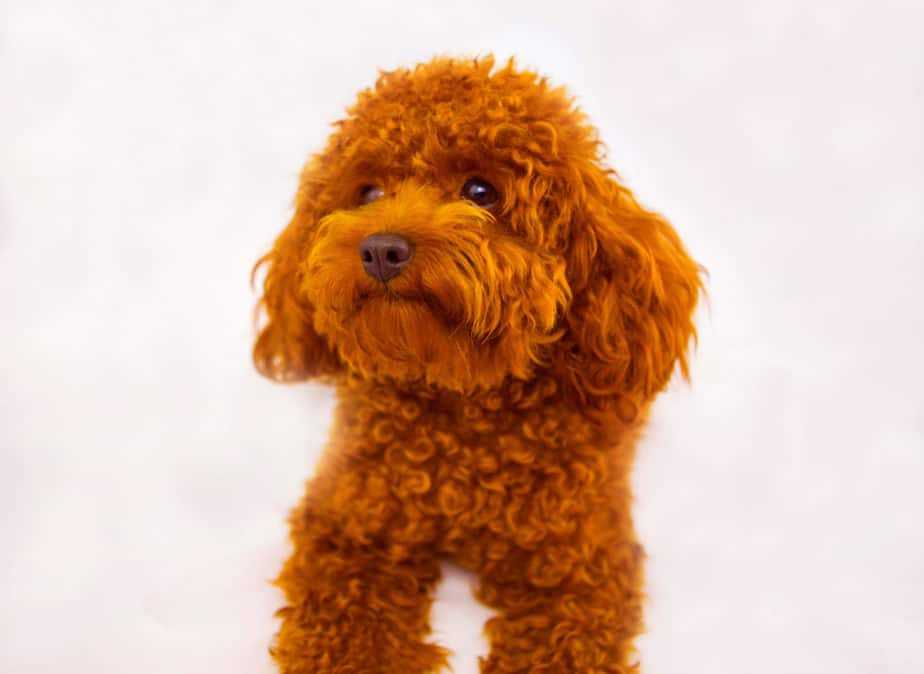 If you live in a place with long, cold winters, then you might want to consider this easy and practical haircut for your poodle. It requires that your poodle has long yet consistent hair across its body to withstand the weather and remain warm.
This is not a show dog haircut and thus is not necessarily hard to achieve. It is an excellent starter cut if you're just learning how to groom your poodle, as it only requires simple cutting and styling.
8. Summer Cut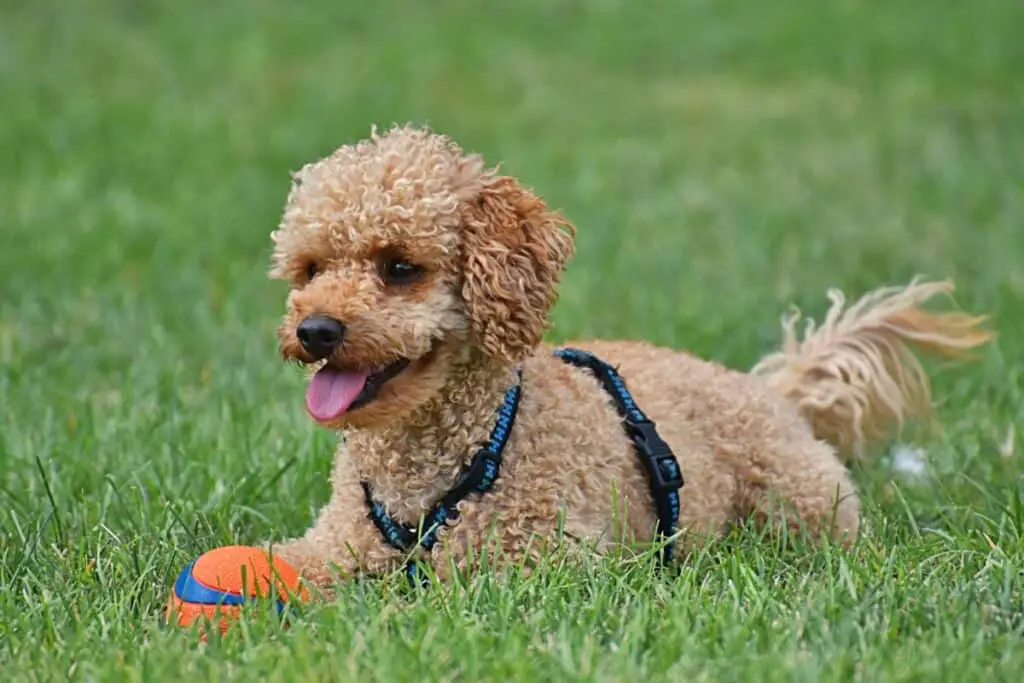 In contrast to a winter cut, a summer cut (also known as a utility cut) keeps your poodle's hair as short as possible; this helps prevent your poodle from overheating in hot weather and is super practical if you live somewhere hot.
This is also an easy cut to do if you're new to poodle grooming, as it emphasizes practicality over style.
9. Princess Cut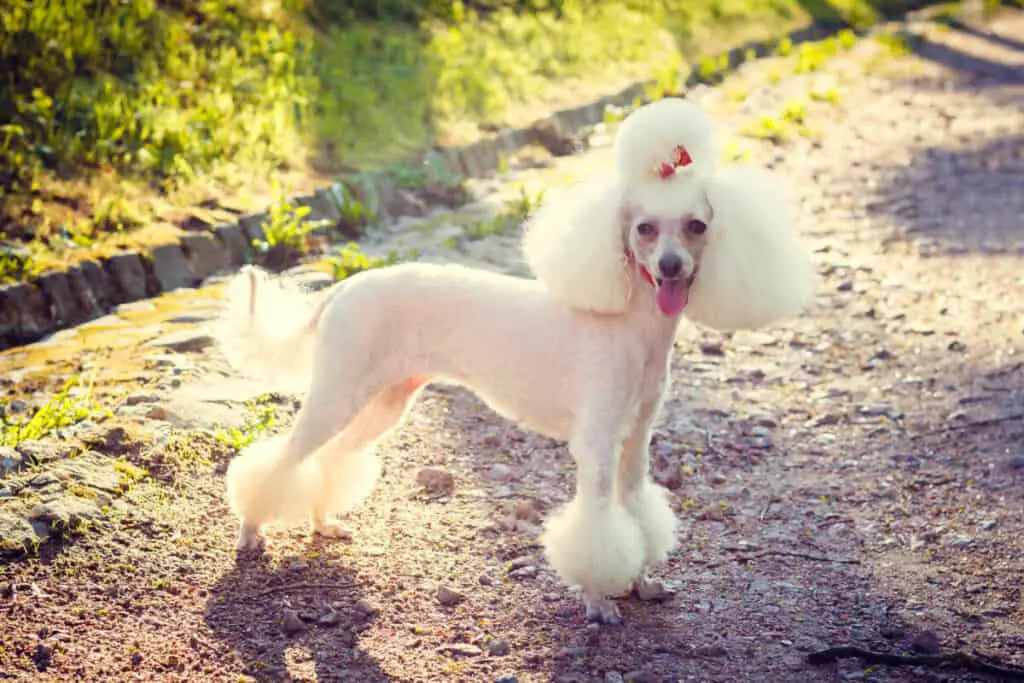 The princess cut also puts heavy emphasis on the face but uses the ears to give your poodle a "human-like" haircut that stands out compared to its body. The rest of the body is styled similarly to a continental cut or a Dutch cut, but the princess cut is a cute add-on to your poodle's appearance.
10. Royal Tail Cut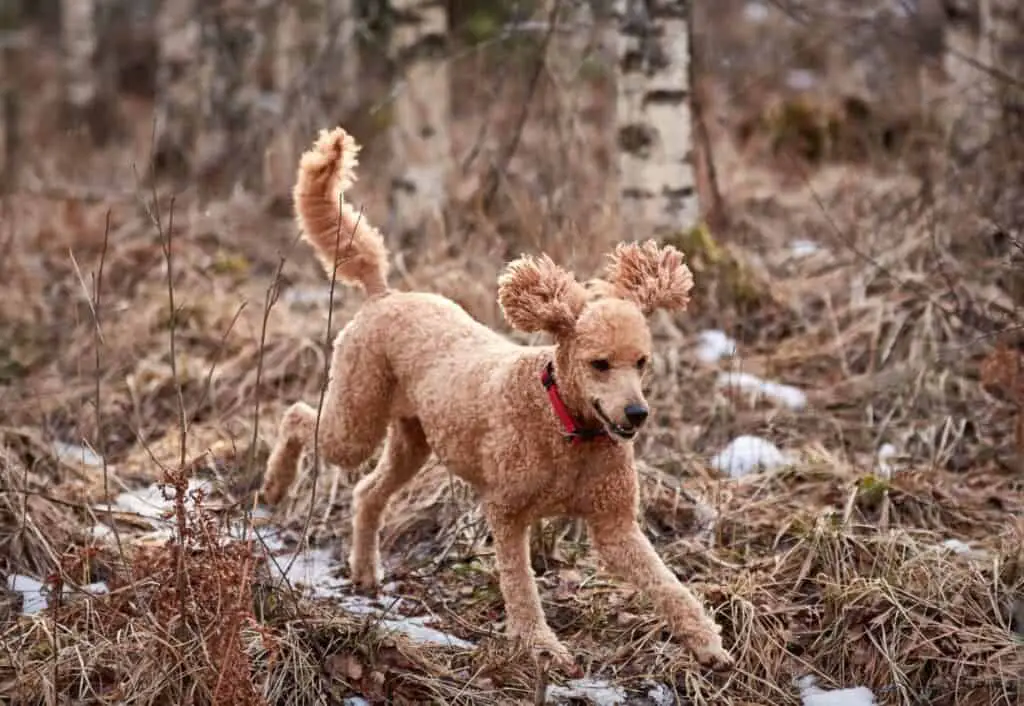 A royal tail cut is somewhat of a misnomer, as you do not necessarily cut your poodle's tail hair. You keep everything but your poodle's hair on the tail short, thus allowing you to style the tail in a way that looks chic and stands out.
This is a more creative cut, as it allows you to style your poodle's tail as anything within reason.
11. Corded Cut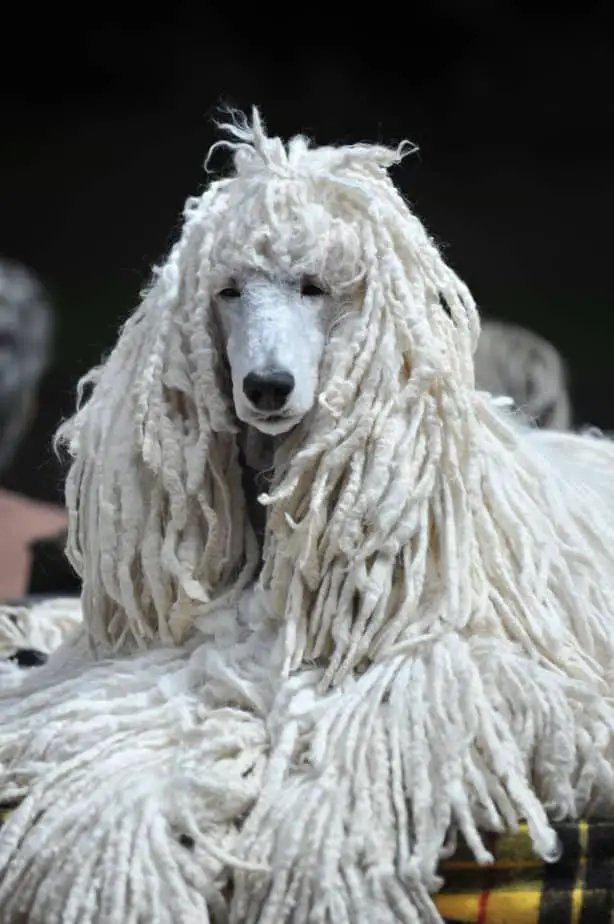 This gorgeous style is among the most complicated, and it is heavily recommended that you do not try this if you have little experience. It requires your poodle's hair to be grown out and then dreadlocked, giving it its unique "corded" look.
This cut is not common to see in this day and age, so a corded cut will definitely make your poodle stand out among the crowd!
12. Cupcake Cut
The cupcake cut is also rare, but it is much easier to achieve. The key to this cut, once again, is the poodle's face, as the ears must be styled in a fluffy manner to look like a cupcake.
While this is easier than a corded cut, it still shouldn't be done by someone with little grooming experience as cutting around the poodle's face is a delicate procedure.
13. Lamb Cut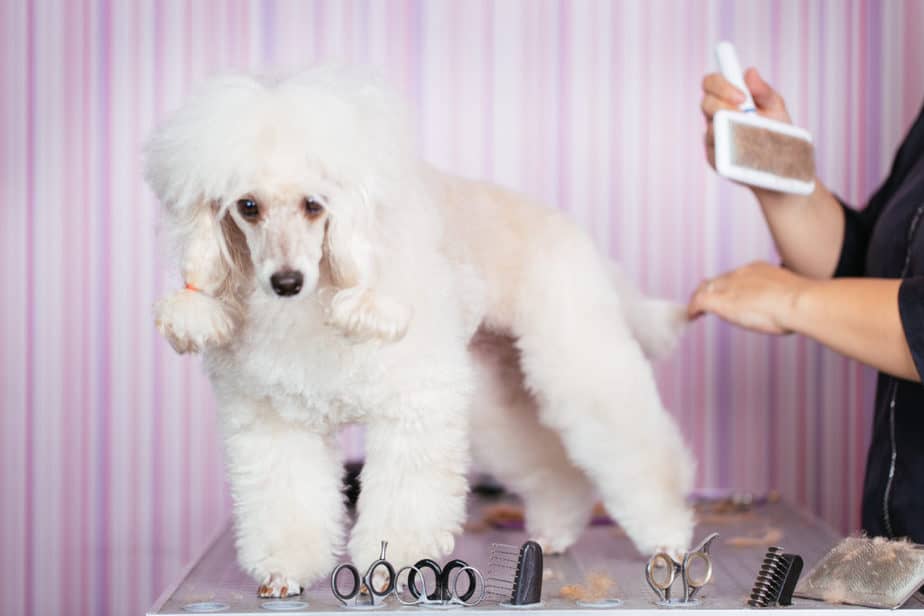 The lamb cut has grown in popularity recently, and it is easy to see why. Not only is it easy to do, but it gives your poodle a smooth, lamb-like coat all around its body.
If you want a cut for your poodle that is stylish but easy to maintain, then the lamb cut is among the best options for you.
14. Miami Cut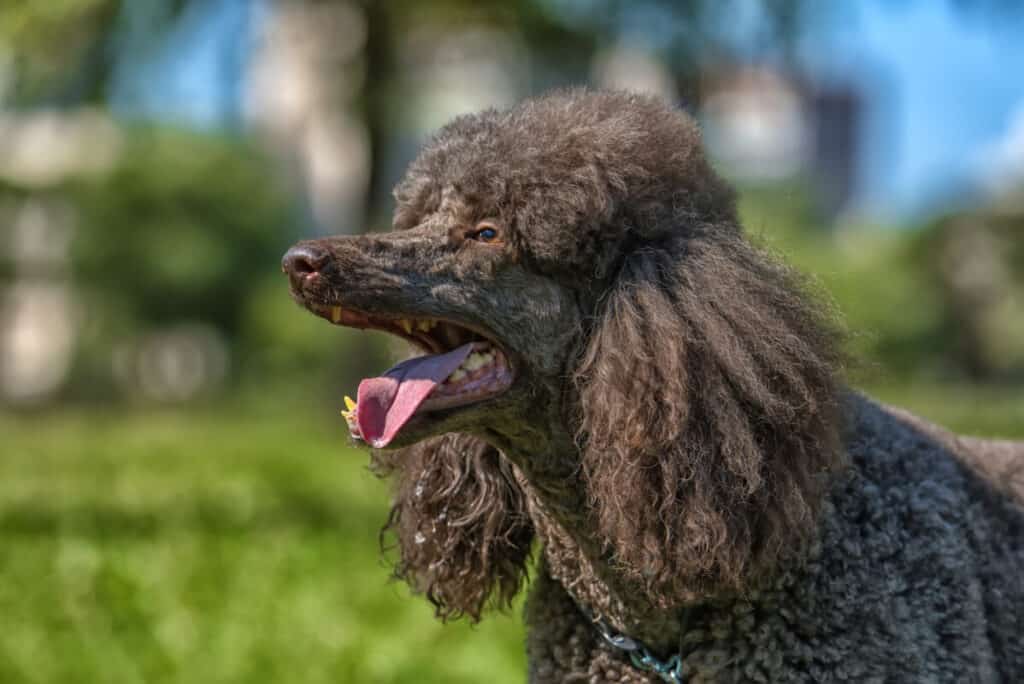 Also known as the bikini cut, the Miami cut is low maintenance yet styled cut that is perfect for any poodle living in a warm region! This cut requires that your dog's body be shaved all around, save for little "poofs" on its legs.
This cut is also suitable for poodles with sensitive skin, as the short hair will make it easier for you to treat your poodle's skin with medicated baths or lotions if need be, without much hair getting in the way of treatment!
15. Town and Country Cut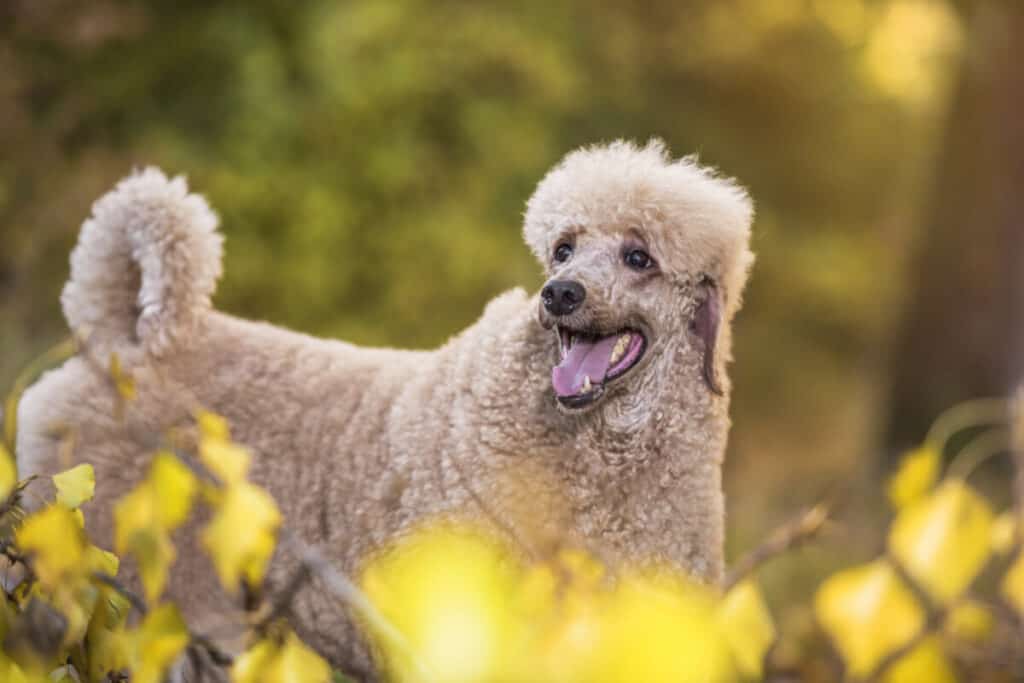 One of the most recognizable poodle haircuts, the town and country cut is classy, stylish, and easier to pull off than you might think. The key is to leave your poodle's body fur as natural-looking as possible to emphasize the head and legs.
With this easy to do cut, your poodle's head and legs will stand out by having styled, rounded hair. This will make your poodle's legs have a "cylindrical" look, but that is perfectly normal for this kind of cut!
16. Scandinavian Cut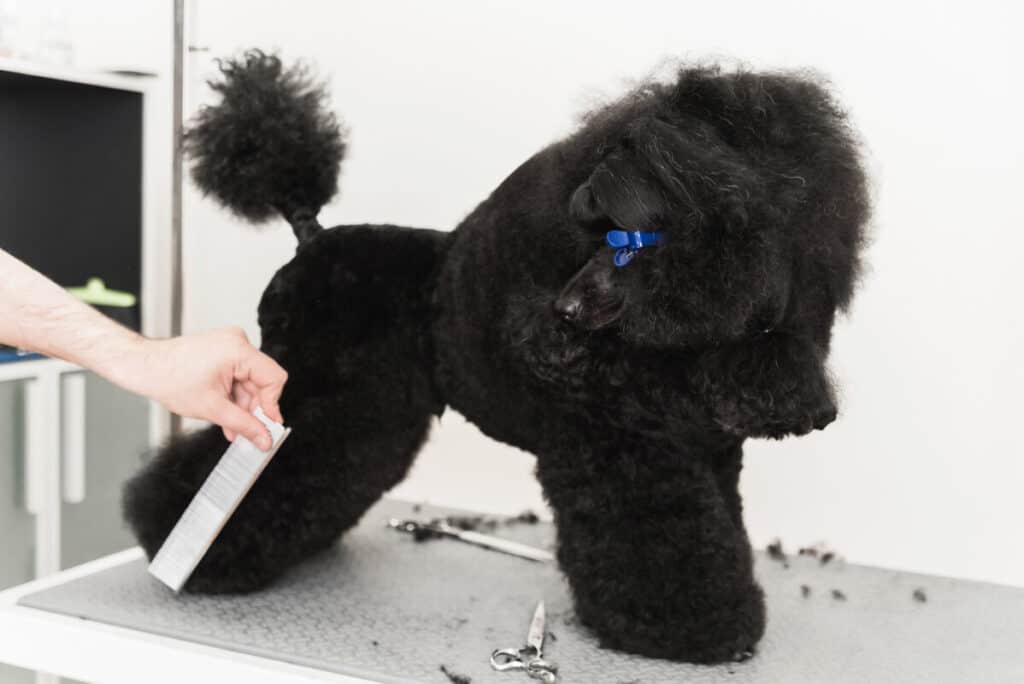 Also known as a "T Cut," the Scandinavian cut is a regal cut that can be distinguished by a poodle's face, feet, and tail having short hair, leaving everything else long and fluffy but still styled.
This cut is more commonly seen in Europe than in the States, but this cut will make your poodle stand out regardless of where you live!
17. Modern Cut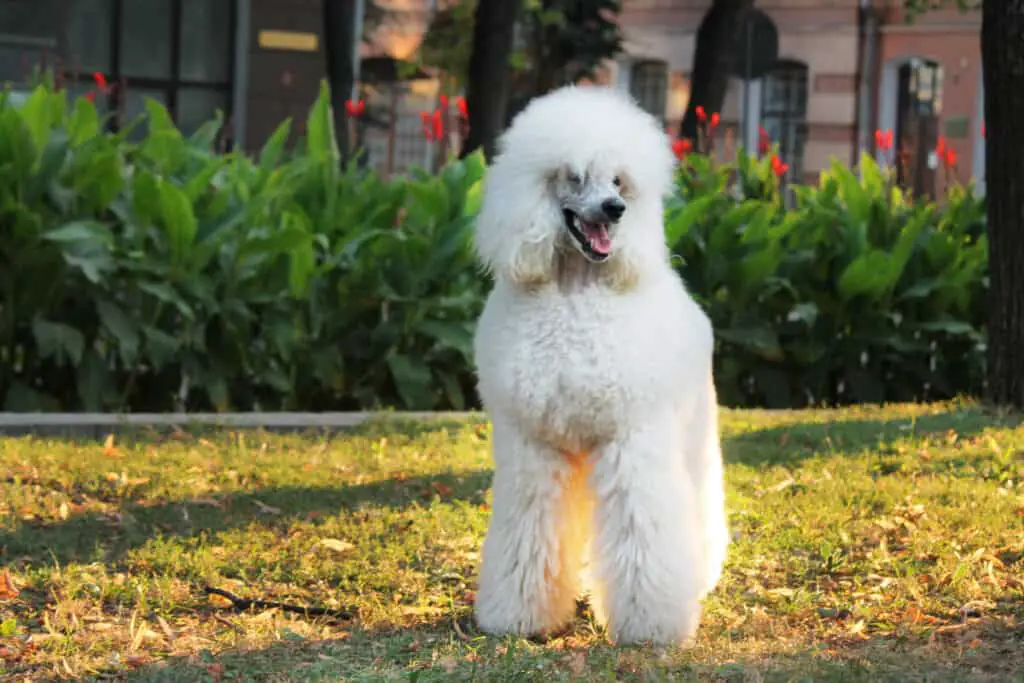 The modern cut is another option for poodle owners who wish their dog to have a stylish yet easy to maintain cut. The modern cut does not involve any complicated shaving or clipping, as the key here is to accentuate your poodle's natural features.
Unlike other simple cuts, the modern cut also allows your poodle to maintain volume in its hair, thus making it look regal and elegant.
18. Urban Cut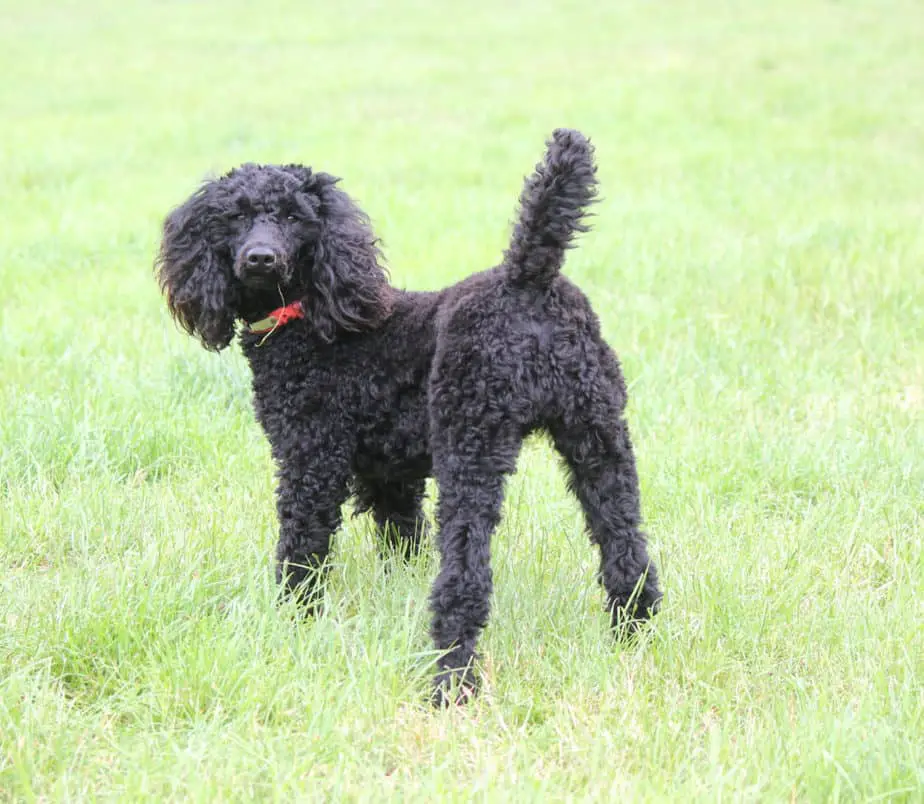 The urban cut is similar to a modern cut, but with one important difference: The poodle's hair remains short and styled into a poodle-like shape. 
This cut is standard for dog styling contests rather than dog shows and is elegant and easy to achieve!
19. Bob Cut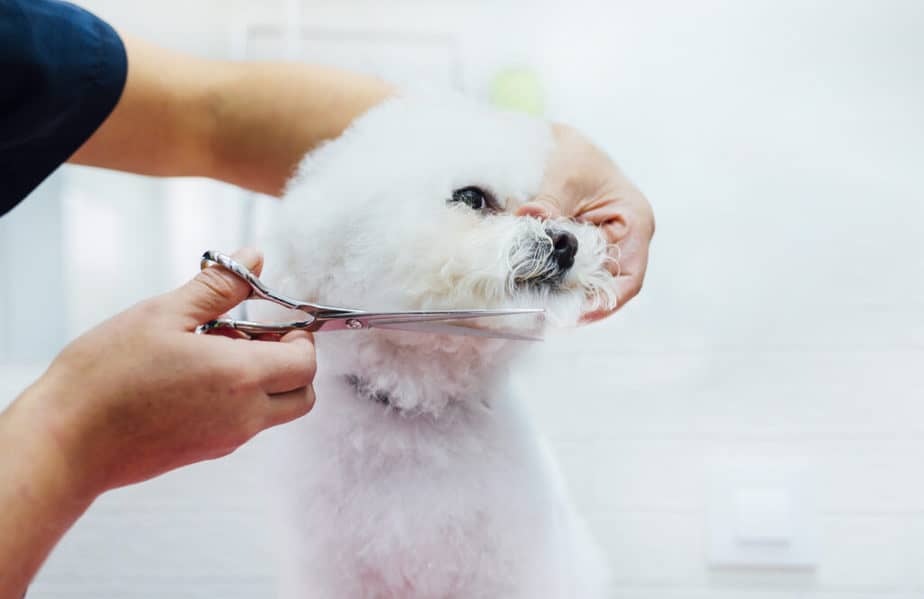 Much like the princess and cupcake cuts, the bob cut focuses on your poodle's hair and ears. However, the difference here is that you style your dog's head to make it look like a bob haircut.
To achieve this, allow your poodle's hair on its head and ears to reach the same length, as that will allow you to style it into a typical "bob" hairstyle.
20. Fifth Avenue Cut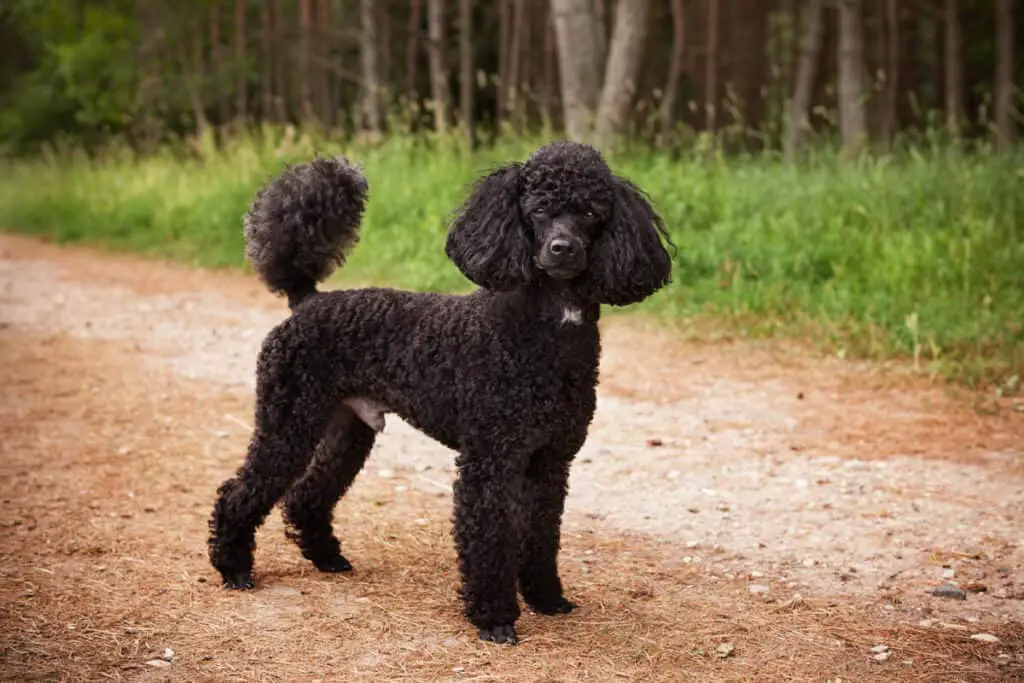 The fifth avenue cut is not a typical poodle haircut, but it is no less elegant. It is similar to a town and country cut, but with your poodle's front knees shaved and its front feet styled in a "poof."
The other main difference is that your poodle's rear has slightly shorter hair, as well as the tail having a less pronounced "poof." You also still shave your poodle's waist, but with a narrower result.
21. Jacket and Pants Cut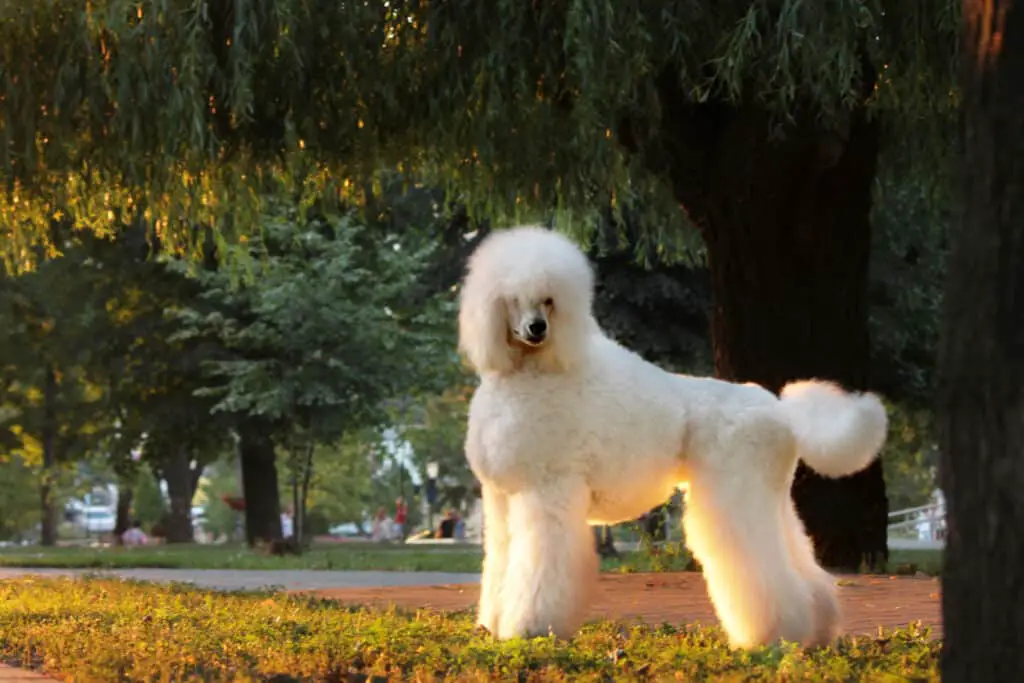 The jacket and pants cut is among the most unique poodle haircuts. To achieve this, your poodle's neck and stomach area are shaved, leaving hair on its legs and tail to mimic a jacket and a pair of jeans.
This cut is less popular due to the amount of hair you will have to shave off your poodle to achieve it, but it will definitely make your poodle stand out among the crowd!
22. Bolero Cut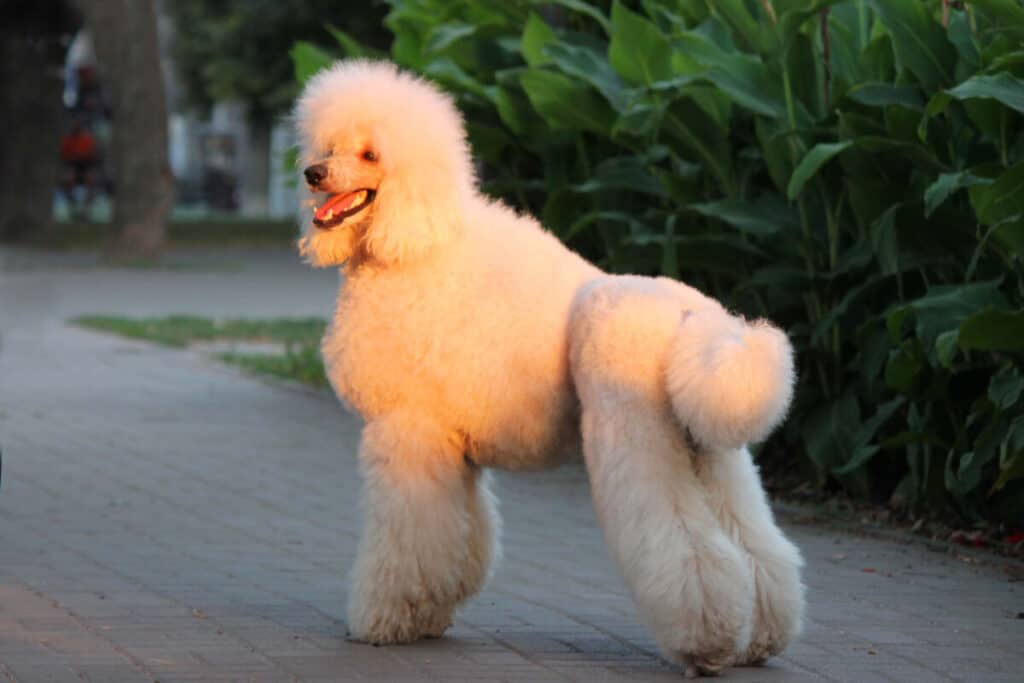 The Bolero cut is a slight modification of the aforementioned fifth avenue cut. The difference here is that you shave both your poodle's front and hind legs.
Like the fifth avenue cut, an easy mistake you can make with the Bolero cut is leaving too much hair on your poodle's body, as well as shaving too thick an area on your poodle's stomach. Both of those can have your poodle's style mistaken for a town and country cut.
23. Pony Cut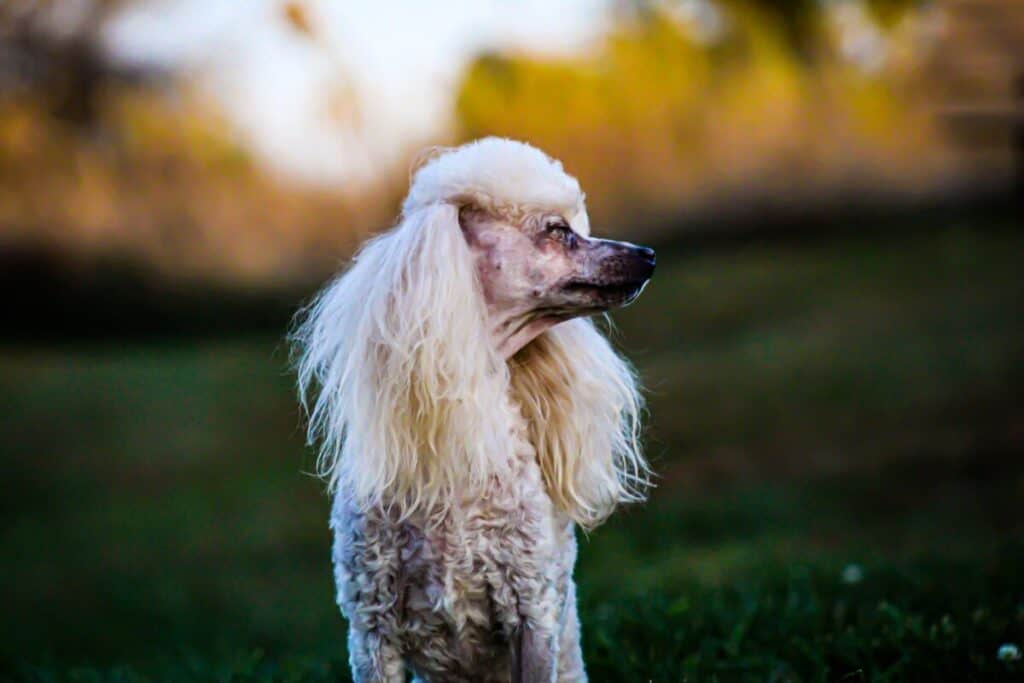 The pony cut is also a less common poodle haircut but is relatively self-explanatory. To achieve this cut, your poodle's hair is cut in a way so that its neck, tail, and feet have much more hair than the rest of its body, thus looking similar to a pony's mane.
Some poodle owners go one step further with this cut and buy reins or even a saddle to make their dog look even more like a pony. However, whether or not you want to do that is up to you.
24. German Cut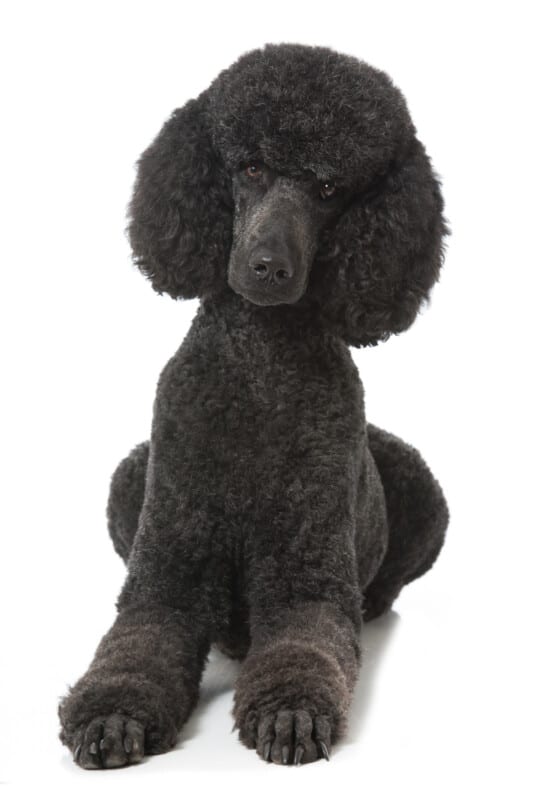 The German cut is like a summer cut, but with your poodle's neck and tail shaved entirely. It is a good option for those who want the low hassle of a summer cut, but with a unique spin.
25. Tassel Cut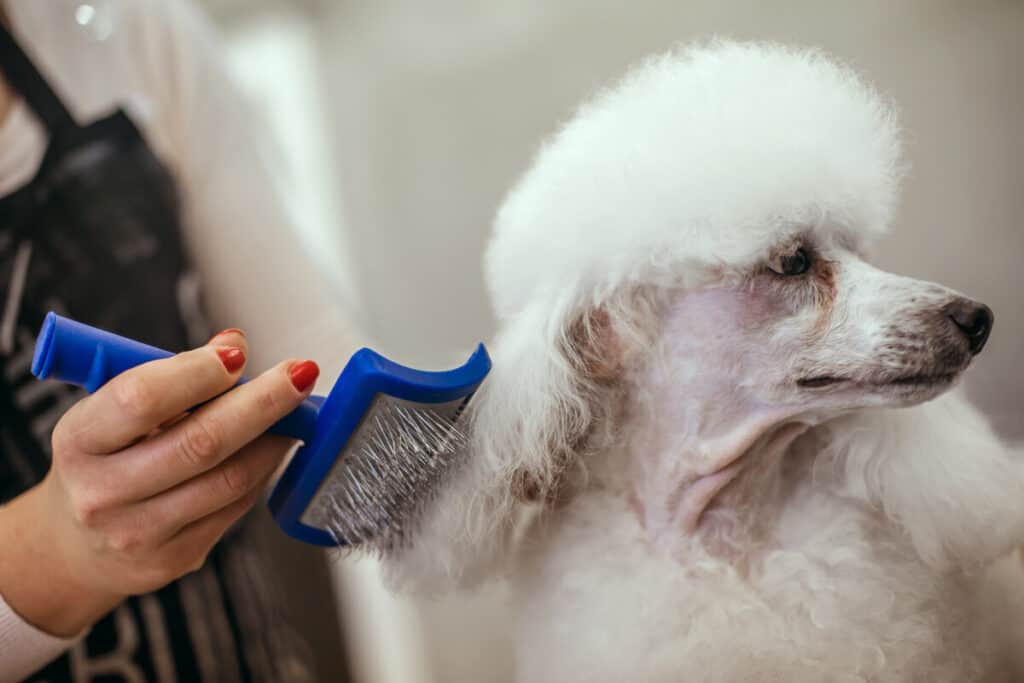 The tassel cut, like other previously mentioned poodle cuts, focuses mainly on the ears. Every part of the ear but the tips are shaved, thus making your poodle's ears look like tassels. 
You can leave the rest of the poodle's hair short or cut it into a simpler yet stylish design. The key to this cut is making sure the ears stand out, not the body.
Why Do Poodles Have Their Hair Cut?
Poodles have their hair cut rather than trimmed like other dogs because their fur is unique. Poodles do not shed their hair when it grows out; instead, the hair piles up and eventually weighs the poodle down if not cut properly.
Regardless of your thoughts on artistic styling or grooming your poodle, it is necessary to cut its hair now and then to make sure it is manageable. If left uncut, your poodle's hair can mattify, which will make it much harder to brush or tidy properly. 
Is it Bad to Shave a Poodle?
It is not necessarily bad to shave a poodle, as long as it is within reason. For example, it is a bad idea to shave your poodle during a cold winter, as it needs hair for warmth to protect vital organs. Conversely, you shouldn't give your poodle a winter cut during a hot summer, as your poodle can overheat with too much hair.
A good rule of thumb on where and how much to shave your poodle is to imagine what your poodle would look like after you shave it. If it does not look good in your head, then it is best not to shave!
How to Cut/Style Your Poodle's Hair Step by Step
Below is a how-to guide for preparing your poodle for cutting and styling and how to achieve some of the simpler poodle styles mentioned above.
1. Select the Style That Suits Your Poodle Best
It is never a good idea to start grooming your poodle without knowing what style you want to give him. Take a look at some of the haircuts for poodles above and decide which one will work best for your dog!
Keep in mind, though, that not all poodle haircuts work on every poodle. For example, you should not give a larger poodle a puppy cut, as it will most likely look unfitting.
2. Obtain the Necessary Grooming Tools
Another mistake beginner poodle groomers make is not obtaining the right tools for poodle grooming. Remember that poodles have hair instead of fur and thus require special equipment that emphasizes quality over the price tag.
You should invest in a good quality clipper, such as the Oster Clipmaster, and scissors, such as the RUBOLD Professional Dog Grooming Scissors Set found on Amazon. Both and great quality and should last you many years to come.
Note: Dog clippers usually come with multiple interchangeable blade sizes, with higher numbers clipping more hair than lower ones. Do not use a higher-numbered blade if you are new to poodle grooming, as making a mistake with one can burn your poodle's skin. 15 is the largest recommended blade size for newcomers.
3. Make Sure Your Poodle is Clean and Well-Rested
Help your poodle rest and relax before grooming by taking him out for a walk, playing with him, or doing other activities that won't make him excitable during grooming. A rested poodle will make it much easier for you during grooming!
Bathing your poodle before grooming is also a must, as that will make their hair more manageable. Wash your poodle from head to toe, thoroughly rinse and dry it, and trim its nails! This will not only make grooming easier but will help prevent infections or injuries to your poodle.
Note: If you or your poodle are new to styling, introduce him to the clippers by turning them on in front of it and rewarding them for good, calm behavior. This will make your poodle more comfortable with the process and be more cooperative in general.
4. Trim Your Poodle's Face and Neck
A good starting point for grooming your poodle is to trim its face and neck.
Steps to trim your poodles' face and neck include:
Use a lower-numbered blade (a nine or a ten will usually do) and carefully shave upward from your poodle's ear to its eye, ensuring that you do not accidentally shave and of your poodle's ear hair.
Then, shave the space between your poodle's eyes, also with severe caution. Slowly shave in a downward motion from your poodle's eyes to its nose before shaving your poodle's snout in a similar motion.
To shave your poodle's neck, gently lift your dog's head and shave once again in a downward motion, going from your dog's muzzle to its chest. It is best to make a "V" shape with your first two downward motions to establish the border between your poodle's neck and body.
The next step for trimming your poodle's face involves the scissors rather than the clipper. Carefully cut your poodle's hair above the eyes just enough so it can see clearly. Then, style your poodle's hair above the eyes by brushing it away from its eyes, using the scissors to cut any remaining stray hairs. 
5. Shave the Hair Around Your Poodle's Feet
Using a ten or 15 blade with your clippers, start by shaving the hair at the bottoms of your poodle's feet by going from ankle to the largest paw pad, then carefully use the clippers to trim between your poodle's toes, ensuring no long hairs remain in those places. 
Note: Do not shave above your poodle's ankles. Many poodle cuts require longer ankle hair, and cutting too high up in the legs might not look aesthetically pleasing on your poodle.
6. Choose the Final Hair Style and Cut
At this point, the next steps depend on which cut you will be giving your poodle:
The Puppy or Lamb Cut for Poodles: Step By Step
Rebrush your poodle's hair. To make sure all of your poodle's hair is being cut evenly, brush it out again before you start trimming. 
Then, evenly cut the poodle's body hair. For a puppy cut, use a pair of scissors throughout your poodle's body to carefully and evenly trim your poodle's hair to make it even and neat. For a lamb cut, use a five-blade on your clippers and carefully shave your poodle's body and legs, ensuring that the fur is shorter but even all around.
The Miami Cut for Poodles: Step By Step
Cut your poodle's hair around the face and feet with a 15 blade (instead of a nine or ten-blade). A Miami cut requires very little hair on your poodle's face and feet, and a nine-blade can leave some stray long hairs. To make sure the hair is as close cut as possible, use a 15 blade instead for general poodle grooming.
Then, use a ten blade to shave your poodle's stomach and the rest of its body with a seven-blade. You can leave a little more hair on the rest of the poodle's body, but it still has to be evenly shaved. Use a ten blade to shave your poodle's stomach to shorten the hair in that area, but use a seven-blade for the rest of the upper body, including the upper legs.
Note: Be sure to not shave below the knee or above the ankle, as the little "poms" of fur are necessary for a Miami cut! Finish the style off by using scissors to trim your poodle's tail into its own little "pom."
The Continental Cut for Poodles: Step By Step
Shave your poodle's front legs above the knee and back legs to just below the knee. After very closely shaving around your poodle's face, neck, and feet, shave your poodle's front legs above the knee and back legs to just below the knee to create the continental cut's signature "poms" around your poodle's lower legs.
Shave most of your poodle's tail and hips. Shave your poodle's tail from the base to just before the tip to form a "pom," and shave the dog's hips enough to leave two small segments of fur on its back, which will be the "rosettes" for your poodle's continental cut.
Trim any remaining long fur and style. Use scissors to get rid of any remaining long hairs and split ends, then style your dog's hair into the continental cut's "poofs."
The Town and Country, Fifth Avenue, or Bolero Cut for Poodles: Step By Step
Shave a Band Around Your Poodle's Back and Stomach. Shave a rounded band around your poodle's back and stomach, stopping at the shoulders (town and country) or the midsection (fifth avenue/bolero). 

Then, if you're doing a town and country cut, use a 15 blade to shave your poodle from its neck to the base of its tail, making sure that there is very little hair left. (This step is not necessary for a fifth avenue or bolero cut.)

Shave Above Your Poodle's Paws, and Any Other Part of the Leg Depending on the Cut. For the town and country cut, use your clippers to shave the hair around your poodle's paws down to their ankles, making a "cuff."

For the fifth avenue cut, shave your poodle's back paws down to their ankles, making the same "cuff" on the town and country cut. Do the same for its front paws, but then shave around the knees of your poodle's front paws, forming "poms" of hair there. 
For the Bolero cut, shave your poodle's paws down to their ankles, then shave around all four of your poodle's knees, making "poms" of hair on all four legs.
Finally, trim any stray hairs and style. Use your scissors to cut any remaining stray hairs on your poodle, resulting in a uniform length, and use your clippers to smooth out any sharp edges between shaved and unshaved parts of your poodle.
Conclusion
And there you have it: 25 haircuts for poodles and how-to guides for some of the easier hairstyles. Remember, though, that your intuition knows what style will look best for your poodle and that it may take a couple of times before you're truly used to it! Happy grooming!
Must Have Products For Poodles And Doodles
Thank you for reading this article. I hope you found it helpful. Here are some products that I personally believe every owner should employ to help ensure the best quality of life for their dogs. These are affiliate links, so if you do decide to use any of them, I'll earn a commission.
But in all honesty, these are the exact products that I use and recommend to everyone, even my own family.
Lemonade Pet Insurance: Lemonade Pet Insurance has enabled me to afford a very high level of veterinary care for my dog, Angus. Even after he was diagnosed with cancer a few years back. Lemonade is a great company, and I can't recommend them enough!
Brain Training For Dogs: Brain Training for dogs is an amazing online training program I found that actually helped me to understand and ultimately stop my dog's separation anxiety and destructive behaviors when I left the house. This program actually works, and at a small fraction of the cost of hiring a dog trainer!
Pet Plate: I first learned of Pet Plate when the company was featured on the TV show "Shark Tank" back in 2016. Pet Plate is the dog food subscription service I use to provide extremely healthy, pre-portioned meals for my dog. Pet Plate gives my dog Angus the highest quality nutrition at a very affordable price.
BarkBox: Without a doubt, my dog enjoys Barkbox more than anything else I buy him. BarkBox delivers a customized box of themed toys, treats, and other products to your door each month. In addition, I like that a percentage of proceeds is donated to local animal shelters.
Pawp.com: Pawp is not insurance. It's a membership program that gives you access to unlimited video calls or texts with a licensed vet 24/7 and includes up to six pets on a single membership! I Purchase this service for my dog Angus and have saved hundreds of dollars over visiting his local vet with questions or more minor health concerns. Pawp will even pay up to $3,000 if your pets experience an emergency situation! Check out Pawp's website to see why Pawp can help you save money and increase your pet's quality of care.