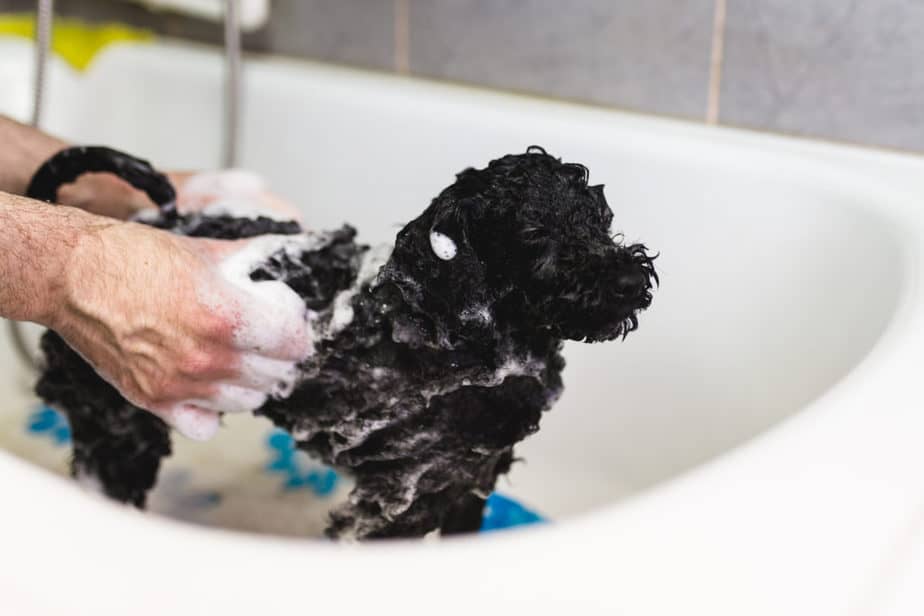 Poodles are a great breed of dog, ranging from small to large, and known for being intelligent, trainable, and friendly. Poodles are also notorious for their soft, curly coat. If you've recently added a poodle to your life or are considering doing so, there is too much to know about keeping your poodle's coat and skin looking and feeling healthy. 
What are the best shampoos for poodles? The best shampoos for poodles are hypoallergenic, do not contain any harsh chemicals that can cause skin damage, and include natural moisturizers. Using human shampoo is not recommended as human shampoos are formulated for a different pH balance and can be harmful to poodles' skin and burn their eyes. 
The best 15 shampoos I recommend for poodles are:
Buddy Rinse Dog Conditioner for Dogs Lavender & Mint – Best Overall
Sofee & Co. Natural Dog Puppy Shampoo – Best For Puppies
4Legger USDA Certified Organic Dog Shampoo – Best Organic
Bodhi Dog All Natural Anti Itch Oatmeal Dog Shampoo and Conditioner – Best Value
TropiClean Aloe & Coconut Deodorizing Shampoo – Best Deodorizer
Everyday Isle of Dogs Lush Coating Dog Shampoo, Violet + Sea Mist
Vet's Best Flea and Tick Advanced Strength Dog Shampoo
Burt's Bees All Natural Oatmeal Shampoo & Conditioner for Dogs 
Pro Pet Works All Natural Organic Oatmeal Pet Shampoo Plus Conditioner
Dog Argan Shampoo-Conditioner
Wahl White Pear Brightening Shampoo Argan Shampoo-Conditioner
Lillian Ruff Berry Blue Brightening Face and Body Wash
Pet Pleasent Natural Dog Shampoo with Colloidal Oatmeal
Healthy Breeds Herbal Avocado Shampoo for Dry Itchy Skin
Nature's Specialties Plum Silky Pet Shampoo
Now that you're aware of some of the basics about shampoos for your poodle, let's have a look at these specific shampoos that come highly recommended, some tips for shampooing your poodle, and some basics about your poodles' hair and how best to take care of it. 
What Makes a Good Poodle Shampoo? 
Before choosing a shampoo for your poodle, consider the needs of your dog's coat. Perhaps you're in the market for a general-purpose shampoo that will be good for routine bathing. If your poodle has irritated skin, a medicated shampoo will probably be best for your pooch. If it's a puppy you've got, you'll want a puppy specific shampoo that's extra gentle. 
Elements of good shampoo for your poodle will include:
Lack of a soaping agent. Soaping agents tend to dry out poodles skin
No chemicals, parabens, or sulfates. These damage a poodle's coat and skin
Natural ingredients. Since poodles have high body oil production, natural ingredients will offer a pleasant, long-lasting fragrance. 
Once you have an idea of what kind of shampoo you're looking for and what to avoid, you're ready to take your pick; however, there are a lot of shampoos to choose from. 
The 15 Best Shampoo Options For Your Poodle: Pros and Cons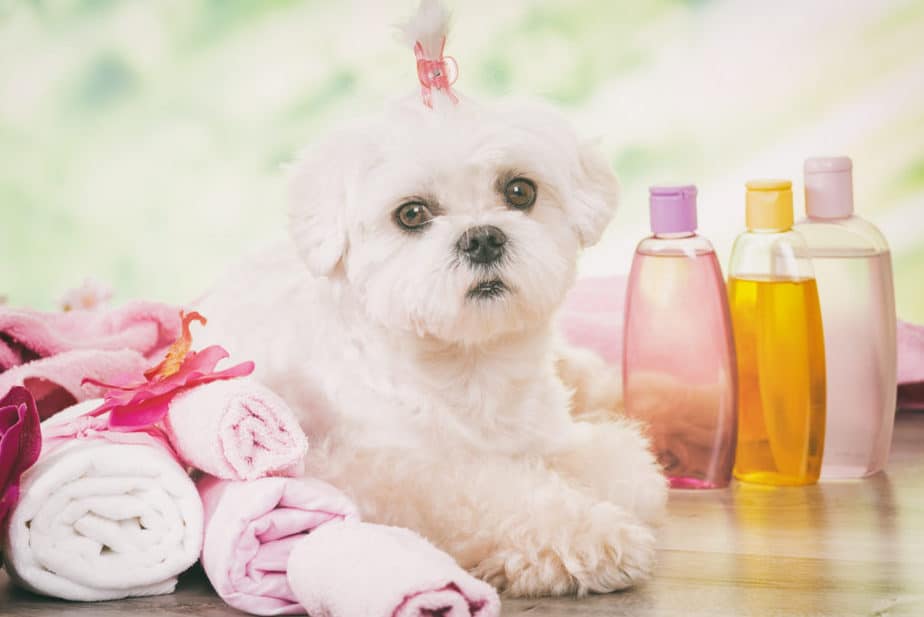 Depending on your poodle's needs and your personal budget, the best shampoo for you may be different than someone else's. While the Buddy Wash shampoo and conditioner is the best product I have used, I have included plenty of other options from Amazon in case you have different personal preferences.
This is a 2-in-1 shampoo and conditioner that will gently cleanse and moisturize your dog's skin and coat. This formula is gentle enough for adult dogs and puppies alike, all-natural, and is safe for frequent use. It is most loved for the delicious lavender scent. That being said, this shampoo has customers coming back again and again, as it always leaves the hair silky and smooth. 
Pros
Leaves coat super soft
Delicate scent
Excellent for sensitive skin. 
Cons
Scent is not long-lasting after drying
This shampoo is gentle and will leave your dog smelling fresh and clean, with your choice of scent: white pear or english rose. This formula is excellent for dry, itchy, flaky, and sensitive skin, and does not include any parabens, sulfates, oils, or dyes. 
Pros
Lathers nicely so a little bit goes a long way
Moisturizing
Fresh scent lingers. 
Cons
Higher price point
Bottle leaks if not properly stores
4Legger shampoo is certified organic and great for all skin types, including normal, dry, itchy, and sensitive. This shampoo is also safe for puppies as well as adult-senior dogs. 
Pros 
Rinses easily
Great for sensitive skin
A little bit goes a long way.
Cons 
Strong lemongrass scent, some sensitive noses may not enjoy it 
This is a great 2-in-1 formula for poodles that need an extra moisturizing shampoo, as this one includes oat proteins, aloe vera, coconut, vitamins A, D, and E, and fruit extract.
Pros
Extremely moisturizing
Great for itchy skin
Does not leave residue
Natural ingredients
Cons 
some pet owners have reported their pet having an allergic reaction to the oat proteins in this formula. 
This is a gentle, hypoallergenic, soap-free shampoo formulated for puppies. TropiClean Aloe & Coconut Deodorizing Dog & Cat Shampoo does a great job of eliminating pet odors and bringing back the moisture balance of your poodle's skin and coat.
Pros
Excellent for dry, itchy skin
Cleans well
Leaves coat extra shiny. 
Cons
Fragrance does not last after rinsing and especially drying. 
Isle of Dogs shampoo is an excellent volumizing shampoo that promotes full, healthy fur. This particular formula has the added benefit of being great specifically for poodles. 
Pros
No residue
Never dries out skin even after frequent use
Smells great. 
Cons
This is a great shampoo for fleas and ticks, but this formula is also very gentle and does not contain any harsh chemicals. Vet's Best Flea and Tick shampoo has a rosemary and peppermint scent that will leave a delightful fragrance after bathtime is over.
Pros
Excellent at removing ticks
Refreshing smell. 
Cons
Pet owners have reported this is not the best at removing fleas. 
Burt's Bees is a gentle formula made with oatmeal, honey, and beeswax, beneficial for sensitive skin. This is a tearless shampoo suitable for all dogs and puppies. 
Pros
Great soap that rinses clean
Ideal for a general purpose shampoo
Great for sensitive skin. 
Cons
No fragrance, so not ideal if needing a deodorizing shampoo. 
This is an excellent formula for sensitive skin as this shampoo contains no alcohol, no sulfates, no added colors, and no harsh chemicals. 
Pros 
Great lather
A little bit goes a long way
Excellent for sensitive skin,
Leaves coat shiny. 
Cons
Not the best smelling, 
Not the most moisturizing formula. 
This shampoo contains shea butter, which aids in softening skin and balancing natural oils. This formula also cleans and deodorizes your dog's coat. 
Pros
Excellent cleanser
Smells great
Very moisturizing. 
Cons
Wahl white pear brightening shampoo comes highly recommended for keeping poodles coat bright and shiny. This formula is also pH balanced and alcohol and paraben-free. 
Pros
Great smell
A little goes a long way
Keeps white coat extra bright and shiny
Cons
Scent is not long lasting
Does not help dry skin
Lillian Ruff Face and Body Wash removes tear stains, brightens coat, helps soothe itchy skin, and natural berry extracts will leave your furry friend smelling fresh and sweet. 
Pros
Cons
Scent does not last long after drying
If the scent of berries isn't your thing, maybe not the most ideal formula for you and your pooch
This tear-free, paraben and sulfate-free formula comes highly recommended by vets and pet owners alike. Pet Pleasant Lavender Oatmeal shampoo is exceptionally gentle and effective for soothing dry skin and combating skin irritation. 
Pros
Tear free
Leaves coat soft and shiny
Great for soothing skin irritation. 
Cons
Healthy Breeds shampoo is a gentle and natural formula that will remove dead skin without harming your poodle, will moisturize, and nourish your dog's skin and coat. 
Pros
Breed specific formula
Smells great
Excellent for fur that easily mats. 
Cons
not the best formula for severe skin allergies. 
This shampoo is a great texturizing shampoo that won't leave your dog's coat oily or flat. Nature's Specialties contains a non-toxic blend of aloe vera, silk proteins, vitamins A, D, and E, and essential oils to leave dogs coat looking and smelling great. 
Pros
Scent is long lasting
A little bit of product goes a long way
Great moisturizer. 
Cons
Can cause static in coat
Works best with a conditioner
Can You Use Human Shampoo on a Poodle?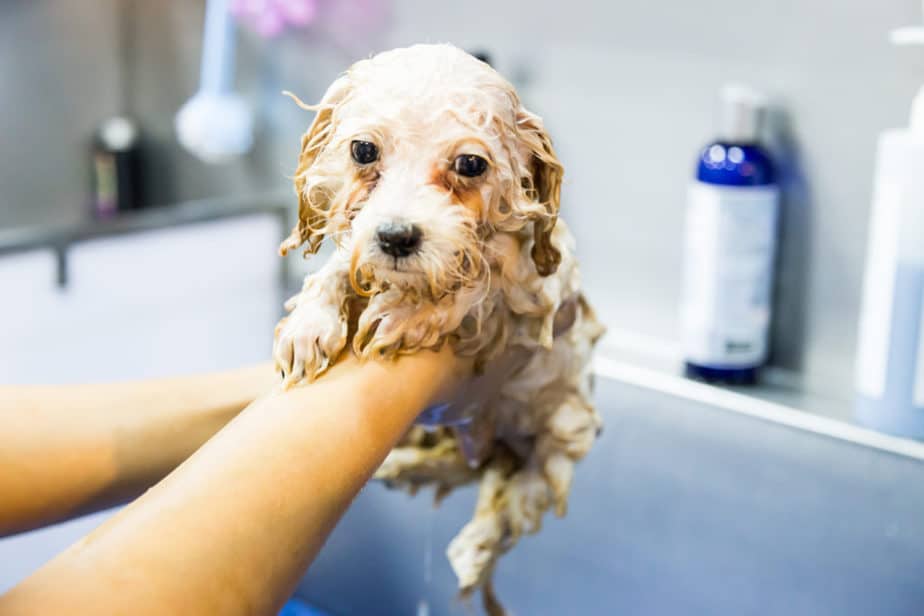 Using human shampoo on your poodle is not recommended. There are a lot of dog products on the market, and it can be overwhelming to figure out what's best for your poodle. But, finding the right shampoo for your furry friend is worth investing the time in. Here are some reasons why you should refrain from using human shampoo on your poodle. 
PH Balance. Humans and dogs have different pH balances. A human pH balance is on the acidic side, whereas a dog's pH balance is more neutral. Using human shampoo can leave poodles skin dry, flaky, and more vulnerable to parasites and bacteria. 
Human shampoos can contain artificial colors and fragrances that aren't good for, and can be damaging to dogs' skin. 
Any breed of dog skin is just naturally more sensitive than ours, so shampoos with harsh chemicals can remove the natural protective oils from dogs' coats and skin. 
Human shampoo isn't formulated in any way to benefit dog fur. 
If your poodle happens to suffer from allergies, it's more than likely their skin is already prone to certain uncomfortable conditions, so this makes avoiding harsh human shampoos, and choosing a gentle, moisturizing dog shampoo all the more critical. 
Human shampoos can leave your poodle's skin feeling dry, causing your dog to scratch and potentially create abrasions that are prone to attracting bacteria. 
If you're trying to address a specific condition such as shedding or dryness, even if human shampoo is formulated for thickening or moisturizing, it simply won't have the same effect when used on a dog. 
In a dire situation, it's perfectly fine to use human shampoo should you need to. Just keep an eye on your poodle's coat and skin, and avoid letting using human shampoo become a habit as long term use will likely cause a rather unpleasant reaction. 
Different Types of Shampoo for your Poodle
Before choosing a specific brand of shampoo for your poodle, you need to know what type of shampoo you're really in the market for. Here is a little guide that will help you better navigate choosing a shampoo that will be best for your furry friend. 
General Purpose. A general-purpose shampoo is ideal for routine bathtime, made with natural ingredients, and is gentle and moisturizing enough for routine use. 
Puppy Shampoo. Poodle pups have extra sensitive skin, so shampoo should be tear-free, soap-free, soothing, and gentle. 
Color Enhancing. A color enhancing shampoo is great for poodles because it will naturally brighten a poodle's black or white coat and add a healthy shine. 
Deodorizing. Due to natural oils, sometimes our furry friends may not smell the freshest. Luckily a lot of shampoos can help with this, and there are a lot on the market that will make your poodle smell great naturally without any strong perfumes. 
Flea and Tick. While flea and tick shampoos can kill fleas and ticks on contact, it's essential to contact your vet if your poodle needs more preventative care. 
Anti Fungal. Yeast infections happen, and if your poodle is experiencing one, an antifungal shampoo will provide relief from the pain and burning. 
Medicated. Medicated shampoos are made for itchy or irritated skin, and these shampoos are typically specific for allergies versus infections. 
Dandruff. Dandruff isn't typically a huge issue for poodles, but they can experience sensitivity to their dander as it can build up under their curly coats. 
Shedding Control. Again, not a huge problem many poodles will experience, but some females do experience shedding, and certain shampoos can help with this. 
Conditioner. Using a conditioner on your poodle is great for their curls. When fur becomes matted and difficult to brush through, this can be very painful for poodles. Luckily, there are a lot of 2-in-1 formulas available that will keep your poodle's fur silky smooth. 
Bathing Tips for Poodles 
Now that you have the perfect shampoo chosen for your poodle, it's equally important to know how to bathe your pet properly. 
Bathing a Poodle Puppy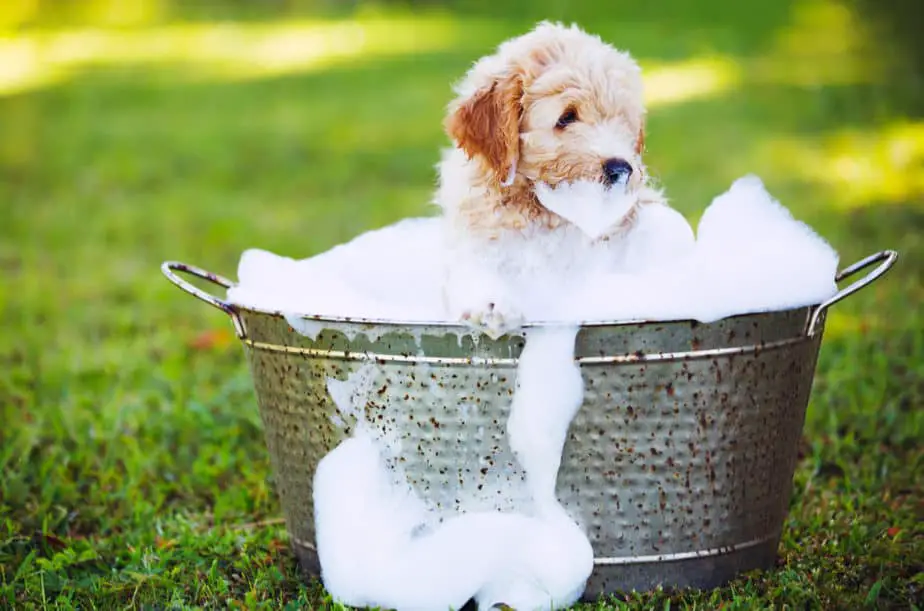 When bathing a poodle puppy, especially for the first time, you'll want to be very delicate. It's essential to make sure your puppy is weaned from its mother first, as its mom will take care of keeping him or her clean for the first few months. 
It's also important to wait until after your pup has received its vaccines, so three months old is a good time to give your poodle pup a regular bath. Poodle puppies only need to be bathed about once a month to avoid ridding them of natural protective lipid layers. 
The kitchen sink or a small basin is ideal for a poodle pups bath. The bath water should be warm, and shouldn't cover your poodle too much. Puppies are susceptible to getting cold, and shouldn't be too cold for too long, so keep this in mind when choosing the spot for your pups bath. 
When bathing your poodle pup, avoid washing the head. Make the bath as enjoyable as you can so that puppies will be excited for a bath in the future. After shampooing and rinsing your puppy, wrap him or her up in a towel after to stay warm. 
You can use a hairdryer on your puppy, just make sure it's set on the lowest setting, and to keep the dryer moving continuously to avoid burning their sensitive skin. 
Bathing an Adult Poodle
An adult poodle is going to require a bath roughly every three weeks. Before bathing your poodle, brush the coat gently to remove any tangles. 
Next, run warm water in the bathtub and help your dog into the bathtub to avoid them slipping. Wet the coat thoroughly, and begin to apply shampoo. 
When it's time to rinse your poodle, as a general rule, rinsing should take longer than shampooing. Start at the head and work down the neck, black, and to the tail. Next, get the sides, stomach, legs, and feet. When shampoo residue builds up can make fur appear dull and cause irritation. 
Lastly, condition if necessary, though a lot of products are 2-in-1 formulas which make bathtime that much quicker. Remember to keep bath time as fun and enjoyable as possible. This will ensure future baths will be simple and enjoyable as well. 
Wrap your poodle up in a towel and gently towel dry, you may also wish to use a hairdryer at this time to keep your dog warm and to speed up the drying and grooming process. Just be sure to keep the hair dryer moving continuously to avoid burning your poodle's skin. 
Potential Coat issues Encountered When Shampooing a Poodle
Poodles have a super unique coat in that unlike most dog breeds. Poodles have only one coat, and poodles' hair never stops growing. That being said, poodles require pretty frequent grooming and to avoid specific coat problems. 
It's also important to keep in mind that no matter how closely you follow your dog's bathing and grooming routine, hair loss among poodles is pretty common, and your poodle may still experience hair loss. 
 Here are a few of the issues poodle parents may run into when shampooing:
Matted Hair. Matted hair is most common among playful pups, and also becomes prevalent at around nine months old as puppy hair changes into adult hair. A spray-in conditioner may be a good option to look into, or simply ask your groomer for tips as they are more than happy to help you and give you some expert advice. 
Females & Hormones. When a female poodle is in heat or whelping a litter of puppies, a boost in estrogen will cause hair to thin. 
Allergies. Allergic reactions can be caused by anything but are nonetheless miserable for your poodle. Intense itching and irritation can cause hair loss and scabs. It's essential to contact your vet so you can target the problem together. Luckily, there are tons of shampoos available for dogs suffering from allergies that will be gentle and moisturizing. 
Hypothyroidism. This is a condition caused by a hormone imbalance. Aside from a thinning coat, look for signs of lethargy and mental slowness, and be sure to contact your vet should you notice these symptoms. 
Alopecia X. As scary as it sounds, this condition is not painful to your poodle and is actually a growth hormone deficiency. This genetic condition is most common amongst small breeds and is the process of a poodle experiencing hair loss. It's important to note that there is no skin irritation or discomfort associated with alopecia x, so if you noticed other symptoms, contact your vet to target the issue. 
Fleas, Ticks, and Mites. These pesky pests can cause poodles to bite, scratch, and pull out hair. Many shampoos on the market will kill these pests on contact, but be sure to check with your vet to see if your poodle needs preventative care as well. 
Ringworm. Ringworm is a highly contagious fungal infection. If you begin to suspect that your poodle may be suffering from ringworm, you'll want to start sterilizing anything your dog has come in contact with and get them to the vet as soon as possible. 
Over Curling. After bath time, towel dry your poodle's coat to avoid curls becoming out of hand. Over curling can cause excessive knots and matting that will be painful and uncomfortable for your pooch. 
If you begin to notice any hair thinning, excessive shedding, redness, swelling, itching, or discomfort, contact your veterinarian and get your poodle in for a checkup as soon as you can to target the issue, and figure out a way to combat it, and get your poodle's coat back to being healthy and shiny. 
Grooming Your Poodle after Shampooing
You've got the perfect shampoo for your poodle, and a spa-worthy bath time routine down, now it's time for some grooming basics. Poodles are notorious for their beautiful curly coats, but they do require a certain amount of attention to avoid matting and painful skin irritations. 
There are a few things to know and understand about poodle fur before you begin your bathing and grooming routine at home. 
Poodle fur is real hair that grows continuously, so routine care is a must. 
Puppy hair begins to transition to adult hair between 9 and 18 months, and some don't get their full adult coat until three years old. 
If opting for a professional groomer, your poodle will need to go roughly every 3-6 weeks. 
Daily brushing and/or combing is recommended to keep mats and tangles away, which can eventually lead to uncomfortable skin irritations. 
Basic Grooming Routine at Home 
First, you'll want to establish a good spot to groom your poodle, table, or countertops are recommended. 
You'll begin by clipping your poodle's face, slowly and steadily, only going over each area once or twice to avoid clipper burn. 
Next, clip the poodle's feet. For this step, rubber mats come in handy, so your poodle doesn't slip. Run clippers over the surface of feet, as well as in between toe pads. 
With your poodle on its hind legs, trim hair from the belly to back, get inside its hind legs, then move to the base of the tail and trim under the tail from the bottom. 
Time for a Trim After Bath Time
After a nice warm bath, it's time to trim your poodles' coat. This is quickly done with clippers that come with an attachment, but this step can also be done with a good sharp pair of scissors making sure to keep them flat against the poodles' coat. 
Check out this helpful video on grooming your poodle at home: 
Final Thoughts
Poodles are all around great dogs and will make the perfect addition to any household. Still, there is a certain amount of attention their notoriously fluffy and curly coats need to avoid skin irritation and discomfort. 
The best shampoos for poodles have a proper pH balance, don't contain any harsh chemicals, include a natural moisturizer, and are tear-free. Human shampoo should be avoid, unless it's an emergency, as human shampoos can be harmful to a poodle's skin and coat. 
Before choosing a shampoo for your poodle, consider any specific needs your poodle may have, such as an extra-gentle formula for puppies or a medicated shampoo to soothe skin irritation. Knowing what different types of shampoos are on the market, such as color-enhancing, deodorizing, and/or shedding control, will better assist you in choosing the best shampoo. 
Knowing how to bathe and groom your poodle properly is also super important to keep their skin and coat as healthy as possible and prevent matting from creating painful skin irritation. Poodles have been known to experience certain skin and coat conditions such as allergies or alopecia, so if you notice any symptoms, it's important to contact your vet so you can quickly address and eliminate the problem. 
Poodles are smart, friendly, and make for a great family or show dog. With proper bathing and grooming techniques, your poodle will stay happy and healthy on the outside, as well as the inside.