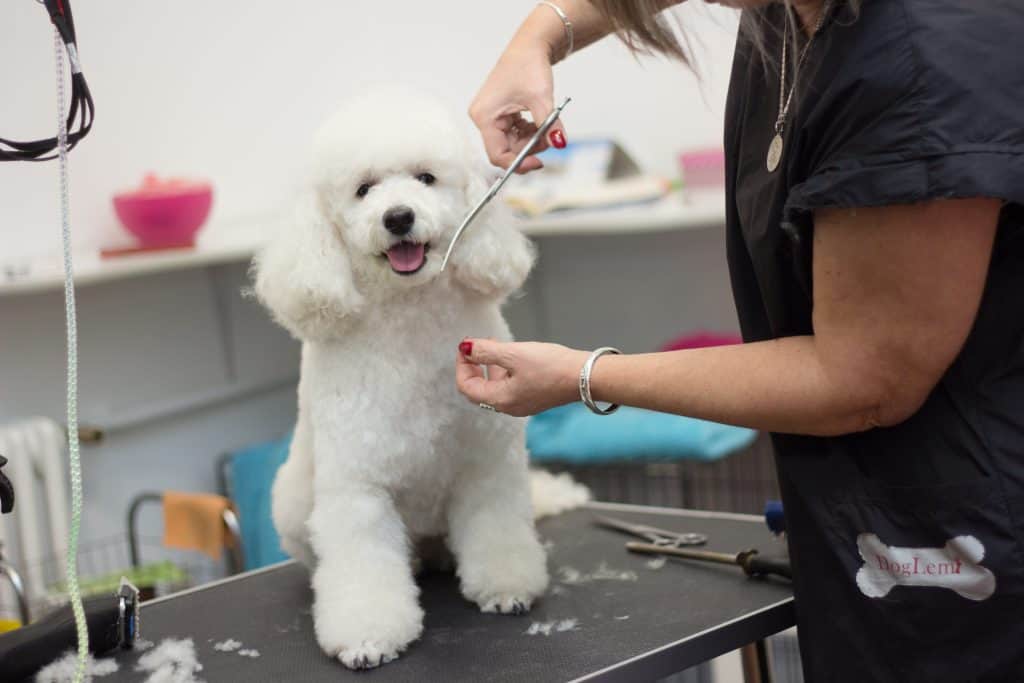 There's perhaps no dog breed as highly associated with grooming as Poodles. Their wild curly hair is perfect for styling. Still, if you decide you want to groom them yourself, you'll need to make sure you have the right grooming table for the job. However, what is the best grooming tables for your Poodle?
The 6 best grooming tables for Poodles include:
Polar Aurora Pingkay Grooming Table
Go Pet Club Dog Grooming Table
CO-Z Grooming Bath Tub Station
Yaheetech 36-inch Pet Grooming Table
FARRAY Heavy Duty Grooming Table 
DEStar 45-inch Grooming Table 
If you're looking to purchase a grooming table for your Poodle, you've come to the right place. Below, we'll begin by discussing why you should have a grooming table in the first place.
Later, we'll consider what features to look in a good quality grooming table. Finally, to make things simple, I'll give you my picks for the six best grooming tables for your Poodle based on overall value, bathing combos, size, and budget. 
The Best Grooming Tables For Poodles
Grooming your Poodle is essential. Periodic grooming not only improves a dog's appearance but also removes mats that can be a breeding ground for pests and infections.
A grooming table dedicated solely to these tasks will enable you to groom your dog more easily and safely, while also speeding up the grooming process.
Let's take a look at the best grooming tables for Poodles in each of the following categories:
Best All-Around Value
Best Budget Table
Best For Bathing
Best Table For Miniture or Toy Poodles
Best Tables For Standard Poodles
Best Tables For Extra Large Poodles
The 6 best grooming tables for Poodles include:
1. Best All-Around Value: Polar Aurora Pingkay Grooming Table
The Polar Aurora Pingkay grooming table (Link to Amazon) is an affordable grooming table that packs in a lot of really useful features. From its stainless steel design to its high adjustability, this table has proven to be an all-around solid grooming table. In fact, the company boasts that this grooming table is actually currently used by professional dog show champions. 
The following features of the Polar Aurora Pingkay make it my pick for the best all-around grooming table: 
Comes in three sizes: If you buy this grooming table on amazon, you can select from three different sizes; 30-inch, 36-inch and 48-inch. This allows you to pick the size that's right for the type of poodle you have. 
Can handle up to 330lbs: This grooming table can handle a pretty hefty amount of weight, at 330lbs. 
Stainless steel foldable legs: This grooming table has legs that are made of stainless steel. They are foldable for easy storage but once they lock into place they keep the entire table stable. Another part of what helps them do that is the rubber caps on the ends of the legs. These ensure that the table won't move around during grooming. 
Waterproof rubber top: The top of the table is made of waterproof rubber. This accomplishes a couple things. It provides some grip for your poodle's paws so they don't slip around while you're grooming them. It also prevents wear that could result from water damage over time. It both helps your table last longer and keeps your dog safe. 
Adjustable Arm: The arm where you can leash your dog in place is adjustable. It can extend up to 36" in the air to handle your poodle no matter how tall they are.  
If you want all the basics in one place, this is the grooming table for you. This product has everything you really need in a grooming table at a very reasonable price.
2. Best Budget Table: Go Pet Club Dog Grooming Table
The Go Pet Club Pet Dog grooming table (Link to Amazon) doesn't have all the features of the Polar Aurora Pingkay grooming table, but it has everything the average owner needs to groom their dog on a budget. The Go Pet Club Dog Grooming Table is great for both standard (medium) size Poodles and small Poodles as well. 
The features that make the Go Pet Club Dog grooming table a great deal are as follows: 
Adjustable arm: This grooming table boosts an adjustable arm that can extend up to 40" high. You can use this to ensure that the table is fitted exactly to your dog. 
Sturdy, rust-proof legs: The legs on this grooming table are rust-proof, foldable and made of sturdy aluminum. They also have rubber tips on the end of them to help stablize the table while you groom your poodle. 
Low price: For a decent quality grooming table that's both sturdy but easy to store, this product is a great value. 
Waterproof, non-slip surface: The top layer of the table itself is water proof to prevent any warping or wearing that otherwise might take place. Along with that, it has a non-slip surface so you know your poodle is nice and safe through the whole grooming process. 
If you have a standard size poodle, you should be able to use the 42-inch table. If you live with a small poodle, you can use the 42 or the 32-inch table.
3. Best for Bathing: CO-Z Grooming Bath Tub Station
The CO-Z, Professional Stainless Steel Pet Dog Grooming Bath Tub Station (Link to Amazon) is for those of you who want to go all out on their dog's bathing/grooming experience. This all-in-one station is 50-inches, plenty big for any size dog. It is loaded with more features than any of the other grooming tables on this list. 
The following are just some of the best features of the 50-inch CO-Z Grooming station: 
Accessories for running water: One of the most obvious features of the CO-Z, is its bath system. It comes complete with a mini shower, sink and faucet. You will be able to bathe your poodle here as well as groom them. 
Stainless steel with a walk on ramp: The entire unit is stainless steel. The material is nice and sturdy so you don't have to worry about it holding your dogs waiting. Furthermore, there is a walk on the ramp so your dog has safe and easy access. 
Equipped with a special drain pipe to reduce odor: This grooming/bathing station is equipped with an S shaped drain pipe that is specifically designed to prevent the odors left behind from dirty water from drifting out. 
Contains a shampoo rack: There is a small shampoo rack near the top of the grooming/bathing station that makes the process of bathing your dog easier and more convenient. 
The only potential downside to this grooming/bathing station is that it does run rather high in price. However, I look at this as a long-term investment. This product has everything you need to keep all your dogs attractive and well-groomed for many years to come. 
4. Best Table for Minature or Toy Poodles: Yaheetech 36-inch Pet Grooming Table
The Yaheetech 36-inch pet grooming table is one of the best high-quality grooming tables for small dogs. For Poodle owners, this table is perfect for puppies, miniature, or toy sizes. It is small enough to where it won't be huge to your Poodle but it will also give them plenty of room to grow into as he grows. 
Below we've highlighted some of the best features of the Yaheetech 36inch pet grooming table: 
Textured waterproof surface: The surface of the table is textured so your Poodle doesn't slide around. It's also waterproof so your table will last a lot longer. On top of that it is specifically made from a material that is easy to clean, meaning you won't have to spend as much time just clearing things off after you've finished grooming your dog. 
Multiple grooming loops: There are two grooming loops that hang down from the arm to keep your small Poodle safe. The loops are adjustable, so if you have multiple Poodles you can easily fit it to each one individually.
Sturdy but foldable: The legs are foldable but sturdy. They can support up to 220.5 lbs. With smaller dogs the weight capacity may not seem as important, but it's good to know what the limit is anyway just in case.   
Relatively low price: This grooming table is of the same quality as some of the larger ones Yaheetech makes, but it's a lower price because of its size.
If you want a grooming table that's a safe bet no matter how small your Poodle, look no further than this one. This table is so adjustable, you can even use it to groom your cats if you so desire.
5. Best Table for Standard Poodles: FARRAY Heavy Duty Grooming Table 
If you want a grooming table that best fits a standard-sized Poodle, the FARRAY 43-inch Heavy Duty Pet Dog Grooming Table (Link to Amazon) is perfect for you. While it can be used for smaller and large poodles as well, it will make the most comfortable fit for medium size poodles. 
The following features make the FARRAY Heavy Duty Grooming Table a fantastic choice for your medium size poodle: 
Non-slip, waterproof tabletop: This too has a tabletop with enough grip to keep your dog steady. It's also waterproof to prevent damage over time. 
Foldable sturdy legs: The legs of this grooming table are made of stainless steel and can support all the way up to 220 lbs. Along with their firmness, they also have rubber tips on the end of them to prevent you from accidentally pushing around the table while you groom your poodle. When you're done, the legs easily fold up for storage. 
Adjustable arm for perfect height: The arm on this table is adjustable, so you can customize it for your dog. It can go all the way up to 33.5 inches. Along with it's customizable size it has two loops for you to hook in your dog during grooming. This is especially useful if you have a dog who likes to move around alot when grooming. 
Plenty of shelf space: There is a large mesh  shelf that goes on the bottom of the table. You can use this to hold your grooming and bathing supplies while you style your poodle. If you decide to leave the table out, instead of folding it up, it can also make a great place to store those items. 
These features make this grooming table one of the best all-around tables you can buy. The Farray Heavy Duty Grooming Table comes at a great price and provides all the features you would expect in a heavy-duty grooming table. 
6. Best for Extra Large Poodles: DEStar 45-inch Grooming Table 
The DEStar 45-inch Collapsible Pet Grooming Table is perfect for anyone who wants a grooming table specifically for their large poodle. The surface of the table is big enough to keep even the largest poodle comfortable while the shelf beneath it is spacious enough to hold all the dogs' grooming supplies. 
The following features make the DEStar 45-inch grooming table an excellent choice for anyone with a large poodle: 
Special extra strong H shaped arm: The first thing you're likely to notice about this grooming table is that the arm isn't like that of any of the others we've reviewed on this list. Instead of only having one side that goes straight up, this one makes an H shape to allow for two loops to hold your poodle more secure.
Arm is also adjustable: You can adjust the height of the arm and extend it all the way up to 38 inches. This is a great feature to have if you've got a puppy who is still growing or if you have multiple dogs of different heights. Of course, it's also just useful for fully customizing your table to fit your dog. 
Table top that is both anti-slip and anti-scratch: The table top has a nice firm grip to keep your dog safe from sliding around while you groom them. On top of that however, it also has anti-scratch properties, meaning it won't only work great for a long time, but it will look great as well. 
Stainless steel, collapsible legs: The legs are made of stainless steel, with the ability to handle up to 265 lbs.On top of that, they also have rubber caps on the ends of them to help stabilize them when they're in use. Furthermore, they're even collapsable, making for easy storage when the table isn't in use. 
These features make for an excellent grooming table that can fit your Poodle no matter how big they are.
Do You Really Need a Grooming Table for Your Poodle?
While Poodles can be groomed on any flat surface sturdy enough to hold them, it's always better to groom dogs on a good quality grooming table. Grooming tables provide a wide array of convenience and safety features which provide a safer and more convenient experience for both Poodles and their owners.
Features That Make Grooming Tables Safe and Convienient 
Grooming tables are built specifically built with dog's needs in mind. The correct tools for at-home grooming can make all the difference, and a good dog grooming table is foundational to any well-groomed dog.
Features that make grooming tables safe and convenient include:
A Non slip surface: Most grooming tables are equipped with non slip surfaces so your poodle remains nice and safe while you groom them. This isn't something that can necessarily be said for an improvised grooming space. 
Shelves for grooming supplies: Many grooming tables come with space to store your grooming tools while you work. This will make the process of grooming your dog more convenient and ultimately more timely. 
Easy storage: Many grooming tables are far easier to store than regular tables. If you want to have something specific for your poodle's grooming, getting a grooming specific table is the way to go. 
Less risk of damage: If you choose to use a random table in your house, you could inadvertently damage it when trying to groom your dog. For example, if your dog's nails need trimming, it could easily scratch the surface of a regular table. With a grooming table, this concern vanishes, as it is exclusively meant for grooming. 
More customization: There are a ton of options when it comes to what kind of grooming table you want to get. Some have a grooming/bathtub combo. Others rotate for easier access to your dog. Then of course there are standard fold up ones with non-slip surfaces. Picking a table gives you more choice over your dog's grooming. 
So, while it is possible to groom your Poodle on any table that has enough surface space and support to hold their weight, you and your dog are better off just going with an actual grooming table. You'll be able to find one that is just the right size, has safeguards, accessories, and foldable legs for easy storage. 
How to Choose the Right Grooming Table for Your Poodle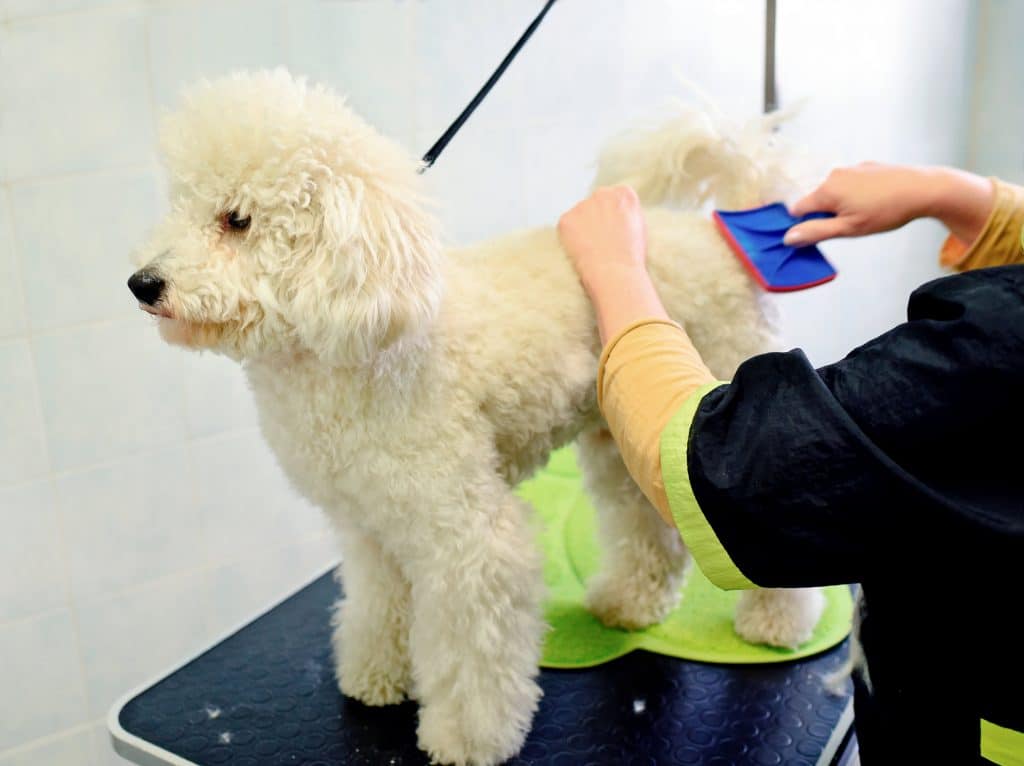 One of the reasons we are giving you a list of the best grooming tables instead of just pointing to one is because there is no one best grooming table. There are a number of factors that go into whether or not a specific grooming table is right for you and your dog. 
Factors to consider when purchasing a grooming table includes:
The size of your dog
Your budget
Included safty features
Portibillity
Needed product features
The room size where you'll groom your Poodle
Be sure to understand what your expectations are for a grooming table. Have a good idea of what features you are looking for before you purchase your table.
There are some additional features you may want to consider as well. Some grooming tables double as bathing areas while others can accommodate multiple sizes of poodles. Beyond these however are the basics, that virtually every grooming table should have. 
Fearures All Good Grooming Tables Should Have 
Along with the features that make grooming tables unique, are some that are shared amongst nearly all quality grooming tables.
The following features should be included with any good grooming table: 
An Arm: The arm of a grooming table is just the piece that rises up above the table's surface and lets loops dangle to keep your dog still as you groom them. 
Safety features: You want to ensure that the legs or base of any grooming table you get are made from sturdy material. Always check the number of pounds a grooming table is able to support before buying to avoid any accidents. Also ensure that it has a safe surface that either walls your dog in or is non-slip in case you just finished bathing them. 
Shelves: Technically this is one you could live without, but it makes things a little less organized and smooth. It's always good for a grooming table to have at least one shelf where you can have easy access to your grooming supplies as you groom your poodle.
These features will ensure your job is as easy as possible and that your dog is as safe as possible.  
What Size Grooming Table Do Poodles Need?
Poodle owners should consider the height, weight capacity, and surface measurements when considering the purchase of a grooming table. As a general rule, Standard Poodles require a grooming table 36 to 48 inches long while miniature and Toy Poodles need a surface of only 36 inches in length.
The size of your grooming table is important because one that is too big may make it hard to keep your pup still, while a table that's too small may not be safe for them at all. Thankfully, there are several different-sized grooming tables on the market, including some that are adjustable. 
When choosing a grooming table's size, Poodle owners should consider:
Height: It's recommended that your grooming table come up to your waist for easy access to the dog. 
Weight capacity: Always make sure to check the weight capacity of any grooming table you decide to buy. Some grooming tables meant for smaller dogs may not be as safe for a larger one. 
Surface measurement: The surface measurement of the grooming table should be listed in each grooming table's description. For larger poodles you may want to look for something in the mid to late 40s. For standard size poodles you should look in the mid 30s through the early 40s, and for small you can get by in the early to mid 30s. In fact the small one I recommend is 36 inches.  
If you ever forget what sizes work best, just remember most grooming tables will recommend on their box–or in their product description online–what size dogs they can support. When in doubt it's always good to double-check. 
So Really, What's the Best Grooming Table for a Poodle?
The truth is there isn't really one best grooming table. Instead, it depends on what aspects of the grooming table are important to you. Do you want one that will have a more comfortable fit for your dog? Do you want one that includes some type of bathing unit? How important is it that the legs be collapsible? What kind of price range do you want to spend in? 
You should ask yourself all of these questions before you decide which is best for you. If you really want my recommendation for the all-around best deal, I would have to choose the Polar Aurora Pingkay grooming table. It's made from solid material, comes in multiple sizes, and even boasts being used by professional dog show champions. You can't go wrong with that. 
Must Have Products For Poodles And Doodles
Thank you for reading this article. I hope you found it helpful. Here are some products that I personally believe every owner should employ to help ensure the best quality of life for their dogs. These are affiliate links, so if you do decide to use any of them, I'll earn a commission.
But in all honesty, these are the exact products that I use and recommend to everyone, even my own family.
Lemonade Pet Insurance: Lemonade Pet Insurance has enabled me to afford a very high level of veterinary care for my dog, Angus. Even after he was diagnosed with cancer a few years back. Lemonade is a great company, and I can't recommend them enough!
Brain Training For Dogs: Brain Training for dogs is an amazing online training program I found that actually helped me to understand and ultimately stop my dog's separation anxiety and destructive behaviors when I left the house. This program actually works, and at a small fraction of the cost of hiring a dog trainer!
Pet Plate: I first learned of Pet Plate when the company was featured on the TV show "Shark Tank" back in 2016. Pet Plate is the dog food subscription service I use to provide extremely healthy, pre-portioned meals for my dog. Pet Plate gives my dog Angus the highest quality nutrition at a very affordable price.
BarkBox: Without a doubt, my dog enjoys Barkbox more than anything else I buy him. BarkBox delivers a customized box of themed toys, treats, and other products to your door each month. In addition, I like that a percentage of proceeds is donated to local animal shelters.
Pawp.com: Pawp is not insurance. It's a membership program that gives you access to unlimited video calls or texts with a licensed vet 24/7 and includes up to six pets on a single membership! I Purchase this service for my dog Angus and have saved hundreds of dollars over visiting his local vet with questions or more minor health concerns. Pawp will even pay up to $3,000 if your pets experience an emergency situation! Check out Pawp's website to see why Pawp can help you save money and increase your pet's quality of care.