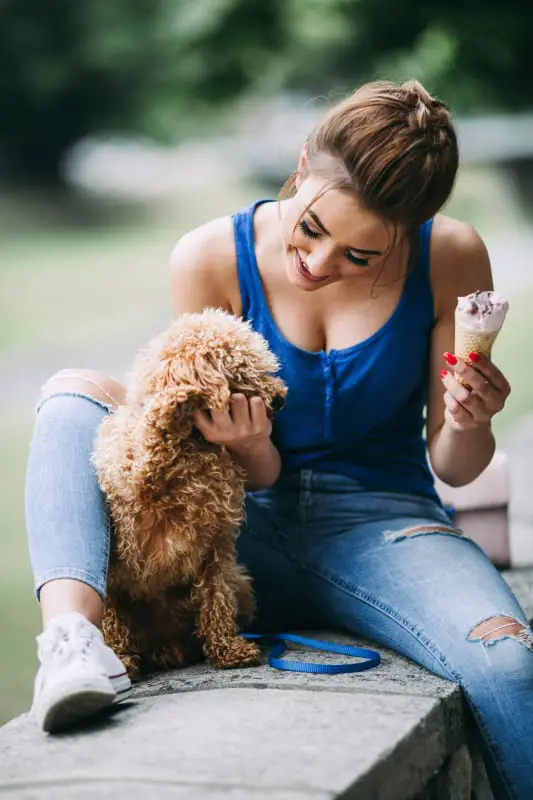 Almost everyone loves ice cream. So, it is only natural to want to share your love for this refreshing, sugary treat with your poodle. Maybe it is a hot summer day, you are enjoying an ice cream cone, and you want to share it with your poodle. But is it safe? Can poodles eat ice cream?
Poodles should not eat ice cream except as an occasional treat. Many poodles are lactose intolerant and unable to digest ice cream or other milk products. Feeding your poodle too much ice cream can result in vomiting, diarrhea, or other abdominal issues.
In this article, we will discuss the health concerns around feeding your poodle ice cream. We'll also explore the kinds of ice cream that are okay to feed your poodle as an occasional treat. More importantly, though, I'll provide some safe alternatives to normal ice cream your poodle will be sure to love! 
Is Ice Cream Safe for Poodles to Eat?
Ice cream is not safe for poodles to eat on a regular basis. Some major health concerns can result as a result of feeding your poodle a potentially harmful substance, like ice cream. As a loving owner looking out for your poodle's safety, you should be extremely cautious and be aware of all potential health ramifications before feeding ice cream to your dog. 
Potential health concerns related to poodles eating ice cream Include:
Lactose intolerance – Many adult poodles and other mature breeds are not able to break down lactose, one of the main sugars in ice cream. This can cause digestive issues for your poodle.
Allergic reactions – Your poodle may be allergic to any of the ingredients in ice cream. An allergic reaction may cause a red and itchy skin rash on your poodle.  
Toxicity – Many of the ingredients in ice cream made for humans is toxic to poodles. For example, chocolate, caffeine, and xylitol are all toxic compounds that your poodle's body can't process easily.
You do not want to cause your poodle any unnecessary pain, so only feed ice cream to your dog as an occasional snack. Excessive ice cream consumption can cause lactose intolerance in poodles.
Signs of lactose intolerance in poodles include:
Mild to severe digestive discomfort
Loose stool
Diarrhea
Vomiting
Stomach pains
Gas
Red, itchy skin rash
Ice cream is a calorie-dense food that is filled with sugar and fat. Poodles, like most dogs, can be sensitive to too much sugar and become obese. Additionally, ice cream's high-fat content can result in pancreatitis in your dog.
It is best to avoid giving ice cream to your poodle, but some kinds of ice cream are acceptable for occasional snacking. Even better, healthy, non-dairy alternatives do exist to keep your poodle from feeling left out the next time you visit the local ice cream parlor!
What Kinds of Ice Cream Can Poodles Eat?
While some dogs may be able to eat ice cream as an occasional treat, it is best to avoid giving ice cream to your poodle altogether. However, you may see doggie ice cream treats at your local grocery store; these are perfectly acceptable forms of ice cream to feed your poodle. as an occasional treat. 
Different types of doggy ice cream treats available for purchase on Amazon include:
Your poodle will love any of these dog-approved ice cream varieties. Remember that you never want to purchase something that has toxic ingredients or a high lactose content. Read the packaging on all ice cream treats carefully before feeding them to your poodle. 
Safer Non-Dairy Alternatives to Ice Cream for Poodles
There are many safe alternatives to ice cream for dogs that you can make at home for your poodle.
In addition to some homemade ice cream options, some frozen foods provide the cold aspect of ice cream without all the unhealthy and dangerous ingredients. 
Fruit and Vegetable Ice Cream Alternatives
The following is a list of alternatives you can feed your poodle instead of ice cream:
Frozen fruit – Blueberries, strawberries, bananas, and apples are all sweet frozen treats your poodle will love. 
Frozen vegetables – Carrots, peas, green beans are all great frozen options. 
If you are looking to add a little love into the equation, you can make your poodle some sweet treats from scratch.
Flavored Ice Cubes
These flavorful ice cubes give your poodle a nice treat on a warm summer day. These ice cubes do not require many ingredients and come together in a matter of minutes. 
For this recipe, you will need the following items for preparation:
Chicken, beef or bone stock or broth
Ice cube tray
Frozen vegetable of choice, chopped into small pieces
To make these flavored ice cubes, follow these simple steps:
Add your frozen veggie to the ice cube tray.
Then cover the veggies with broth.
Freeze overnight and serve as desired. Use within one to two months. 
This is a savory iced option for your poodle. However, if your poodle has more of a sweet tooth, check out our next recipe. 
DIY Banana Nice Cream Treat
This recipe is straightforward. It creates a creamy and cold treat that your poodle would love to have any day. But it hits the spot on a hot summer day for sure.
The following items are all you need for this recipe:
Frozen bananas
A food processor or blender
A container that is freezer safe
Take the following steps to make banana nice cream:
Pour frozen bananas into your food processor. 
Process until smooth and creamy. 
Pour into your freezer-safe container and cover.
Place in the freezer overnight. 
Thaw slightly to scoop easily and serve.
Keep the treat for 1 to 2 months. 
Try using an ice cube tray for a quick treat that is easy to serve and store. 
Keep in mind fruit is full of natural sugars also, so it is best not to feed your poodle too much of this treat. As with other treats, feed your dog banana nice cream only in moderation. 
You can substitute any type of frozen fruit that your poodle enjoys in this recipe or add a combination of different fruits. 
Even if your poodle loves ice cream, there are safer alternatives to ice creams made for human consumption.
While most dogs will not be bothered by small amounts of dairy, ice cream can have devastating effects on other dogs. It is more prudent to use a homemade dog treat or purchase an ice cream designed specifically for dogs and made with safe ingredients. 
In Summary: Do Not Feed Your Poodle Ice Cream
Ice cream is not meant for poodles. It is better and healthier to feed your dog a safe alternative to ice cream. These alternatives can be homemade or store-bought. Either way, they generally have a much shorter, and healthier, ingredient list than the popular ice cream brands for humans. 

You can make treats similar to ice cream for your dog, and these alternatives are often much less expensive than some of the specialty-made dog ice cream treats. Your poodle will love these treats so much more because they are made with your love!
Must Have Products For Poodles And Doodles
Thank you for reading this article. I hope you found it helpful. Here are some products that I personally believe every owner should employ to help ensure the best quality of life for their dogs. These are affiliate links, so if you do decide to use any of them, I'll earn a commission.
But in all honesty, these are the exact products that I use and recommend to everyone, even my own family.
Lemonade Pet Insurance: Lemonade Pet Insurance has enabled me to afford a very high level of veterinary care for my dog, Angus. Even after he was diagnosed with cancer a few years back. Lemonade is a great company, and I can't recommend them enough!
Brain Training For Dogs: Brain Training for dogs is an amazing online training program I found that actually helped me to understand and ultimately stop my dog's separation anxiety and destructive behaviors when I left the house. This program actually works, and at a small fraction of the cost of hiring a dog trainer!
Pet Plate: I first learned of Pet Plate when the company was featured on the TV show "Shark Tank" back in 2016. Pet Plate is the dog food subscription service I use to provide extremely healthy, pre-portioned meals for my dog. Pet Plate gives my dog Angus the highest quality nutrition at a very affordable price.
BarkBox: Without a doubt, my dog enjoys Barkbox more than anything else I buy him. BarkBox delivers a customized box of themed toys, treats, and other products to your door each month. In addition, I like that a percentage of proceeds is donated to local animal shelters.
Pawp.com: Pawp is not insurance. It's a membership program that gives you access to unlimited video calls or texts with a licensed vet 24/7 and includes up to six pets on a single membership! I Purchase this service for my dog Angus and have saved hundreds of dollars over visiting his local vet with questions or more minor health concerns. Pawp will even pay up to $3,000 if your pets experience an emergency situation! Check out Pawp's website to see why Pawp can help you save money and increase your pet's quality of care.