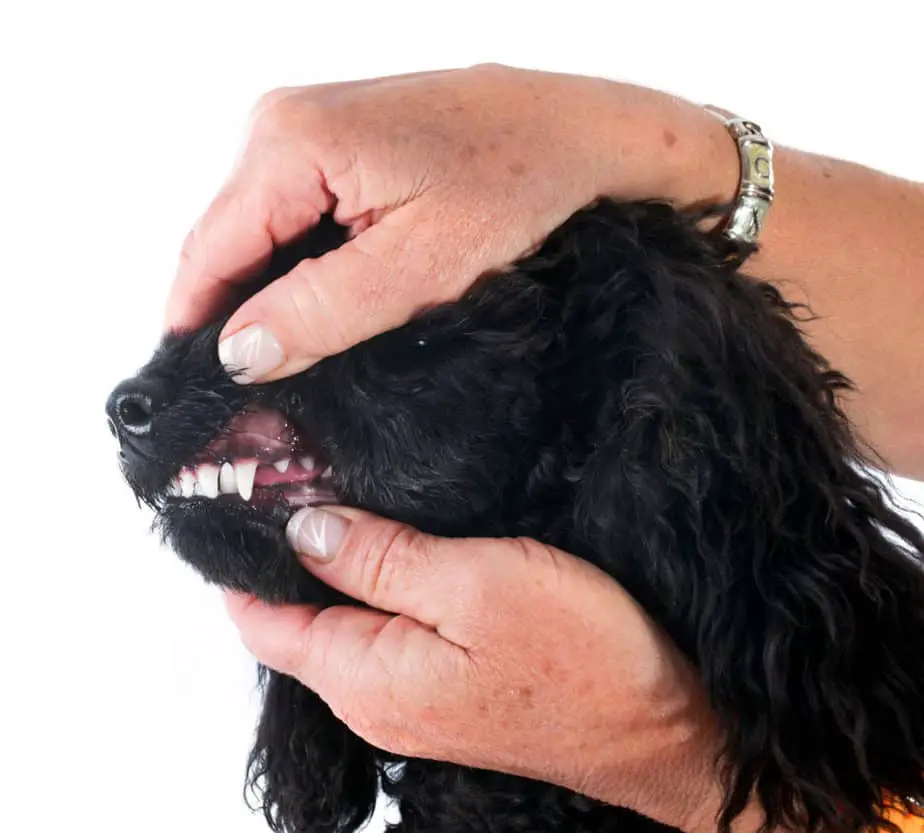 One of the most common problems facing your Poodle is chronic teeth issues. A recent USA Today article reported that Banfield Pet Hospital, which has over 800 pet hospitals in several states. found that over 60% of dogs had severe dental disease.
Poodles are especially at risk of periodontal disease. Periodontal disease in dogs is an inflammation or infection that weakens or loosens the support structures of the teeth. This can be very painful and can even damage internal organs if left untreated. However, with good teeth cleaning regimen, dental disease and tooth loss can be prevented or even possibly reversed. 
So, why do poodles lose teeth, and what can you do about it? Poodles can develop periodontal disease over time which can cause their teeth to fall out. All dogs need their teeth brushed regularly to remove any built-up plaque. A veterinarian can brush your dog's teeth or you can do it yourself at home. Additionally, dental chews may be used to help fight tartar build-up between brushings.
Read on to learn how to identify dental issues and properly care for your poodle's teeth before they become a significantly expensive health problem. 
Poodle Tooth Loss: Why Does It Happen
When most people think of poodles, they picture cute, curly-haired little toy poodles or the manicured large breeds ready for shows and looking good. What they probably don't consider is the uglier side of the poodle breed.
According to the Animal Health Clinic of Fargo, poodles often have terrible problems with dental hygiene that can lead to tooth loss. You will need to brush your poodle's teeth at least three times a week to ensure your Poodles teeth are sufficiently clean.
If your poodle's' teeth are not properly cleaned, this can cause:
Periodontal disease
Tooth loss
If his dental hygiene has gotten to the point of tooth loss, it is time to see the vet, as internal organs could be affected as well. 
How To Take Care of Your Poodle's Teeth to Help Prevent Tooth Loss
When you have a poodle, dental care should be a regular practice. If you don't want to be hit with expensive vet bills down the line, vets recommend: 
Brushing several times a week
Dental chews between brushings
Regular dental cleanings at your local veterinarian. 
Brushing Your Poodle's Teeth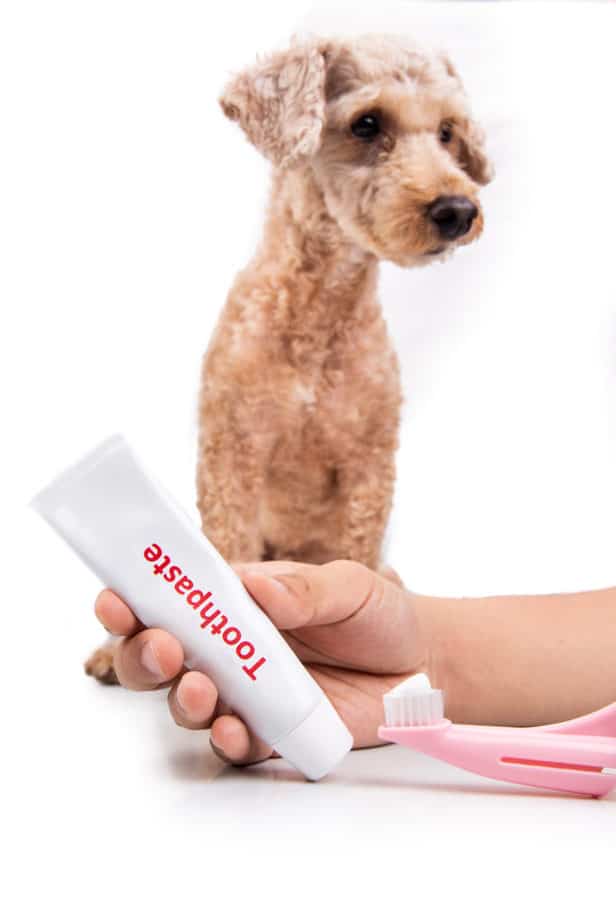 When you brush your poodle's teeth, there are some steps to take so that you do not hurt your dog or cause too much stress. Most dogs will not like teeth brushed at first and will probably fight to get away. However, starting a regular routine, with consistency, is the best thing that you can do for your poodle. 
Follow these steps from the American Kennel Club to start your dental hygiene routine for your poodle: 
Step #1: Dog Toothpaste
Do not use human toothpaste on your dog as it is toxic to them. Instead, buy dog toothpaste that comes in a delicious flavor like peanut butter or chicken that your dog will love, making your brushing experience a little easier. 
A few of the best dog kinds of toothpaste are listed here: 
Petrodex Enzymatic Toothpaste for Dogs: This product helps to remove and prevent plaque and tartar build-up. It has enzymes in it that break down the layers of plaque on your dog's teeth and comes in a delicious poultry flavor that your dog is sure to love. 
Arm & Hammer Dog Dental Care Fresh Breath Kit for Dogs: Arm and Hammer are known for their high-quality baking soda products, and this toothpaste utilizes baking soda to work safely and well for your furry friend. The kit also comes with accessories like a brush to help to clean those tough to reach spaces on the back teeth. 
Vet's Best Enzymatic Dog Toothpaste: The enzymes in dog toothpaste are formulated to break down the tartar and plaque on contact and to remain in place to prevent build-up again. This product utilizes these enzymes and is also available in a variety of flavors.  
Step #2: Start the Routine With Positive Affirmations
Make sure that your dog is comfortable and he knows when brushing is about to begin. Let him smell the brush, the toothpaste, and then offer pets, rubs, or treats before the brushing begins. This is all positive reinforcement so that he knows something good is coming when you move the toothbrush toward his mouth. 
Step #3: Brushing Your Dog's Teeth
Start at the back of the mouth and work your way forward. Most dog toothbrushes are either angled or wrap around your finger. Make sure to get the inside and outside of the tooth on each pass.
I wrote this article on exactly how to bush your poodle's teeth properly. In it, you'll find much more in-depth content, as well as how-to videos that show you how to do the job right each and every time.
Step #4: Have Water Available for When You Finish 
Have a bowl of fresh water available for your dog. When you are finished, give him positive affirmations again and allow your poodle to drink from the bowl. He will most likely want a drink after your fingers have been in his mouth. 
Buying Doggie Dental Chews
An excellent option for maintaining dental hygiene in between brushings and trips to the vet for teeth cleaning are dental chews. Dental chews have many of the same enzyme formulas that dog toothpaste contains. Also, the design of the chews allow dogs to grind down plaque build-up on their own, taking the guesswork out of brushing for you. 
Here are a few of the best dog dental chews on the market today: 
Virbac C.E.T. VeggieDent Tartar Control Chews: These small, angled, and hard dental chews are great for a dog to get their teeth around. The angle helps the dog reach hard to brush places in their mouth. Also, the veggie flavor adds fresh breath for your dog. 
Greenies Original Regular Natural Dental Dog Treats: Greenies are cute toothbrush shaped treats that dogs love. They have an easy to hold shape for your dog, promote good breath, and help to fight against plaque and tartar build-up. 
Zuke's Z-Bone Dental Chew Dog Treats: These are nutritious treats made from products like apples and veggies. They are a healthy alternative to other dental treats and work by allowing dogs to chew away plaque and tartar while promoting fresh breath and enzymes that protect teeth even after chewing. 
Dental Cleanings at Your Vet
If your dog's dental hygiene is terrible, or they just won't let you put your hands in their mouth, you may want to consider bringing your dog to the vet for teeth cleanings. Cleanings can be done with a team to restrain the dog or can be done when your dog is under anesthesia. It may cost more, but it only needs to be done like this very occasionally, and it saves you the hassle of wrestling with an unwilling dog. 
Do Poodles Have Bad Teeth?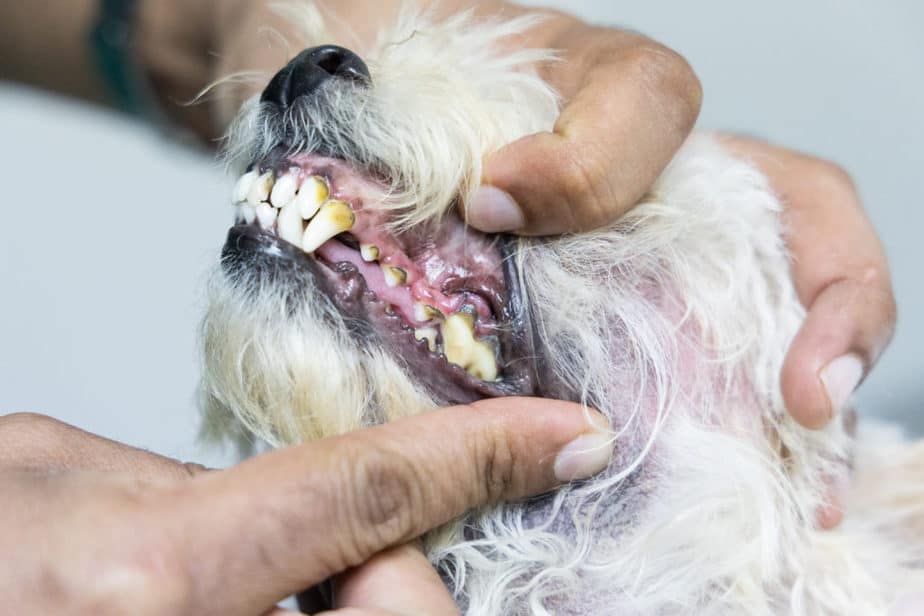 Some vets claim that poodles, in general, have bad teeth. However, it is mostly in the toy breeds of poodles that the worst dental problems tend to show up. In general, smaller breeds and smaller mouths build up plaque and tartar faster, which can negatively impact the teeth of your dog and cause the teeth to fall out. If you own a toy poodle variety of dogs, pay extra special care to dental hygiene routines. 
In Conclusion
Poodles may have worse teeth than other dogs, especially the toy poodle varieties. Plaque and tartar that build up need to be cleaned regularly each week. Also, using chew treats in between brushings is a great way to prevent plaque build-up. Finally, if the teeth of your dog are horrible, you may need to consider seeing a vet for cleanings and internal organ check-ups.
Must Have Products For Poodles And Doodles
Thank you for reading this article. I hope you found it helpful. Here are some products that I personally believe every owner should employ to help ensure the best quality of life for their dogs. These are affiliate links, so if you do decide to use any of them, I'll earn a commission.
But in all honesty, these are the exact products that I use and recommend to everyone, even my own family.
Lemonade Pet Insurance: Lemonade Pet Insurance has enabled me to afford a very high level of veterinary care for my dog, Angus. Even after he was diagnosed with cancer a few years back. Lemonade is a great company, and I can't recommend them enough!
Brain Training For Dogs: Brain Training for dogs is an amazing online training program I found that actually helped me to understand and ultimately stop my dog's separation anxiety and destructive behaviors when I left the house. This program actually works, and at a small fraction of the cost of hiring a dog trainer!
Pet Plate: I first learned of Pet Plate when the company was featured on the TV show "Shark Tank" back in 2016. Pet Plate is the dog food subscription service I use to provide extremely healthy, pre-portioned meals for my dog. Pet Plate gives my dog Angus the highest quality nutrition at a very affordable price.
BarkBox: Without a doubt, my dog enjoys Barkbox more than anything else I buy him. BarkBox delivers a customized box of themed toys, treats, and other products to your door each month. In addition, I like that a percentage of proceeds is donated to local animal shelters.
Pawp.com: Pawp is not insurance. It's a membership program that gives you access to unlimited video calls or texts with a licensed vet 24/7 and includes up to six pets on a single membership! I Purchase this service for my dog Angus and have saved hundreds of dollars over visiting his local vet with questions or more minor health concerns. Pawp will even pay up to $3,000 if your pets experience an emergency situation! Check out Pawp's website to see why Pawp can help you save money and increase your pet's quality of care.