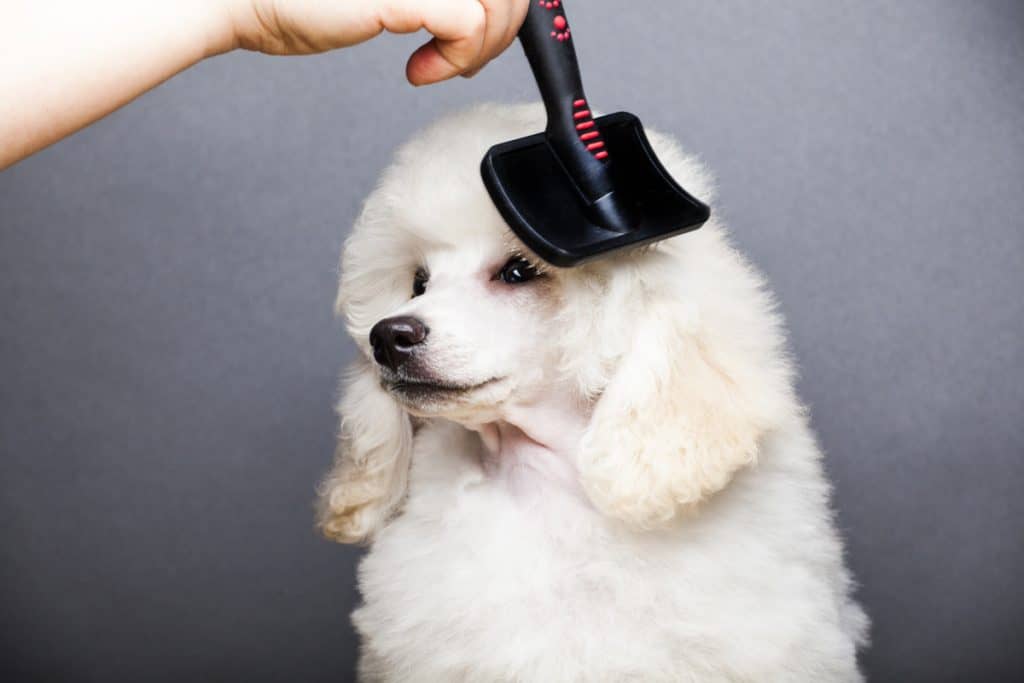 Poodles are delightful pet companions, and it is easy to see why you might be interested in having these curly-haired friends around. Many people find the poodle's curls beautiful, but it can also be difficult to maintain that beautiful look.
There seems to be an endless supply of brushes and grooming products out there for dogs. How do you know which brushes are best for your Poodle?
The best hair brushes for Poodles include:
Coastal – Safari – Dog Flexible Slicker Brush
Andis Firm Large Slicker Brush
Safari Dematting Dog Comb
FURminator Undercoat Deshedding Tool for Dogs
Andis Pin Brush
Millers Forge Unbreakable Style Slicker Brush
Li'l Pals Double-Sided Comb
CHI Double Sided Ball Tip Pin and Bristle Dog Brush
Hertzko Self-Cleaning Slicker Brush
While there is never going to be a perfect "one-size-fits-all" solution, because each pet is unique, I can offer tips and advice that I have found to be reliable for Poodle owners. In this article, we'll demystify some grooming challenges and help you identify the best tools for brushing your Poodle. 
What Kind of Brushes Are Best For Poodles?
Just like with beauty and hygiene products in humans, there is a myriad of different hairbrush options available for dogs. You'll want a brush that is going to effectively work its way through the thick curls of your Poodle's coat, without snagging the hair or irritating the skin.
Let's look at a few different combs and brush types, and identify what kind of coat they might be best for. 
The best types of hair brushes for poodles include:
Slicker Brushes: The Slicker Brush is the most commonly recommended brush type for grooming a Poodle. It is composed of thin wire bristles that more easily stroke through the coat, without catching tangles or scratching your dog's skin. These are the best choice for regular grooming and working out tough mats in the hair. 
Combs: A sturdy toothed comb is another valuable grooming tool for you and your poodle. A comb can be particularly beneficial when it comes to grooming more sensitive areas, like the face, so you avoid any poking with the wire bristles of the slicker brush.
Pin Brushes: The tipped metal pins of the aptly named "pin brush" make this tool the most similar to a typical human brush. They work similarly to the slicker brush but can be more effective for cleaning out any dirt that may have been trapped in the coat. 
Shedding Brushes: Poodles don't actually shed very much, but if you really want to minimize the shedding, consider a shedding brush. These are designed with fine metal teeth to collect any loose hair that would be shed. If you really want to eliminate pet hair altogether, then regular use of the shedding brush definitely helps. 
Grooming a Poodle is an involved and labor-intensive process. The slicker brush will likely be your go-to tool, but it definitely doesn't hurt to have a few of these other options on hand for different parts of the body. Now let's take a look at some of the best available options for these different types of brushes. 
The 9 Best Brushes For Grooming a Poodle
As described above, you'll probably want to own more than one brush to really groom your Poodle as effectively as possible.
But that doesn't mean you have to spend a ton of money on fancy gadgets and brushes to achieve great results. Here are some of our favorite brushes found on Amazon to keep a poodle beautiful and happy. 
1. Coastal – Safari – Dog Flexible Slicker Brush
The Coastal – Safari – Dog Flexible Slicker Brush is an excellent overall choice for grooming your Poodle. This light and cute brush feature stainless steel pins so that you can effortlessly glide through your pet's hair without irritating his skin. The comfort grip handle is easy to hang on to no matter how long it may take you to groom through your poodle's hair. 
Best of all, this brush features a self-cleaning mechanism. Anyone who has experience brushing a Poodle knows what a pain it can be to try and clean the brush so that it remains effective during use.
Well, with just the push of a button, the pins retract, allowing the trapped hair to fall away so you can quickly wipe the pad clean. 
This brush comes in three different sizes, so be sure to pick one that is right for your size pet. 
2. Andis Firm Large Slicker Brush
If you are looking for a simple and reliable slicker brush, then definitely consider the Andis Firm Large Slicker Brush.
This brush features a large surface area so that you can cover a greater amount of your pet's hair in each pull. The extra-fine bristles detangle and remove dead hair easily as you work through your poodle's coat.
This brush doesn't feature any special mechanisms, so you don't have to be concerned about it breaking. Cleaning will require a little bit more effort, however, since you will have to pull all the hair out from between the bristles. This brush is best for large dogs with dense, coarse coats.
3. Safari Dematting Dog Comb
Matted hair is not only unsightly but also uncomfortable for your dog. Regular use of a slicker brush will help keep hair from getting severely matted. If you do notice some matted hair on your dog, you will want a large comb to work it out. I recommend the Safari Dematting Dog Comb to work out any tough area of matted hair.
This wide-toothed comb is a great choice for working out those stubborn tufts of hair. The Safari Dematting Dog Comb has large teeth that are rounded at the end to provide a massage-like effect, preventing the irritation of your pup's skin. Best of all, this comb is equipped with serrated edges to gently root out dead skin and tough tangles. This comb is pretty large though, maybe even too large for the facial area of your pet. 
4. FURminator Undercoat Deshedding Tool for Dogs
As mentioned above, shedding isn't exactly a top concern for poodles. However, if you are interested in really taming any shedding that may exist, consider the FURminator Undercoat Deshedding Tool for Dogs This specially designed grooming tool reaches deep into the coat to gently lift and remove any lingering hair. 
This FURminator brush was designed by a professional groomer to be effective and safe. There's no need to worry about the bristles scratching or irritating your dog's skin underneath all that hair. Regular use of this brush will virtually eliminate shedding from your poodle altogether. Though once again, Poodles don't shed much to begin with so it's up to you if you feel like you need this. 
5. Andis Pin Brush
This pin brush very closely resembles a traditional human hairbrush. While it may not seem that your average hairbrush could tackle the dense curls of a Poodle, the Andis Pin Brush is a great addition to your grooming arsenal. The pin bristles help to remove dirt and loose tangles, while comfortably massaging your pet's skin.
A pin brush won't work out deep-set mats of hair or dense tangles, but loose tangles and light cleaning are a breeze with the pin brush. There are no special gadgets or gimmicks to this brush, so you can trust it to perform simply and reliably for a long time. Plus, it is one of the cheapest brushes on our list!
6. Millers Forge Unbreakable Style Slicker Brush
A common and disheartening issue when using a slicker brush is that the brush may get stuck and as you try to remove it and the handle breaks. Well, the Millers Forge Curved Unbreakable Style Slicker Brush is here to solve that. This highly affordable, simple slicker brush boasts an absolutely unbreakable handle. 
It features fine stainless steel bristles, like the other slicker brushes on this list. The handle construction is really the specialty here. It is designed to withstand anything your dog's coat can throw at it. However, the trade-off here is that the handle isn't the most comfortable to hold on tight to for extended grooming sessions. 
7. Li'l Pals Double-Sided Comb
Grooming the facial area of a poodle is important, but can be a bit more difficult to manage with the tools we've listed so far. You need a solid comb, that you can be precise with to avoid poking any sensitive areas. The Li'l Pals Double Sided Comb is a great choice for grooming your Poodle's face. 
This comb is on the smaller side but features a side with narrow spaced stainless steel teeth on one side, and widely spaced teeth on the other. The small, ergonomic handle is easy to control in those more delicate spaces. The primary drawback is that the comb is maybe too small to really reach all needed areas in larger Poodles. 
8. CHI Double Sided Ball Tip Pin and Bristle Dog Brush
If you are looking for one tool to cover multiple areas, then consider a double-sided brush like this one from CHI. The ball tip pins remove tangles deep down, and then the bristles on the other side are great for clearing away excess hair. The ergonomic grip is designed for comfort while you work out each and every tangle. 
I have experienced issues with the handle breaking with this product. While I would not recommend this brush for heavy usage, it works great for working out small specific areas in your dog's coat. 
9. Hertzko Self-Cleaning Slicker Brush
Another self-cleaning brush to check out is the Hertzko Self-Cleaning Slicker Brush. This high-quality slicker brush features stainless steel bristles and a self cleaning retractable function to easily dislodge hair from the bristles. This is one of the slightly more expensive brushes on the list but is worth every penny!
The bristles of this brush are slightly more flexible than some others that are a bit more rigid. Hertzko claims this helps the brush more effectively penetrate thick hair without scratching or irritating skin.  
How Do You Brush a Poodle?
Choosing your grooming tools is just the beginning. Now you've got to put them to work and actually brush your poodle. But with all the curls, it can seem a little daunting.
You may not even be sure where to start or what direction to brush in. Let's take a quick look at how to brush your poodle to ensure comfort, safety, and efficiency. 
Not all areas of a poodle's hair will grow at the same rate. You'll notice there are areas with longer hair and areas with shorter hair. You'll want to use the slicker brush on areas of longer hair, and consider using the pin brush or the comb for shorter areas around the face, paws, and underarms. 
Use short, gentle strokes across your Poodle's hair. These tools aren't designed to brush all the way from head to tail in one stroke. Stick to short strokes, don't push too hard, and clean the brush regularly.
If you find yourself hitting a lot of resistance, consider trying a different tool to see if you can work it out the tangle.
Avoid applying too much pressure in response to resistance. You want to help work out knots and mats, not just tear through them. You'll need to apply some pressure, of course, but if you find yourself really having to dig in, then you should stop and reassess. Otherwise, this could be incredibly painful for your dog.
Be patient and take your time as your brush. Depending on the size of your Poodle, it will take a little while to really get all the way through. Rushing usually ends up being less effective and more painful. Ease your way slowly through the Poodle's hair, feeling for any knots or tangles along the way. 
How Often Should You Brush a Poodle?
Poodles should be brushed between two and three times a week in order to maintain a healthy coat. Poodles have naturally curly hair which easily traps dust, dirt, and debris, resulting in tangles and matted hair. Setting aside time daily for brushing can prevent tough tangles and matted hair from appearing,
Depending on how much outside playing your Poodle gets and the density of his coat, daily brushing may be the best bet. This sounds like a chore, but Poodles are a bit high-maintenance pets.
While it may be labor-intensive to brush your Poodle daily, remember that regular everyday grooming will save you time and effort in the long run, saving you the work of getting tangles and mats out later. 
Regular short brushing sessions will also be more comfortable for your pet than irregular, very long grooming sessions where you have to work out all these knots and tangles. It is important to note that how regularly you brush your Poodle does not have anything to do with how regularly the coat is trimmed, and how the hair grows. 
How Often Should You Groom Your Poodle?
This depends on what sort of grooming and trim style you prefer for your Poodle. If you lean towards the popular clipped coat, then you'll likely need to groom your Poodle every 3-4 weeks, or maybe just once a month. This assumes that you are engaging in some fairly regular brushing and upkeep of your poodle's curls.
Now you could consider grooming your Poodle yourself, but this is only something you should do with the right tools and practice. You would need a special grooming table, some clippers, scissors, and some additional combs and brushes.
Check out this article I wrote on the best grooming tables for Poodles. In it, you'll find some awesome commercial grooming tables, as well as great low-cost options that will fit any budget.
I don't exactly recommend that you get into fully grooming your pet unless you have a background in this.
Check out this video if you would like to learn more about grooming your Poodle at home:
Professional groomers not only offer valuable experience, but also critical knowledge and care. It is one thing to confidently know where and how to trim your dog's coat, but it is a whole other beast to do it calmly and safely and to keep your pet relaxed.
Basic grooming maintenance, like brushing and baths, are fine at home, but unless you are experienced, leave the haircuts to the professionals. 
What To Consider When Brushing Your Poodle
A Poodle's curls are a perfect place for dirt, dust, bugs, and who knows what else to crawl into and hide away. Think of brushing time as a great opportunity to keep a close eye out for anything that may have made a home on your Poodle's back.
If you can, do a quick glance over your dog whenever you come back from outside, but know that's not always possible. 
When brushing your Poodle, consider these tips:
Try to make grooming fun for your dog. Grooming has the potential to be an unpleasant experience in more ways than one, so incentivize your pup to behave positively. Reward patience and good behavior with treats and affection. Provide positive reinforcement and high-value rewards to keep your dog engaged and calm during the entire grooming process. 
Toy Poodles and Standard Poodles will need slightly different attention and tools. You don't want to use full-size large tools on your Toy Poodle, and likewise, you don't want to use small toy breed tools on your full-size Standard Poodle. Make sure that when you order any of the products above, you are considering each item's size. 
Remember that your Poodle does not have an undercoat. Many dogs have a top coat and an undercoat. The top coat is what you see, and the undercoat is thickly packed hair underneath that you can't quite see. Poodles only have one layer of hair, which is why they don't actually shed too terribly much. 
The lack of an undercoat doesn't mean that your Poodle needs less brushing. It just means that when you are brushing your dog, you will be reaching down into the hair that you can see, and then you will be reaching the skin.
There isn't an additional layer between the topcoat and the skin, so just be sure not to irritate your pet's skin. 
What Are the Different Types of Poodle Coats?
Poodles have coarse, curly hair, but that doesn't mean they are all exactly the same. In fact, there are three different varieties of common poodle coats, and they should be treated a little bit differently. 
The three main types of poodle coats include:
Curly Coats: A curly coat is a way to describe a poodle whose hair has been allowed to grow long naturally. These long, curly coats require a lot of regular brushing and attention to keep them from getting twisted and matted with dirt. 
Corded Coats: A corded coat when rather than brush mats out, they are separated into little sections that closely resemble cords. This is a pretty cool look, but it can be difficult to maintain. 
Clipped Coats: The clipped coat is likely what comes to mind when you imagine a poodle that recently got a haircut. The groomer trims down the length of the curls to a much more manageable length. This means you don't have to brush them quite as often, but you will have to take them back for haircuts pretty frequently in order to maintain this. 
Check out this article I wrote on different Poodle hair types to see even more in-depth information and pictures of these Poodle coats, as well as a few more not mentioned in this article.
Detangling Sprays Can Help When Brushing Your Poodle
Detangling sprays are another option to consider adding to your grooming tools. There are several options out there, and they all primarily achieve the same goal, which is helping to loosen knots and tangles.
You basically just spritz a little bit of the spray in the desired area before brushing and then brush as normal. It should help to loosen the curls.
The best detangling spays found on Amazon include:
1. BioSilk Therapy Detangling and Shine Spray 2-Pack
This detangling spray from BioSilk is sure to have your pup feeling primped and pampered. It is carefully designed using the same ingredients and process as BioSilk's products for humans but carefully balanced for a dog's skin. The spray uses silk proteins and vitamins to detangle hair and loosen knots while leaving behind a healthy shine.
The product is made in the USA without any parabens or sulfates. . If you notice your dog is irritated in any way by the spray, then you should stop using it, but it is perfectly safe and effective to help you brush out those tangles. 
2. Pet Head Dog's BFF Detangling Spray
Another great option for spritzing away the tangles is this very cute strawberry yogurt scented detangling spray from Pet Head. The eco-friendly formula is carefully crafted to be completely safe for your furry friend. It is pH balanced to soothe their skin, and there is no danger if they lick or ingest any of the product. 
Pet Head manufactures the product in the USA without the use of sulfates or parabens. Simply spritz some of the product onto your dog's tangles, massage it into the hair and work out the tangles with your hands and a brush.
What's The Best Brush for Poodles?
Poodles are amazing companions but require considerably more upkeep and attention than some other breeds. Those beautiful curls grow thick and fast and trap in all kinds of stuff, so you'll need to brush them regularly. All of the brushes described above are great for their specific purpose, but they work best when combined.
A slicker brush is the best primary tool when brushing your poodle. Poodles require extra bushing, so you'll want to combine the value of the slicker brush with the benefits of a comb or pin brush. Though unnecessary, a shedding brush may also be employed to remove any excess loose hair in Poodles.
Each Poodle's cut and curls will be different, so there is no perfect brush for everyone. I recommend that you try out a slicker brush, a comb, and a pin brush, and see what works for you and your pet. It is important that the tools produce results, but it is also important that these tools don't create discomfort for your pet. 
If you try out a few options, and still don't feel like you are achieving your desired results, then consider trying out a detangling spray to help the brushing process along. Sometimes all you need is a quick spritz to loosen things up. 
Lastly, check in with your groomer next time you stop by for a trim about what they recommend. They'll be able to give a personal recommendation based on your dog's curls and demeanor to ensure that you are getting the best results. No matter what brush and style you go with, just remember that it is most important to keep your Poodle happy and healthy.
Must Have Products For Poodles And Doodles
Thank you for reading this article. I hope you found it helpful. Here are some products that I personally believe every owner should employ to help ensure the best quality of life for their dogs. These are affiliate links, so if you do decide to use any of them, I'll earn a commission.
But in all honesty, these are the exact products that I use and recommend to everyone, even my own family.
Lemonade Pet Insurance: Lemonade Pet Insurance has enabled me to afford a very high level of veterinary care for my dog, Angus. Even after he was diagnosed with cancer a few years back. Lemonade is a great company, and I can't recommend them enough!
Brain Training For Dogs: Brain Training for dogs is an amazing online training program I found that actually helped me to understand and ultimately stop my dog's separation anxiety and destructive behaviors when I left the house. This program actually works, and at a small fraction of the cost of hiring a dog trainer!
Pet Plate: I first learned of Pet Plate when the company was featured on the TV show "Shark Tank" back in 2016. Pet Plate is the dog food subscription service I use to provide extremely healthy, pre-portioned meals for my dog. Pet Plate gives my dog Angus the highest quality nutrition at a very affordable price.
BarkBox: Without a doubt, my dog enjoys Barkbox more than anything else I buy him. BarkBox delivers a customized box of themed toys, treats, and other products to your door each month. In addition, I like that a percentage of proceeds is donated to local animal shelters.
Pawp.com: Pawp is not insurance. It's a membership program that gives you access to unlimited video calls or texts with a licensed vet 24/7 and includes up to six pets on a single membership! I Purchase this service for my dog Angus and have saved hundreds of dollars over visiting his local vet with questions or more minor health concerns. Pawp will even pay up to $3,000 if your pets experience an emergency situation! Check out Pawp's website to see why Pawp can help you save money and increase your pet's quality of care.