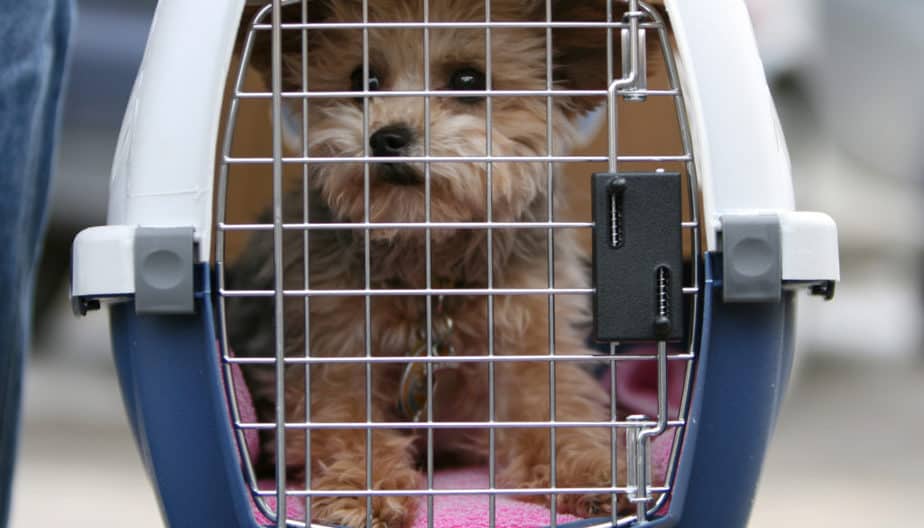 Utilizing a crate may be extremely beneficial for your poodle. There may be no better way to housebreak a puppy, nor anything more helpful in curtailing many destructive behaviors you may encounter while training. Dog behaviorists and other experts recommend a crate for your dog, but what are the best crates for poodles?
There are hundreds of different crate options on the market today. Poodle owners must consider a crate's size, construction, and any unique training needs when choosing the right crate for their dog.
The eight best crate's for poodles are:
1. Go Pet Club Soft Crate
2. Aspen Pet Porter Heavy-Duty Pet Kennel
3. Paws & Pals Double-Door Folding Metal Crate
4. AmazonBasics Single-Door Folding Metal Dog or Pet Crate
5. SportPet Designs Travel Pop up Crate Red for Dogs
6. ecoFlex Pet Crate and End Table
7. MidWest iCrate Starter Kit
8. Suncast Portable Dog Crate
Finding the perfect dog crate is not an easy task. Read on to learn about the eight best crates for poodles and discover exactly what you will need to know to make the best choice for your poodle.
The 8 Best Crates for Poodles (With Pros and Cons for Each)
There are hundreds of products out there, so to help you save time, here are the eight best crates I've found:
1. Go Pet Club Soft Crate
If you travel a lot with your poodle, then get the Go Pet Club Soft Crate. This soft crate is compact and lightweight, making it easy to carry around and portable. It has durable PVC backing and heavy-duty polyester. Check it out on Amazon here.
What's more, it has a screen mesh door and windows. This feature allows your dog to get all the ventilation he needs. If your poodle needs privacy, you can just draw the flaps down.
This product comes in a variety of sizes and comes in two forms: rectangular and rounded top. It also comes with a lambswool floor pad for added comfort.
However, there are some design flaws that can be irritating. First, the bottom is flaccid and doesn't support your poodle's weight if you carry them inside this soft crate. If you have two poodles inside, they will probably squish together. 
The bottom is also not leak proof. It's also easy for dogs to figure out how to escape from this crate just by fiddling with the zippers. If your poodle does figure out how to escape, you can just tie the zipper together to make it more difficult to escape. As such, it might not be a good product for those dogs that are not used to being crated.
Pros
Lightweight and portable
Fast setup
Foldable, so it's easy to store
Cons
The bottom is not rigid or leak-proof
Flimsy metal frame, which may mean that it tips easily
2. Aspen Pet Porter Heavy-Duty Pet Kennel
This plastic crate has a heavy-duty material that makes it durable and easy to clean. It has a handle on top that makes carrying your poodle a breeze. 
The Aspen Pet Porter Heavy-Duty Pet Kennel comes with a metal door that is secured in place with an easy-open latch. What's more, it comes in a variety of cool colors, such as breeze, lady pink, storm gray, dark pink, deep red, and pueblo. Check it out on Amazon here.
You can also choose different sizes as well, starting from small that can accommodate dogs up to 10 pounds, to the biggest ones that can carry a dog that weighs up to 90 pounds. Further, this product is safe for air travel, with dimensions that follow most airline specifications.
However, this product is ideal for dogs that are already comfortable being in a crate. The plastic used is rather thin and some pet owners report that their pets were able to chew on the plastic and escape.
Pros
Makes traveling with your poodles easier
A durable plastic material that is easy to wipe down and clean up
A metal door can be opened with one hand
Cons
Some dogs may be able to chew through the thin plastic material
The handle might come off, which means you may accidentally drop the crate and your dog 
3. Paws & Pals Double-Door Folding Metal Crate
Measuring 24 inches long by 19 inches high, the Paws & Pals Dog Double-Door Folding Metal Crate has a carry handle that makes it easier for you to move the crate or transport your poodle.  Check it out on Amazon here.
This metal wire dog crate is foldable, allowing you to have extra space when it's not in use. Its main material is solid steel with a black electro-coated finish. Electrocoating helps make the metal look great, with no dripping, gaps, or pooling. It also helps to protect the metal from corrosion and rust. Electrocoating also helps make the metal last longer.
This product is easy to assemble, and you will now need any tools to do it. What's more, there are other sizes available from 20-inch small crates to 48-inch double extra-large ones.
Why would you want a double-door metal crate? We all love the simplicity of having a single-door crate, but a product with two doors allow you to access your poodle more easily. It's also more convenient to position your crate inside your home.
Pros
Durable and affordable
Foldable, making it easier to store
Electrocoated finish
Includes a divider that can guarantee the perfect size 
Cons
Some customers say that the larger variations seem rather flimsy
There is a four-inch gap in some variations, which allows a smaller dog to go over the divider and get injured in the process
4. AmazonBasics Single-Door Folding Metal Dog or Pet Crate
If you have a toy poodle, it's not that easy to find a crate that is perfectly sized for your pet. You can get the AmazonBasics Single-Door Folding Metal Dog or Pet Crate. Check it out on Amazon here.
Also available in a two-door version, it comes with a removable tray for easy cleanups. The manufacturer recommends this for toy poodles, Yorkshire terriers, and other small breeds of dogs.
It has an optional divider that lets you adjust the space inside so that your toy poodle can be comfortable inside. It measures 22 inches long by 16 inches high and can accommodate a dog that weighs up to 12 pounds.
This crate is very easy to assemble and it folds flat to make it easier to store.
Pros
Perfect for toy poodles, plus other sizes are available
The entire crate folds flat, making it very easy to storage
Sturdy construction and easy to assemble
Cons
Some complaints about dog collars snagging on the latch
Bigger dogs can possibly bend the metal and escape
5. SportPet Designs Travel Pop up Crate Red for Dogs
The SportPet Designs Travel Pop up Crate Red for Dogs combines the three most used materials for a dog crate. It has walls made with polyester mesh and fabric, and a metal gate that locks. Its frame is made with heavy-duty plastic.  Check it out on Amazon here.
This crate collapses upon itself and folds away neatly. You only have to twist the crate and secure the folded product using the included clasp. While measuring 22.5 inches long and 14.2 inches high, it folds down to only four inches thick.
If you're going to use it, you just release the catch and it pops right out. So rather than struggle with trying to get a metal or plastic crate into your car, you can use this.
Pros
Twist and fold to collapse the crate for easy storage
Very lightweight
Durable material
Sizes available might be best suited for small to medium dogs
Cons
Not ideal for dogs that have not been crate trained
The manufacturer is very vague about sizing
6. ecoFlex Pet Crate and End Table
The price for this pet crate might raise some eyebrows because it's much more expensive than most other products, but if you factor in the fact that it does double duty as an end table, you might find it more palatable.
The EcoFlex Pet Crate and End Table is made with recycled plastic and wood-polymer that is very durable and is warp-resistant. It features stainless steel spindles and a stainless steel latch.  Check it out on Amazon here.
It comes in four sizes: small, medium, large, and extra-large. The small sizes measure 23.8 by 18.2 by 22.2 inches and can accommodate dogs up to 20 pounds.
This decorative pet crate and end table combo also come in a variety of colors: espresso, russet, gray, and antique white, allowing you to match your dog crate with your existing furniture.
However, this product is not ideal for dogs that are not crate trained. It's also not recommended for chewers.
Pros
Has different styles to match your existing furniture
Stylish and functional
Easy to assemble
Cons
Only for well-behaved and crate trained poodles
Those with bigger dogs report that their pets were able to break through the metal bars
May prove to be flimsy when putting together wrongly
7. MidWest iCrate Starter Kit
If you want to ensure that your poodle gets everything it needs for its crate training, then you should get the MidWest iCrate Starter Kit. This starter kit includes:
A two-door crate
A dog bed
A crate cover
Two pet bowls 
The pair of bowls that are included in this crate affixes to the inside portion of the door. This helps you train your new poodle to be comfortable inside the crate and create positive experiences by letting it associate crate time with mealtime.  Check it out on Amazon here.
What's more, the crate cover will give your poodle the privacy it needs. It will not be overstimulated and will be able to relax and be calmer inside the crate.
In short, you get everything you need for your new poodle to get acquainted with your home, and give it a den of its own.
Pros
Everything included is covered by a one-year warranty
The crate comes with a removable dog tray that makes cleanups easier
Crate cover helps to calm your dog
Good deal if you consider that you'd pay much more if you bought everything in this kit separately
Cons
Some owners report that the metal wire bends easily when used with bigger dogs
8. Suncast Portable Dog Crate
If you want a crate that can also double as a pet carrier, then look no further than the Suncast Portable Dog Crate. This product is made with a hard plastic resin frame and metal wire. The door has a food or water bowl attached to it, making it very convenient to use when traveling. Check it out on Amazon here.
However, if you are looking for a crate that can give your poodle its own den, then look elsewhere. The three sides with the metal wires make everything visible to your pet. You will need to buy a separate cover for this crate.
Pros
Comes with a handle that makes it easier to carry around.
Attached water or food bowl
Easy to assemble without needing to use tools
Cons
Needs a separate crate cover
How Do You Choose the Best Crate for Your Poodle?
When it comes to the best crates for poodles, you will never run out of options. There are more than 9,000 different dog crates sold on Amazon. How do you know what crate to buy? What are the characteristics that you should be looking for anyway?
What Size Crate Should I Get My Poodles?
According to the American Kennel Club, there are three sizes of poodles: standard, miniatures, and toys. 
Standard: More than 15 inches tall at the shoulder, usually as tall as 22 inches
Miniature: 10 to 15 inches tall
Toy: Less than 10 inches tall
So if you're bringing home a standard poodle puppy, most owners tend to want a larger crate that will also work until you have a full-grown poodle in your care.
However, bigger crates can be problematic for a couple reasons:
Poodle Puppies tend to become very anxious and more active when there is room to run around inside the crate. The more that they can move around, the more anxious and stimulated they get.
Poodles will develop negative habits when they have another area of the crate where they can relieve themselves. Crates work because dogs by nature do not like dirtying up the place where they sleep. If the crate is big enough that they'd have an area to eliminate their wastes, they will think that it's okay to go number two inside the crate.
So, choosing the right size can help your poodle become calmer and develop good habits. But what exactly is the right size for your poodle's crate? 
The quick answer is that your dog should be able to stand inside the crate and turn around with ease. But that should be it. It should not be able to run around or have an area where it could defecate. And to be sure that you get the right-sized crate, you will need to take out the measuring tape! 
Measuring Your Poodle for a Crate
While most dog crates available list down three dimensions: the length, height, and width, you only have to worry about the length and the height. How do you take these measurements?
Length: Measure from the dog's nose to its tail. Then add four inches to that measurement to ensure that your poodle will fit inside the crate.
Height: Measure from the ground to the top of your poodle's head. You should also add four inches to your dog's height to make sure that it has plenty of room to stand inside the crate.
Check out this video, which will teach you where to measure your poodle for a crate.
The Best Material for Your Poodle's Crate: Metal Wire, Plastic, Wood, or Fabric?
There are four common materials used in the best crates for poodles: 
Plastic
Wood
Fabric
Metal wire
Which one should you choose?
Metal Wire Crates
If you are looking to save money, you can buy a metal wire crate. These are very durable and can last for a long time if you invest in one that is made with top quality material. What's more, some metal crates come with a divider so that your poodle will have just enough room to turn around. This will keep him from becoming anxious and overly active. It will also train him not to relieve itself inside the crate. 
When he grows bigger, you can just adjust the divider to accommodate your growing puppy. This will save you a trip to the pet store for another crate.
What's more, it is difficult for your dog to chew through stainless steel or galvanized metal. It's easier to store a wire crate because it's collapsible, making it very easy to move as well.
Some metal wire crates have a removable pan at the bottom, making it a breeze to clean when your poodle has an accident inside. Some, but not all, metal crates can also be airline approved, which means that you can use them to transport your dog via the friendly skies.
However, metal crates do have a disadvantage. Because this type of crate is fairly open, it doesn't give your poodle any privacy. According to a Psychology Today article, even the most social dogs, like your poodle, will want some "me" time where he can rest and not interact with its humans. 
Being in a crate where he can see you and you can see them doesn't make him comfortable. What's more, all that visual stimuli will probably excite your poodle more than allowing it to rest. What's more, it is in their nature as den animals to try to find somewhere dark where they can rest.
Giving Your Poodle Some Privacy When You Have a Metal Crate
You can buy a crate cover online or from your favorite pet store. These products wrap around the crate securely. Alternatively, you can just get a piece of wooden board that is slightly bigger than the top of the crate and a large enough blanket to cover the crate. Check out my favorite crate cover on Amazon here.
Put the wooden board on top of the crate and drape the blanket over it. The wooden board will ensure that the blanket doesn't touch the edges of the crate so that your poodle wouldn't be able to chew on it.
Wooden Crates
There are decorative crates that you can buy and their biggest draw is that you can match them with the furniture that you already have at home. Unlike other types of crates, wooden crates are known for their aesthetics, and they can look very elegant inside your home.
However, these are not that recommended as your dog might chew on the wood. Nobody likes the look of chewed wood. You can probably use these for poodles that are way past their chewing stage, but even so, it's not guaranteed that it will be easy to clean.
I wrote this article about furniture chewing in poodles. In it, you can learn what causes this behavior and, most importantly, how to prevent it!
What's more, this will be very wieldy and non-collapsible. You can keep it inside your home but using it to transport your poodle somewhere will make little sense.
Plastic Crates
Plastic crates are probably the best for your dogs because it provides them with the privacy that they sometimes need and it's sized just right for your dog. 
It's also very portable and lightweight. Plastic crates are sturdy and durable, too. And these crates are mostly airline approved.
However, you might need to replace plastic crates as your poodles grow from being puppies to full-sized dogs. Some dogs might also chew on the plastic crate.
Fabric Dog Crates
Fabric crates are best for traveling. These products are very lightweight and mobile. You won't have problems loading it into your car, nor do you have to worry about banging it against your car door.
What's more, it's very easy to store. You can take it apart and then fold it neatly before stashing it under your bed or anywhere that it can be out of sight.
However, fabric crates can be a nightmare to clean. If your poodle is still leaving you some nasty surprises all around the house, or if it's shedding, fabric crates are probably the last thing you want. Fabric crates are also easy to destroy. Your poodle can probably chew through it in no time.
Are Collapsible or Foldable Dog Crates a Good Idea?
Foldable dog crates are great if you want to save space: you can just fold it and hide it away when not in use. It's also easier to assemble inside a vehicle, so if you need to put your poodle in a crate to go anywhere, a foldable crate will probably be perfect and very easy to transport.
However, collapsible dog crates can be an eyesore. Most dog crates are functional and designed for your dog's benefit, rather than for aesthetics. Very few dog crates are created to be beautiful. Foldable dog crates are even uglier as they can look like cages and may even look cheap and flimsy. 
What's more, because foldable crates have more moving parts, it is less durable than other types of crates.
What to Consider When Choosing a Crate for Crate Training
Now you have a good idea of what the best crates available on the market are, is time to dive in a little deeper to find which crate is the right fit for your poodle.
If you notice, some of my recommended products are not ideal for the poodles that have not been properly trained to love their crates. While crates do offer some benefits, such as having a den that they could retreat to when they're tired or stressed, they won't feel safe and secure the first time they get inside it.
What's worse, he might feel frustrated or trapped. He may try his best to escape by chewing on the crate or making an opening where he can wiggle through.
For this reason, wood and fabric crates are generally not recommended for poodles that have not been crate trained. If fabric or wood is the material for their first crate, expect that they will be able to destroy it the first time you lock them inside.
Crate training will help teach your dog to love the crate and make it as their den. Over time, they will feel comfortable in their crate. They will not be overexcited and remain calm.
For much more on crate training, I wrote this article where you can learn exactly how to properly crate train your poodle.
When he enters a crate on his own, that's the time to purchase a wooden or fabric crate.
Further, if you're using a crate to address separation anxiety, you should know that crates are not effective remedies for this condition. A crate can prevent your poodle from ransacking your home and destroying everything in it when you leave them alone. Often, he will not feel calm inside the crate and may even injure himself while trying to escape.
In Conclusion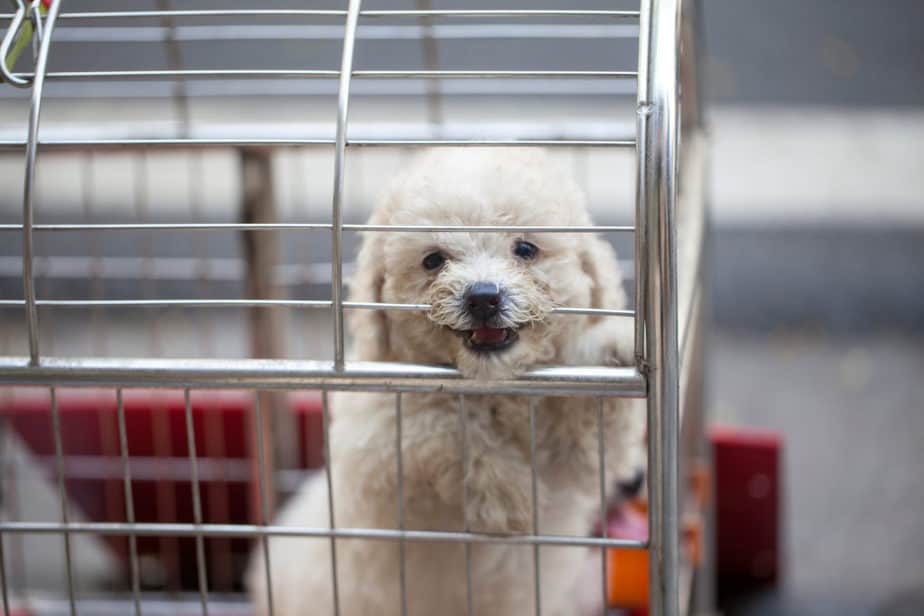 If you're going to travel a lot with your dog, get a soft crate such as the Go Pet Club Soft Crate to help you transport your dog from one place to another, securing it to your car seats, and also give them a den where they can relax when they've had enough interaction with you. 
If you want something stylish and if your poodle is calm and crate trained, then you can go for decorative and wooden products such as the ecoFlex Pet Crate and End Table. Decorative crates deliver both beauty and function. It can be your dog's den, while also looking good.
Plastic crates such as the Aspen Pet Porter Heavy-Duty Pet Kennel are great for ensuring that you encourage your poodle to retreat to its den, where it can feel calmer and safer. Because plastic crates are big enough for one dog, your poodle will feel more secure. Choose a plastic crate if you don't mind replacing it as your poodle grows.
Finally, if you're looking to save money, get a metal wire crate that Paws & Pals Dog Crate Double-Door Folding Metal or AmazonBasics Single-Door Folding Metal Dog or Pet Crate. These products come with a divider that you can adjust. Your poodle will always have just enough room to make the crate into its den, and you can move the divider as it grows bigger. Metal wire crates also make more sense if your poodle is an avid chewer or if you're still training your dog to love its crate.
Must Have Products For Poodles And Doodles
Thank you for reading this article. I hope you found it helpful. Here are some products that I personally believe every owner should employ to help ensure the best quality of life for their dogs. These are affiliate links, so if you do decide to use any of them, I'll earn a commission.
But in all honesty, these are the exact products that I use and recommend to everyone, even my own family.
Lemonade Pet Insurance: Lemonade Pet Insurance has enabled me to afford a very high level of veterinary care for my dog, Angus. Even after he was diagnosed with cancer a few years back. Lemonade is a great company, and I can't recommend them enough!
Brain Training For Dogs: Brain Training for dogs is an amazing online training program I found that actually helped me to understand and ultimately stop my dog's separation anxiety and destructive behaviors when I left the house. This program actually works, and at a small fraction of the cost of hiring a dog trainer!
Pet Plate: I first learned of Pet Plate when the company was featured on the TV show "Shark Tank" back in 2016. Pet Plate is the dog food subscription service I use to provide extremely healthy, pre-portioned meals for my dog. Pet Plate gives my dog Angus the highest quality nutrition at a very affordable price.
BarkBox: Without a doubt, my dog enjoys Barkbox more than anything else I buy him. BarkBox delivers a customized box of themed toys, treats, and other products to your door each month. In addition, I like that a percentage of proceeds is donated to local animal shelters.
Pawp.com: Pawp is not insurance. It's a membership program that gives you access to unlimited video calls or texts with a licensed vet 24/7 and includes up to six pets on a single membership! I Purchase this service for my dog Angus and have saved hundreds of dollars over visiting his local vet with questions or more minor health concerns. Pawp will even pay up to $3,000 if your pets experience an emergency situation! Check out Pawp's website to see why Pawp can help you save money and increase your pet's quality of care.