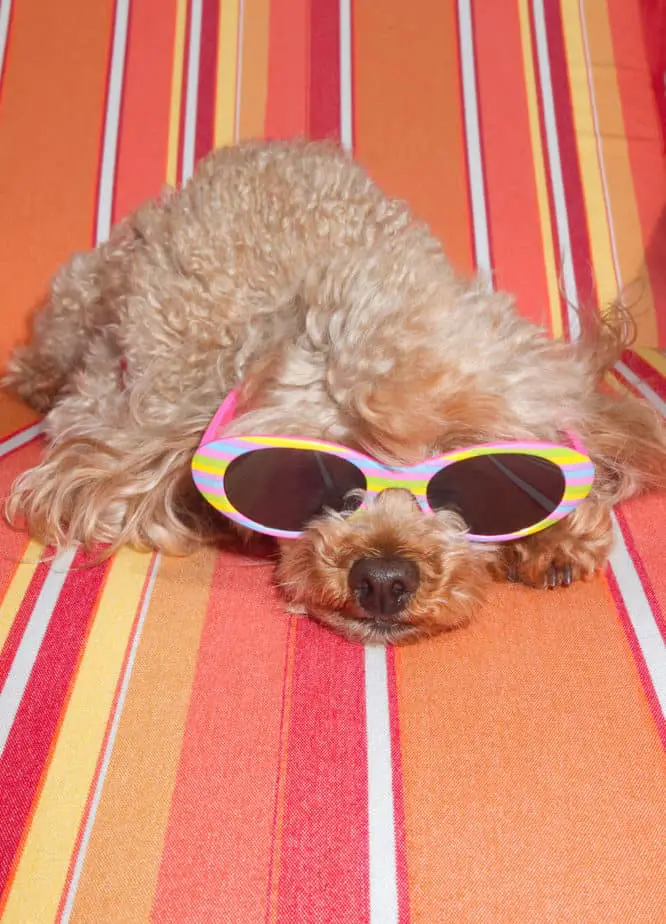 With summer just around the corner, we're all preparing ourselves and our children to be safe from the sun's harmful rays. Unfortunately, though, some dog owners (especially new ones) might overlook their poodle, not thinking that they, too, need protection from sunburns. But it's just as important to take care of your poodle as he is at risk during the summer months.
How do you protect your poodle from sunburn? Poodles don't have the luxury of a double coat to keep them safe from sunburns during the summer months. As the Poodle owner, you must take the steps necessary to protect your poodle from the sun's harmful rays. Here are the seven best ways to protect your Poodle from the sun:
Apply a Quality Paw Wax to Your Poodle's Paws
Apply a Leave-In Protection Spray to Your Poodle's Coat
Apply Nose Butter to His Nose
Consider Applying Sunscreen 
Keep Him Out of Direct Sunlight
Don't Cut Your Poodle's Coat Too Short
Consider Investing in Protective Clothing for Your Poodle
If you're worried about your poodle getting a sunburn this year- and you should be- we're here to help put you at ease. While Poodles may have a high risk of getting burnt, if you follow the proper safety procedures, then you won't have to think twice about his health. We're going to discuss the seven top ways to protect your Poodle's skin during summer, as well as how to spot and treat sunburns. 
Can Poodles Get Sunburned?
A lot of dog breeds don't have to worry too much about sunburns. They have a thicker, double coat that offers not only protection from the heat and the sun's harmful rays but keeps them nice and cozy warm during the winter months. Your poodle doesn't have the luxury of this double coat, and without this double coat, he is far more susceptible to sunburns.
To put it simply, yes, poodles can get sunburned- and easily at that. This is all thanks to the fact that poodles don't have fur, only a short, single coat of hair.  Therefore, the sun has an easier time reaching your poodle's body. Not only will your pet get sunburns, but a poodle is also prone to developing cancer- just like a human.
When it comes to poodles, you should be concerned with sunburns happening almost anywhere on his body. But the most common areas to become burned are the paws and nose. So, when you're applying protection to your poodle, make sure you aren't skimping on the nose and paw products.  This can make the difference between a happy poodle and one with a cracking, painful nose and burnt paws. Ouch!
How to Protect Your Poodle from Sunburn
As you can see, it's an urgent matter when it comes to your poodle's protection during summer. They are highly susceptible to sunburns, and if you don't take the right precautions, your poodle might be one that ends up with an unbearable, painful burn on his body. Thankfully there are many ways to protect your poodle from the sun. Here are the best seven ways:
1. Apply a Quality Paw Wax or Shoes to Your Poodle's Paws
Perhaps the most crucial area to be concerned about is the paws, for obvious reasons. Think about it- your poodle doesn't have shoes to keep his paws safe from the hot surfaces like you do (although you can purchase dog shoes). Could you imagine going for a walk without a pair of shoes on? Sounds like torture- and that's what your poodle is experiencing.
So what should you do? Well, you have two great options for keeping your poodle's paws safe when it's scorchingly hot outside:
Apply a quality paw wax to your poodle's paws, or
Purchase a pair of summer shoes for your pet.
Both are excellent choices. The only disadvantage to the shoe option is that some dogs refuse to wear shoes because they aren't typically comfortable right off the bat. Some dogs will be fine with them immediately, but every dog is different, and you never know how yours will react until you try them on.  If you have a stubborn friend, you might want to head straight for the wax. 
Paw Wax for Poodles
Paw wax is a great way to keep your furry friends paw safe and secure during the summer months. It only needs to be applied every 2 to 3 days (different products will have their own set of instructions) and can be applied quickly and easily. 
I recommend using Musher's Secret Pet Paw Protection Wax found on Amazon. This easy to use and apply wax is formulated with Vitamin E to ensure your pet's paws are always protected and healed. It can be used to protect your poodle from sand and hot pavement during summer, and ice and salt during winter.
You and your pet can benefit from this all-natural paw protection wax. And, because the wax costs around $20, you don't have to spend an arm and a leg to keep your poodle safe from the sun's rays this summer.
Dog Shoes for Poodles
The other option available to you is a pair of dog shoes. These shoes will be designed to keep your dog's paws protected from hot surfaces, just like your shoes do. Always make sure that you buy shoes that are made for summer months, though, so your dog doesn't get too hot.
I recommend the HiPaw Summer Breathable Dog Boot (Amazon) for your poodle. These cool poodle shoes are designed with a breathable mesh to ensure that your dog doesn't get overheated during the summer. With a rugged rubber sole, you don't have to worry about slips or falls. The shoes also protect against unwanted thorns, rocks, rubbles, and hot surfaces.  
These breathable summer shoes are easy to slip on and comfortable for your furry friend. With magic tape straps, you can adjust the shoes for utmost comfort while wearing and easily remove them in seconds. The reflective tape also ensures that you're able to keep your dog safe and secure on those late-night summer walks.
All in all, these are a great set of shoes for your poodle regardless of size, as they come in a variety of sizing options. They're less than $20, also, which makes these boots a steal.
2. Apply a Leave-In Protection Spray to Your Poodle's Coat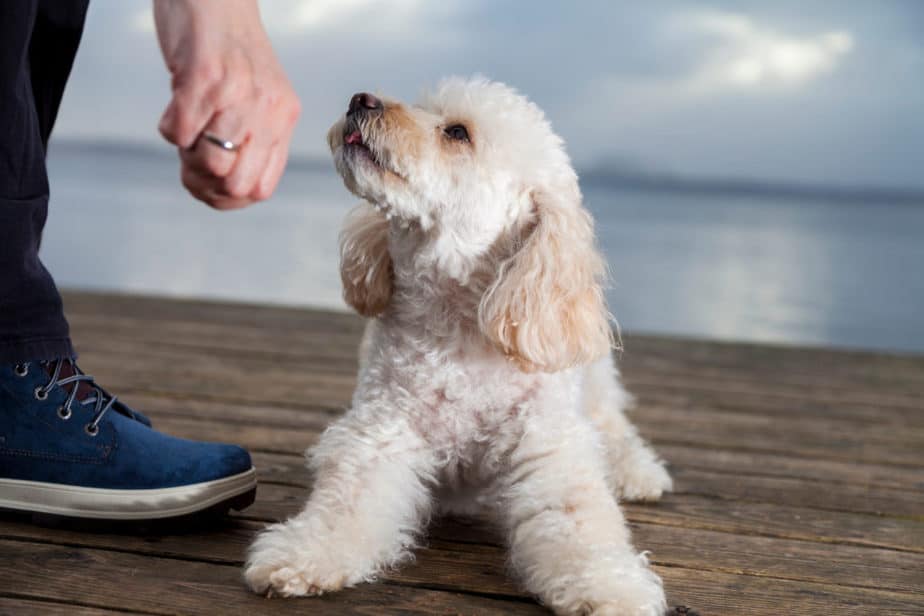 With all that heat during the summer months, it's easy for your dog to end up a smelly mess after a few days. The good thing about using a leave-in spray during summertime is that your dog's coat and skin are not only being hydrated, moisturized, and protected, but he smells good for longer, too.
I always recommend a leave-in protection spray when dealing with a dog that has a single coat of hair. Most of the time, you should try and find a leave-in spray that has sunscreen, too, so you don't have to apply it on top.
Try the Warren London Premium Dog Sunscreen with Natural Aloe Vera Moisturizer on Amazon. This easy-to-use, versatile spray is specifically designed to protect your poodle year-round from the sun. Not only can you spray it onto his coat with ease, but you can also rub it into his nose to protect that area, too. It's even great for dogs who enjoy jumping into the water!
Aside from being a top-notch protector spray, this product also moisturizes your poodle's coat, too. Designed with all-natural Aloe Vera, your poodle won't have to worry about itchiness, dryness, or overall scaliness that can come with exposure to the sun.
3. Apply Nose Butter to His Nose
Your poodle's nose needs some exposure to sunlight. Otherwise, his nose will lose its naturally dark pigmentation and end up with pink spots. On the other hand, too much sunlight can lead to sunburn and a nose that is overall dried out and left with pestering cracks and peels. The best way to protect your poodle's nose throughout the summer is to apply a nose butter.
The good thing about nose butter is it is easy to apply, and you only need a few applications a week. Try and find a high-quality nose butter, like The Blissful Dog Nose Butter for Dry Dog Nose (Amazon), that is made with all-natural butter and oils that work like a charm. 
4. Consider Applying Sunscreen 
Now, if you use a spray-in product that includes sunscreen, then you won't need to buy specialized dog sunscreen. But if you don't have a spray-in protector with sunscreen, or you just don't want one, then don't worry- there is another option- dog sunscreen. 
Always make sure you are buying sunscreen that is specifically designed for dogs, such as the SIT. STAY. FOREVER. SAFETY FIRST PET PRODUCTS Organic Sunscreen & Moisturizer found on Amazon. Never try and apply human sunscreen on a dog. Human sunscreen is typically made with zinc oxide, PABA, and a few other chemicals that can be fatal when ingested, so avoid human sunscreens and any other type of products containing these materials.
5. Keep Him Out of Direct Sunlight
This is a tip that might go without saying, but even the most caring poodle owners can get mixed up. After all, you see plenty of breeds hanging around in the yard during summer, and they have no problem- again, this is thanks to their double coat and plenty of hydration. But what about your poodle?
Try to limit his exposure to the sun. Of course, you are going to want to get him out for some exercise during summertime. The best thing to do is to try and go outside early in the day or closer to the evening when it's not so hot, and the sun isn't blazing.
If you're letting your poodle outside for some playtime, you should also always make sure there are plenty of shady spots for your poodle to go and relax. This will make sure that your poodle is nice and relaxed, enjoying nature without being exposed to too many harmful UV rays.
While I'm at it, I will also suggest that you have plenty of water for your poodle while he is outside. It's easy for a Poodle to become exhausted from the heat, and this can be dangerous to his health. Make sure that his water bowl is filled to the brim with nice, clean, fresh cold water. 
Your poodle will also benefit from having a kiddie pool to splash around in. Many Poodles are lovers of all things water play, and he will love having an area where he can splash and cool down. This is great for exercise and playtime, both of which are important for your pooch. 
6. Don't Cut Your Poodle's Coat Too Short
Your first thought might be to buzz your Poodles hair as short as possible so that he doesn't get overheated. This seems like common sense, but in reality, you are doing your poodle a disfavor. 
While you should cut his hair so that it is not excessively long, there should still be enough to offer some protection. By now we know that the poodle's coat isn't designed to protect him from the summer heat, but a complete lack of hair will only put more heat on his actual skin. This will assuredly lead to sunburns occurring even quicker. 
When it comes to staving off sunburns, the poodle's coat should be your least concern. In fact, some pet owners opt to leave the fur a bit longer during the summertime. The best thing to do is to talk to your professional groomer about what length is best for your pooch. Just make sure not to shave it all off, or your poodle might be in for trouble (and the groomer should be aware of this).
7. Consider Investing in Protective Clothing for Your Poodle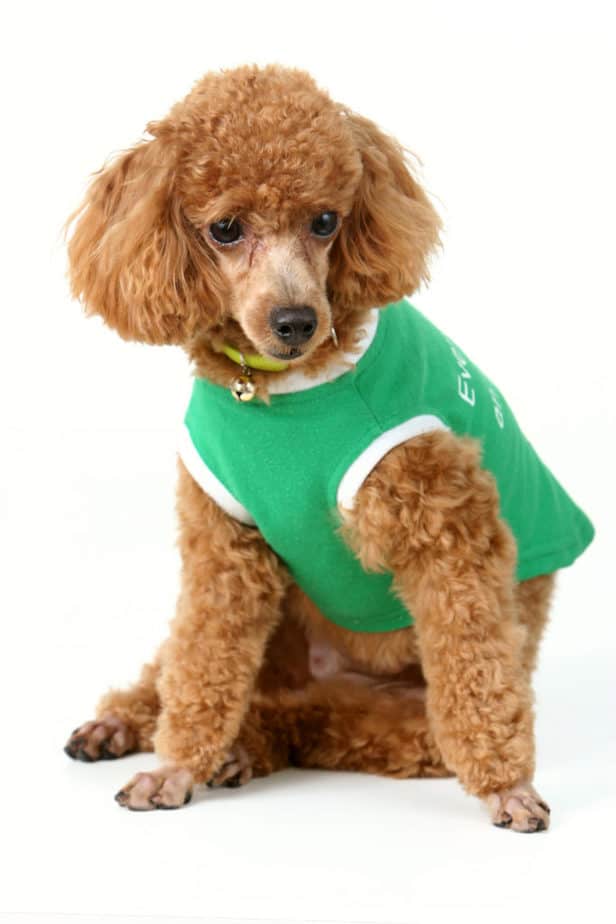 Yes, there are specially made clothing for dogs to protect them from sunburns, and they work like magic, according to many pet owners. These shirts simply slide on your dog and keep them protected from the sun's rays. Moisture-wicking and breathable, these shirts are designed to keep your dog cool, even when the temperatures rise. 
I personally like the SILD Pet Clothes Dog Sunscreen Shirt (Amazon) because it's cost-effective and comes in four colors as well as a variety of sizes to suit just about any dog. UV-resistant and breathable, you know your poodle will be that much safer when he's traipsing along under the sun. 
How to Spot and Treat Sunburn on Your Poodle
The good news is that when your poodle gets a sunburn, the signs and symptoms are fairly the same as a human. So if you have ever had a sunburn or seen someone with sunburn, then you generally know what to expect. They will likely experience the following:
Apparent redness on his body.
Tenderness in the area.
The poodle seems to be in pain.
There is obvious moaning and groaning when they lick or touch the sunburnt areas.
If you think that your poodle has contracted a sunburn, don't panic. There are a lot of great ways to help your pet so he can get back on track to being healthy and sunburn-free in no time.
Here are some of the best ways to treat a sunburn on your poodle:
Apply Aloe Vera. Aloe Vera is the go-to for human sunburns, and you can utilize this material for your sunburnt poodle, too. Aloe Vera is not toxic to your pet and will soothe the affected area. Simply apply the gel from the leaf of an Aloe Vera plant to the burns gently.
Apply VItamin E. Vitamin E is also beneficial for sunburned humans and Poodles. All you need to do is get a Vitamin E gel capsule, prick it, and gently rub the Vitamin E gel over the sunburnt area.
Give him an oatmeal bath. Finally, you can give your poodle a highly relieving oatmeal bath. All you need to do is add 1 cup of plain oatmeal to a blender and blend until smooth. Fill the tub with water, making sure the water is lukewarm (hot or warm water will cause extra pain to your pooch). Add the oatmeal and let your dog relax in the bath.
Of course, if you have tried all these things and the sunburn doesn't seem to be getting any better, and your dog seems to be in extreme pain, then you need to talk to your veterinarian immediately. He could be having a reaction and needing some professional care. If this is the case, call your vet immediately and see if any action is required on your behalf.
Conclusion
Poodles might be prone to sunburns, but with the right precautions, they will be safe all through the summer season. The most important thing to remember is that your poodle will need butter for his nose, wax for his paws, and a good leave-in spray with sunscreen or a rub-in sunscreen to keep him protected. You may also opt for a pair of shoes or clothes for added protection during this time.
Must Have Products For Poodles And Doodles
Thank you for reading this article. I hope you found it helpful. Here are some products that I personally believe every owner should employ to help ensure the best quality of life for their dogs. These are affiliate links, so if you do decide to use any of them, I'll earn a commission.
But in all honesty, these are the exact products that I use and recommend to everyone, even my own family.
Lemonade Pet Insurance: Lemonade Pet Insurance has enabled me to afford a very high level of veterinary care for my dog, Angus. Even after he was diagnosed with cancer a few years back. Lemonade is a great company, and I can't recommend them enough!
Brain Training For Dogs: Brain Training for dogs is an amazing online training program I found that actually helped me to understand and ultimately stop my dog's separation anxiety and destructive behaviors when I left the house. This program actually works, and at a small fraction of the cost of hiring a dog trainer!
Pet Plate: I first learned of Pet Plate when the company was featured on the TV show "Shark Tank" back in 2016. Pet Plate is the dog food subscription service I use to provide extremely healthy, pre-portioned meals for my dog. Pet Plate gives my dog Angus the highest quality nutrition at a very affordable price.
BarkBox: Without a doubt, my dog enjoys Barkbox more than anything else I buy him. BarkBox delivers a customized box of themed toys, treats, and other products to your door each month. In addition, I like that a percentage of proceeds is donated to local animal shelters.
Pawp.com: Pawp is not insurance. It's a membership program that gives you access to unlimited video calls or texts with a licensed vet 24/7 and includes up to six pets on a single membership! I Purchase this service for my dog Angus and have saved hundreds of dollars over visiting his local vet with questions or more minor health concerns. Pawp will even pay up to $3,000 if your pets experience an emergency situation! Check out Pawp's website to see why Pawp can help you save money and increase your pet's quality of care.