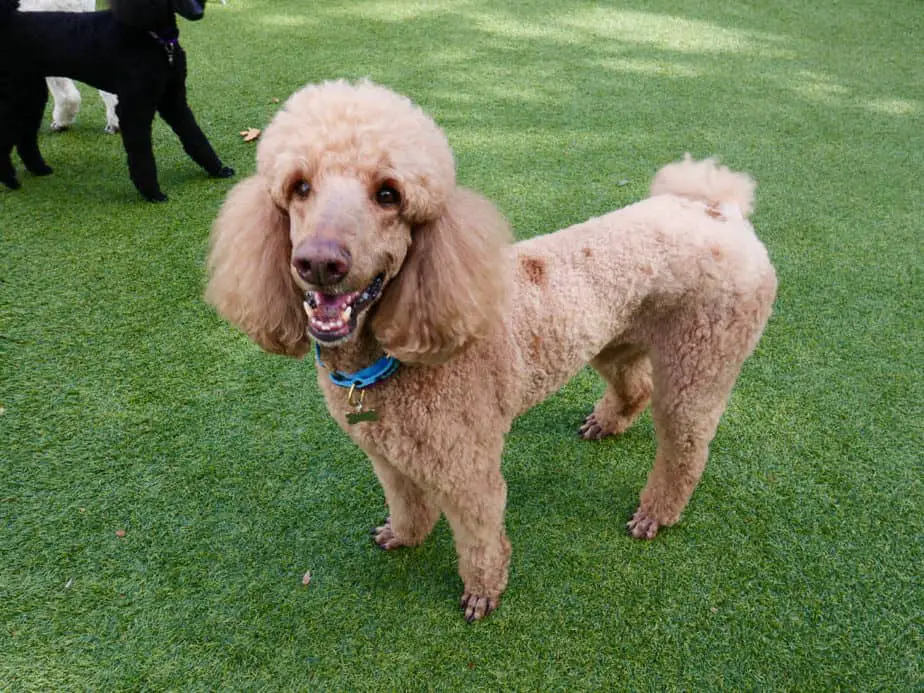 Poodle tail docking is a controversial topic among breeders, dog owners, and animal activists. The pros and cons are abundant. However, it is a topic, breeders have the deciding factor on when planning to breed poodles. 
A Poodle's tail is most often docked in order to prevent injury or to attain a certain cosmetic look. AKC breed standards require poodles to be docked in order to participate in any sanctioned contest. While procedural complications are rare, the AVMA opposes tail docking in poodles unless medically necessary.
The following will tell you everything you need to know about tail docking. From the reasons why breeders choose to dock poodle's tails to the full detailed procedure.   
Why Do Poodles Get Their Tails Docked?
There are three main reasons why poodles get their tails docked:
To Prevent Injury
Tradition
Cosmetic reasons
The History of Docking a Poodle's Tail
Poodles are originally known for being a type of water retrieving dog used for hunting ducks or birds. Poodles were specifically trained to retrieve animals that fell in the water after hunters shot them down.
Poodle owners who hunted would dock their poodle's tails because they believed it helped with their dog's swimming speed. This is why poodles have certain grooming techniques such as the pompon on the tip of their tails, which allows their owner to locate them while hunting or swimming. 
Tail Docking Established the Class of a Poodle's Owner
Another historical reason for docking poodle's tails has to do with distinguishing social class among dog owners.
Docking poodle's tails would help distinguish the difference between an upper-class or a lower-class owner. Upper-class owners did not dock the tails of their poodles while lower-class owners did. This would differentiate who could and could not hunt. 
Tail Docking May Also be Done for Cosmetic Reasons
Today, the procedure used to dock a poodle's tail is more for the cosmetic look of the dog. It is now the responsibility of the breeder to decide whether to dock or keep a poodle's tail long. If the tail of the poodle is overly large in length, breeders will normally dock the dog's tail to avoid future injuries. 
Dog owners will then need to make the personal decision whether they would like to go with a poodle with a docked or undocked tail. 
Many poodle owners take into consideration if they want their poodle's tail docked based on the guidelines of The American Kennel Club (AKC). The AKC has certain requirements for each type of poodle if you plan to have your poodle or another type of dog in conformation shows. 
What Age Is a Poodle's Tail Docked?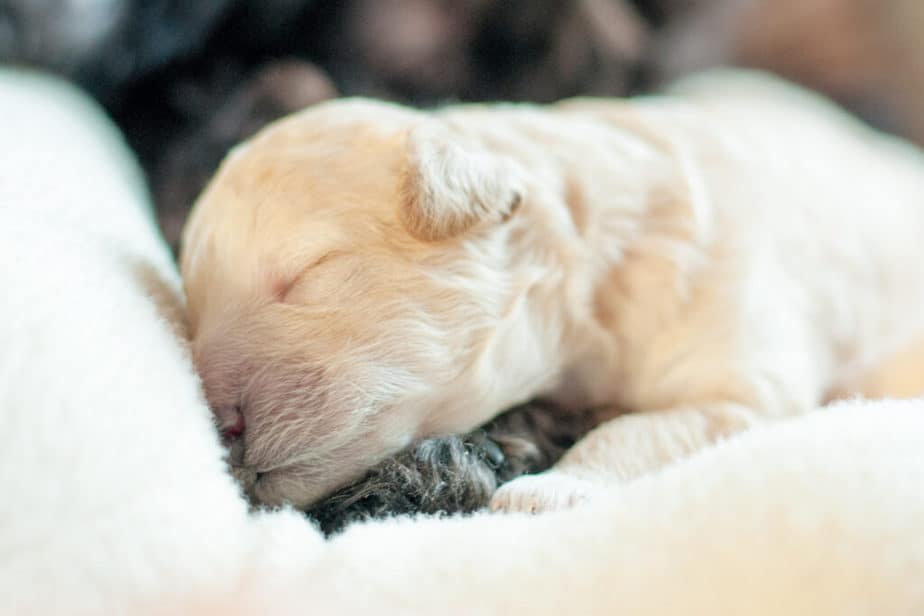 Poodles get their tails docked at a very young age ranging from 3 to 5 days old. The recovery process for tail docking takes about a week for puppies to completely heal.
No scars are left and there is no damage to the nervous system after the procedure is conducted. This is an important reason why poodle owners do not notice that the procedure has been conducted.   
When older poodles or other breeds of dogs go through this procedure, there is the likelihood they will go through more complications and may have a longer recovery time as a result. 
The Correct Length to Dock Your Poodles' Tail
The correct length to dock a poodle's tail depends on the type of poodle you own. This list below gives you approximate tail lengths in inches when docking your poodle's tail.
| | |
| --- | --- |
| Poodle Size | Correct Tail Length (AKC guidelines) |
| | |
| Toy Poodle | Leave ½ to ⅔ of length (about ½ inch) |
| Miniature Poodle | Leave ½ to ⅔ of length (about 1 ⅛ inches) |
| Standard Poodle | Leave ½ to ⅔ of length (about 1 ½ inches)  |
If you plan to have your poodle participate in conformation shows, make sure to check out the AKC's guidelines. The AKC (American Kennel Club) has specific grooming and tail docking requirements.
What Is The Tail Docking Procedure?
Docking is a procedure in which portions of an animal's tail is removed. Poodles, like other breeds of dogs, have naturally long tails which are then cut to produce a smaller tail. 
There are two ways to conduct the poodle's tail docking procedure:
1) The Banding Technique
Banding is very controversial and is not recommended. A special type of rubber band is tightly wrapped around the desired length of the dog's tail. This will cut the blood flow to supply to the end of the tail. The tail will then fall off in a few days due to a lack of blood flow. 
2) Cutting the Tail
This procedure is recommended if you are considering docking your poodle's tail. The procedure is conducted with surgical scissors or a scalpel and is done quickly.
Something to take into consideration is no anesthesia or analgesia (a pain reliever) used when breeders dock the tails of the 3 to 5-day old poodle puppies.  
Controversy Surrounding Tail Docking
Tail docking is a controversial topic among breeders, dog owners, and anyone who stands up for animal rights.
Both sides on the tail docking spectrum have very strong opinions on the pain caused to poodles and other dogs while going through the tail docking procedure as well as the need to dock or keep the tail length. 
Many individuals believe tail docking is needed when poodles are out hunting with their owners. Some people believe docking their poodle's tails would prevent their dog from injuring itself while: 
Other individuals, on the opposite end of the spectrum, believe long tails help their poodles hunt, and their long tail work as a rudder in the water when they swim to retrieve animals. 
Out of all the different breeds of dogs, poodles tend to be the most aware of where their tail is at all times. Poodles will lower their tail going up steep areas or when they are concerned about their surroundings and will raise their tail when they are feeling confident in their environment. 
Is It Cruel to Dock Your Poodle's Tail?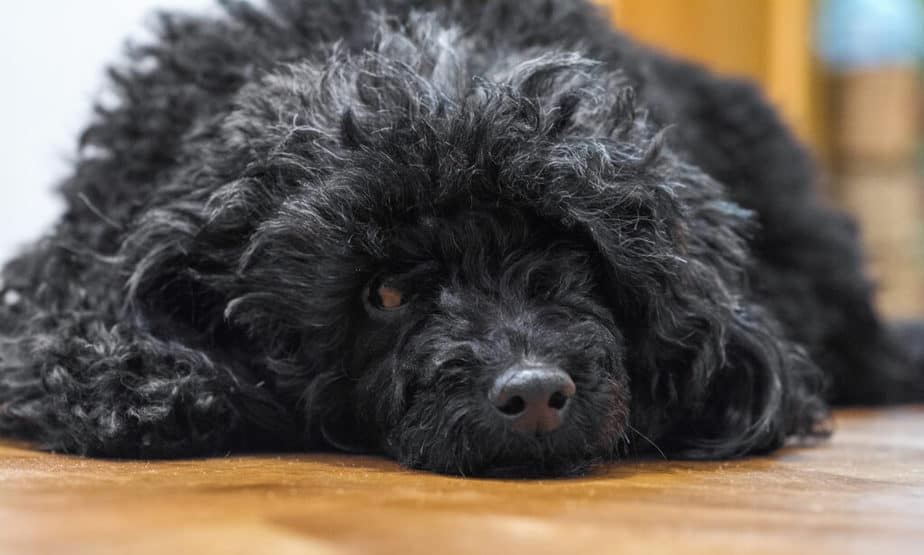 The topic of tail docking gets more controversial when it comes to the pain the puppies endure during the tail docking procedure.
Some breeders and dog owners say the procedure is not painful since it is being done when the puppy is just a few days old. Other breeders and dog owners say the procedure is very painful to the puppies.
Is the Procedure Painful?
Even if the puppies are a few days old, they will still experience some level of pain. At 3 to 5 days old, poodles have a fully functioning nervous system and will be able to feel when their tail is cut off, whether they make a noise or not. 
When you are docking a puppies' tail, you are cutting through muscles, tendons, around seven pairs of highly sensitive nerves, and rupturing bones and cartilage connections.
During the healing process, the puppies will have inflammation at the end of the docked tail until it is fully healed. The level of pain is hard to determine because each puppy has a different level of pain tolerance and reaction to the pain. 
The American Veterinary Medical Association (AVMA) opposes the clipping of ears and tail docking if it is only for the use of keeping a certain cosmetic look for the dog. Tail docking is painful.
Keep in mind if the procedure goes wrong, the poodle or any type of dog can lead to long-term nervous system issues. You may be cutting some of the supracaudal scent glands, which help in olfactory signaling. 
Some poodles and other breeds will often have a side effect of chewing on their docked tail after the procedure is done. This is known as Neuropathic pain (also known as phantom pain or phantom limb pain) where there is an injury in the nerves either in the peripheral or central nervous system.
Thoughts on Making the Decision to Dock
If you plan to have your dog's tail docked make sure you research all your possible questions and keep in mind what was discussed above. Tail docking is not a requirement, but more of a cosmetic preference among dog owners and breeders.
Must Have Products For Poodles And Doodles
Thank you for reading this article. I hope you found it helpful. Here are some products that I personally believe every owner should employ to help ensure the best quality of life for their dogs. These are affiliate links, so if you do decide to use any of them, I'll earn a commission.
But in all honesty, these are the exact products that I use and recommend to everyone, even my own family.
Lemonade Pet Insurance: Lemonade Pet Insurance has enabled me to afford a very high level of veterinary care for my dog, Angus. Even after he was diagnosed with cancer a few years back. Lemonade is a great company, and I can't recommend them enough!
Brain Training For Dogs: Brain Training for dogs is an amazing online training program I found that actually helped me to understand and ultimately stop my dog's separation anxiety and destructive behaviors when I left the house. This program actually works, and at a small fraction of the cost of hiring a dog trainer!
Pet Plate: I first learned of Pet Plate when the company was featured on the TV show "Shark Tank" back in 2016. Pet Plate is the dog food subscription service I use to provide extremely healthy, pre-portioned meals for my dog. Pet Plate gives my dog Angus the highest quality nutrition at a very affordable price.
BarkBox: Without a doubt, my dog enjoys Barkbox more than anything else I buy him. BarkBox delivers a customized box of themed toys, treats, and other products to your door each month. In addition, I like that a percentage of proceeds is donated to local animal shelters.
Pawp.com: Pawp is not insurance. It's a membership program that gives you access to unlimited video calls or texts with a licensed vet 24/7 and includes up to six pets on a single membership! I Purchase this service for my dog Angus and have saved hundreds of dollars over visiting his local vet with questions or more minor health concerns. Pawp will even pay up to $3,000 if your pets experience an emergency situation! Check out Pawp's website to see why Pawp can help you save money and increase your pet's quality of care.