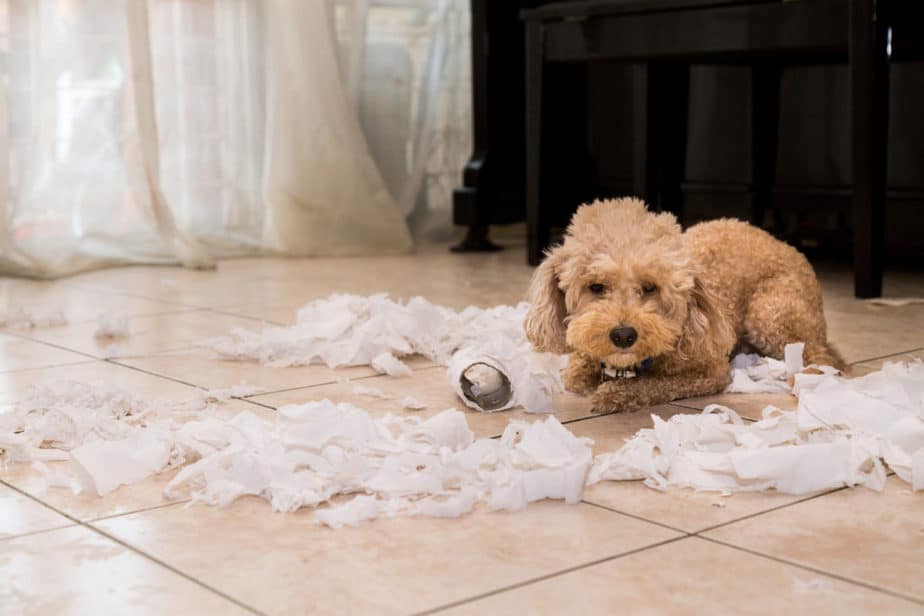 Dogs are great companions, but sometimes, they do things that leave us scratching our heads. One of those odd behaviors is eating things they aren't supposed to eat. Paper products left within reach of your Poodle can become a real headache, not to mention a health threat to your pet.
So why do poodles eat paper? There are a few reasons why your poodle might be eating or shredding paper products. They include:
Boredom
Anxiousness
The enjoyment of eating paper
behavioral issues.
Pica
In this article, we are going to dive into the different reasons why your poodle might be eating paper products and give you solutions to help break that habit along the way. If your dog is eating paper and napkins, keep reading!
Why Do Poodles Eat Paper?
Have you ever watched your poodle eat something that isn't food and wonder why they are eating it? Their food bowl has plenty of food in it, yet they are eating paper like they are starving!
Sometimes, they just can't help it! By identifying why your dog is eating or chewing on things they shouldn't be, it will be easier to correct the behavior. It is crucial to address the issue before you find your dog chewing on things around your home that could end up costing you lots of money to replace. No one wants to replace a kitchen table because their dog decided the table legs would make a great chew toy.
According to PetMD, there are four main reasons why your dog may be eating or chewing on paper products. They are:
Your Poodle is Bored or Anxious – Dogs grow attached to their humans, and when they aren't around, they can get sad and turn to destruction. 
He might just enjoy eating paper – If you leave a napkin on the ground and your dog pounces on it and starts to tear it up while they wag their tail, odds are they are just having a good time.
Your Poodle may be Experiencing Behavioral Issues – Your dog could be eating paper just because they want to rip things up.
He May Have a Condition Called Pica – Pica is a condition where a dog will eat non-food items such as paper or napkins.
How to Stop Your Poodle from Eating Paper Products
It's safe to say you don't want your dog to eat anything that they aren't supposed to eat, and paper is no exception. Below are solutions for each of the main reasons why your dog might be eating paper.
Your Poodle is Bored
One way to keep your pet from tearing up your house while you are away is to secure them in a room with fewer distractions or in a crate. Additionally, you can include toys that will challenge them mentally and keep them from boredom.
Here are three things to remember when you are placing your dog in a secure room while you are away:
1. Do not cut off their water source.
2. Provide them with a spot to curl up in comfortably.
3. Include a couple of their favorite toys to keep them company while you are away.
If you are going this route, make sure that you give your dog plenty of exercise or give him free rein of the house when you are home. You don't want to keep your dog cooped up for long periods without some way for them to release their energy. Dogs love to get out and run!
For dog toys that can engage your poodle, Amazon has some great inexpensive options:
A great behavioral training course can really help when training your dog to stop eating paper. I found a fantastic training system called Brain Training for Dogs. I really liked the private member's area where I was able to connect with other dog owners to get solutions to issues I had with his training. If you need any behavioral training at all for your dog, I would highly recommend this course! Check it out here
Your Poodle is Anxious
Your poodle may also be eating paper and napkins because they feel anxious. You can help alleviate this anxious feeling by occupying your dog with external stimulation and lots of love.
Four great ways to help curb your dog's anxiety is to:
Spend time with your dog before you leave – Giving your dog ample attention before you leave for the day can help satisfy their bonding needs.
Leave your radio or television on – Dogs do well with some kind of background noise to distract them from the outside. Read this article I wrote to find out more about exactly what your poodle sees when watching television here.
Put your scent on a blanket – Rolling a blanket all over yourself for your dog to sniff while you are away can help alleviate some of their anxious stress.
Activity level – Another excellent option for keeping your dog from chewing on paper and other non-food items is to increase their activity level. Take the dog for more walks or throw the ball outside for them. If the dog is tired before you leave for work, they are less likely to get into mischief while you are gone. They will typically relax and sleep. 
Your Poodle Enjoys Eating Paper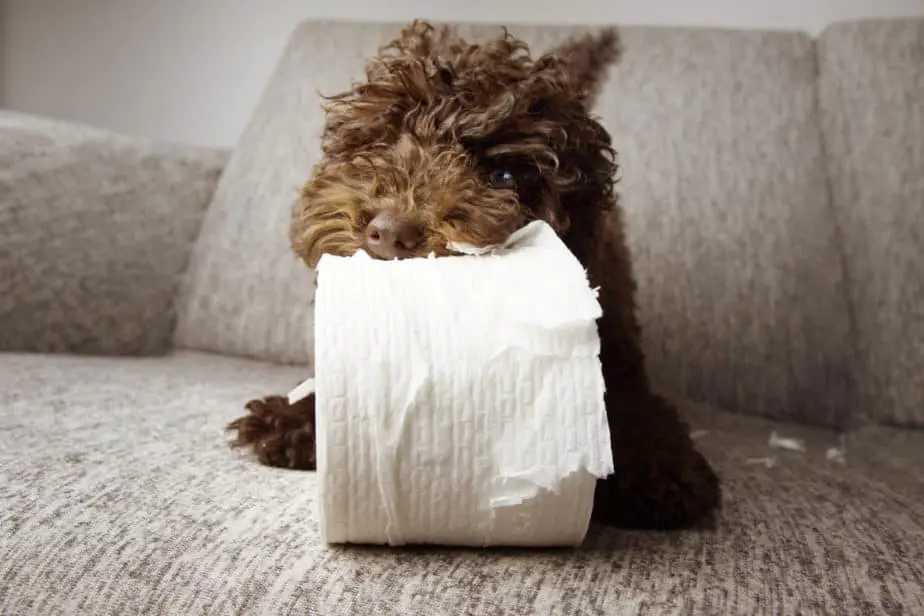 Another reason why dogs tend to rip up paper products is they simply enjoy it. The best thing you can do in this situation is to make sure you are providing your dog with appropriate things to chew on (such as toys) and keep all of the paper products out of reach at all times.
If you are looking for some tips on how to prevent your dog from chewing or eating things they shouldn't, Animal Wellness Magazine has some great solutions you can try.
Tips to Help keep your Poodle from eating paper:
Clean house – This one should be obvious, but it's worth mentioning anyway. The cleaner you keep your home, the less your dog can get into. Merely picking up anything that could tempt your dog can help keep your dog out of the doghouse. If you notice a napkin or something else lying around, pick it up and place it in a trash can. 
Trash cans – Using the right trash can help keep your dog from getting into the trash and dragging paper or napkins all over the house to chew on. It's smart to have a trash can that has a lid. It will keep your poodle out of your trash, which in return, keeps you from cleaning up twice. The Simplehuman 50 liter stainless steel trash can has a lever on the bottom that you push with your foot to open the lid. Check it out on Amazon here.
Tips to Help Keep Your Poodle Puppy From Eating Paper
Puppies are going to chew on anything they can get, especially paper until you teach them what they can and can't chew on. According to PetMD, to help train your puppy (or adult poodle) not to chew on paper, you can follow these tips:
Have a chew toy on hand – Having some sort of chew toy for the dog could help keep them from enjoying your furniture as a chew toy and move their focus on to the toy instead. 
Interject and distract – When you catch your dog eating paper, be sure to catch its attention and then redirect it to a chew toy.
Do not give an old shoe as a toy – This will train the dog that shoes are chew toys.
Here are a few great toy options found on Amazon to help curb that pesky chewer in your home:
Benebone Real Flavor Wishbone Dog Chew Toy – If you are looking for a bone-like chew toy for your dog, the Benebone Real Flavor Wishbone Dog Chew Toy could be the perfect fit.
Some of its features include:
This chew toy is made in the U.S.A.
They are made from 100% real ingredients including real bacon flavor that your dog will love
The bones are hard but not edible to ensure your dog is safe chewing on them.
They are durable for even the most aggressive chewer.
They are designed with your dog in mind as far as the shape making them easy to hold.
This bone style comes in five different sizes for every dog regardless of the size.
Eastblue Dog Chew Toy for Aggressive Chewers – This toy is designed with the chewer in mind! Even though it is for aggressive chewers, you are still going to want to make sure you are monitoring your dog while using it to see how they do with it. The Eastblue Dog Chew Toy for Aggressive Chewers is an excellent option.
Some characteristics of this dog toy are:
It helps develop healthy chewing habits.
It helps with teeth cleaning.
This toy can lessen boredom and anxiety.
It is durable and non-toxic.
It is designed for large breed dogs.
It is perfect for puppies that love to chew.
It is great for aggressive chewers.
Pet Parents Gnawtlers – These premium elk antlers are 100% naturally shed in the rocky mountain and heartland areas. The Pet Parent Gnawtlers is the perfect option for a dog that loves to chew without the worry of them ingesting something harmful.
Some features of this toy include:
This antler is perfect for medium-sized dogs that are 20-40 pounds.
They range anywhere between 4.5-5 inches in length.
The bone marrow contains calcium, phosphorus, manganese, and zinc.
They are great for indoor and outdoor use.
They are found on the forest floor from natural shedding.
They contain no odor and leave zero mess.
The antlers come vacuum sealed for your dog's safety.
Your Poodle May Have Behavioral Issues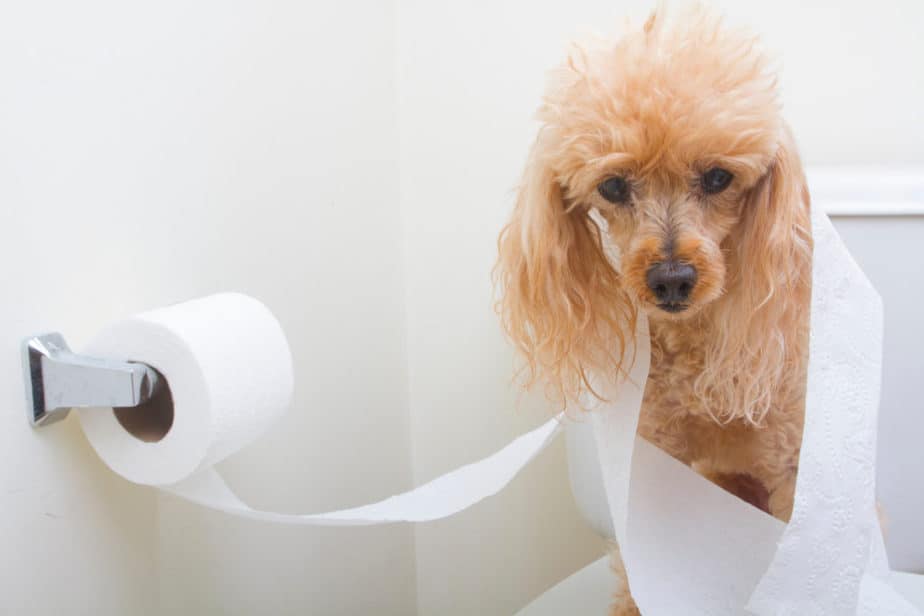 Let's face it; not all dogs are good dogs all of the time, especially when they are puppies and learning what they can and can't do. Even if they are full-grown adults, they may have held onto their obsessive chewing behaviors established when they were small puppies. Luckily, this behavior can be unlearned and redirected to a more healthy direction for everyone involved.
According to Animal Wellness Magazine, here are seven main ways to redirect and retrain your poodle from eating paper and napkins:
1. Obedience training – You can try to get your dog into obedience training to fix this issue.
2. Keep paper products out of reach – You will just have to make sure to keep paper products out of your Poodle's reach.
3. Shut the bathroom door – Keep the bathroom door shut at all times to avoid unnecessary messes.
4. Confine them to one area – If your furry friend is sneaky while you are away for any amount of time, you might want to think about confining them to one area. This could be a room with fewer objects for them to eat or even a hallway.
A baby gate will work well in this situation. Limiting their roaming area while you are gone is going to be one of the easiest fixes to keep your fur baby on your good side. Check out the perfect baby gate for this purpose found on Amazon here.
5. Use crates – If you don't have an area in your home that you could use to keep your dog while you are gone, you may have to invest in a crate for them to stay in. Some people crate train their dogs from a very young age, and it works out well for them while they can't be home to keep an eye on their dog.
Crate training your poodle properly can help prevent many behavioral problems. Read this article to learn how proper crate training can help prevent behavioral issues that contribute to your poodle eating paper.
Crates come in a variety of sizes to ensure the perfect fit for any sized dog. Just make sure to include a comfortable place for your dog to lay inside the crate. You also want to include a bowl of water and their favorite toy to keep them occupied. The MidWest Homes for pets carry a folding crate that is easy for storage and works for dogs 26-40 pounds. Take a look and get more information on Amazon here.
Note: If you want to keep your dog in a crate while you are away, you really need to start training when they are a puppy! Otherwise, your poodle may develop extreme anxiety inside his crate.
6. Keep the doors shut – If your dog has a weakness for toilet paper, then that is an easy fix. If you keep your bathroom door shut at all times, your dog won't be able to enter the room where the temptation awaits. 
7. Medications – This route would only be for those dogs that have a tough time with separation anxiety. If you are thinking your dog needs medication to keep them from eating things they shouldn't be eating, make sure you contact your vet before you purchase anything.
Your vet will have recommendations for the medication that would work for your dog and will make sure you aren't giving your dog too high of a dose, which could lead to other issues down the line. 
Your Poodle May be Suffering From Pica
The difference between pica and the other issues mentioned above is that, with Pica, your poodle will actually ingest the paper. Depending on what the dog has swallowed, it could be a severe issue, and you would need to call your vet to determine what you should do to stop this behavior and fast.
Signs that your poodle may have pica include:
Eating things other than paper products such as rocks, dirt, or even your underpants, 
Change in behavior such as lethargic energy or less excited about walks.  
Stops eating as much or altogether.
The Antony Animal Hospital in Hesperia, California has some great recommendations to help you if your pet is suffering from Pica and what you should do if you are in this situation.
If you notice your dog doing any of the following issues, call your vet:
Vomiting
Diarrhea
If they are having a hard time going to the bathroom
If the dog stops eating altogether
Choking
Lethargy
These are the major signs that you can look out for to see if your dog has ingested something they shouldn't have. If you notice your dog experiencing any of those signs, call your vet immediately!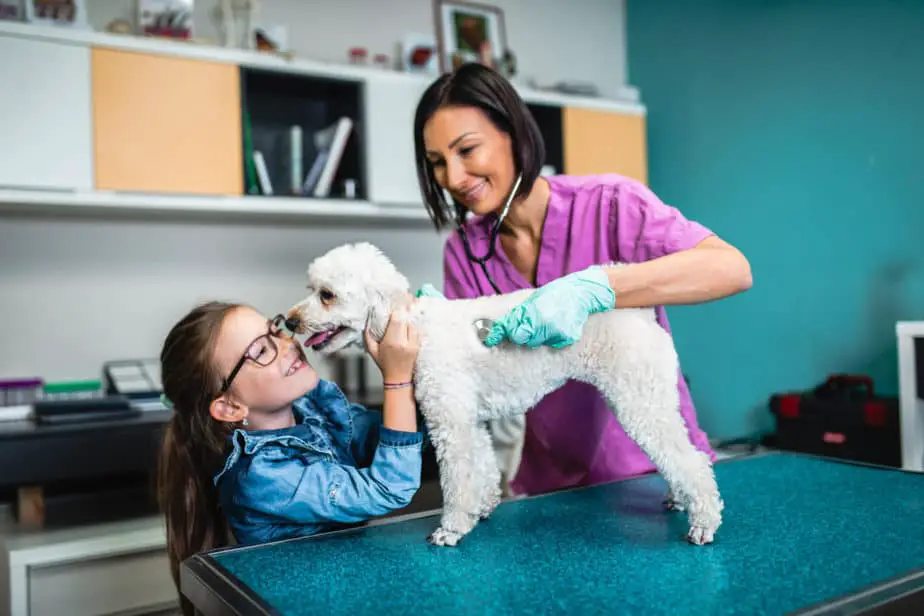 However, with pica, your Poodle can develop even more severe problems. These include:
Gastrointestinal irritation
Blockage in their intestines
Ulcerations
These are very serious issues and could require surgery if the issue isn't handled quickly. The last thing you want is an unexpected vet bill because your poodle ate something they shouldn't have eaten. We all know vet visits can get expensive, and surgery is no exception. The best thing to do is not wait; the longer you wait, the worse it could be for your Poodle. No one wants to see their pet in pain.
The vet will be able to tell if they have swallowed something they shouldn't have with an x-ray. If the object is fabric, it may not show up on the x-ray. In that case, the vet would examine the dog's teeth to see if they can find any evidence of what they have eaten.
In Conclusion
It is perfectly normal to see your dog chew on paper or napkins. The real worry should be when they appear to be ingesting the paper. If you notice that they aren't just shredding the paper but swallowing it, you need to reach out to your vet. The paper can cause blockages or other nasty issues for your pup.
If you notice your dog is chewing on paper for fun or because they are bored, try rerouting that behavior. You can purchase new toys that are suitable for chewing or remove them from the temptation by keeping the paper products up or closing off areas of your home, such as the bathroom. 
Dogs are naturally curious about their surroundings, so keeping things they shouldn't be getting their nose into out of their reach could save you the headache of cleaning up messes that they create.
Must Have Products For Poodles And Doodles
Thank you for reading this article. I hope you found it helpful. Here are some products that I personally believe every owner should employ to help ensure the best quality of life for their dogs. These are affiliate links, so if you do decide to use any of them, I'll earn a commission.
But in all honesty, these are the exact products that I use and recommend to everyone, even my own family.
Lemonade Pet Insurance: Lemonade Pet Insurance has enabled me to afford a very high level of veterinary care for my dog, Angus. Even after he was diagnosed with cancer a few years back. Lemonade is a great company, and I can't recommend them enough!
Brain Training For Dogs: Brain Training for dogs is an amazing online training program I found that actually helped me to understand and ultimately stop my dog's separation anxiety and destructive behaviors when I left the house. This program actually works, and at a small fraction of the cost of hiring a dog trainer!
Pet Plate: I first learned of Pet Plate when the company was featured on the TV show "Shark Tank" back in 2016. Pet Plate is the dog food subscription service I use to provide extremely healthy, pre-portioned meals for my dog. Pet Plate gives my dog Angus the highest quality nutrition at a very affordable price.
BarkBox: Without a doubt, my dog enjoys Barkbox more than anything else I buy him. BarkBox delivers a customized box of themed toys, treats, and other products to your door each month. In addition, I like that a percentage of proceeds is donated to local animal shelters.
Pawp.com: Pawp is not insurance. It's a membership program that gives you access to unlimited video calls or texts with a licensed vet 24/7 and includes up to six pets on a single membership! I Purchase this service for my dog Angus and have saved hundreds of dollars over visiting his local vet with questions or more minor health concerns. Pawp will even pay up to $3,000 if your pets experience an emergency situation! Check out Pawp's website to see why Pawp can help you save money and increase your pet's quality of care.