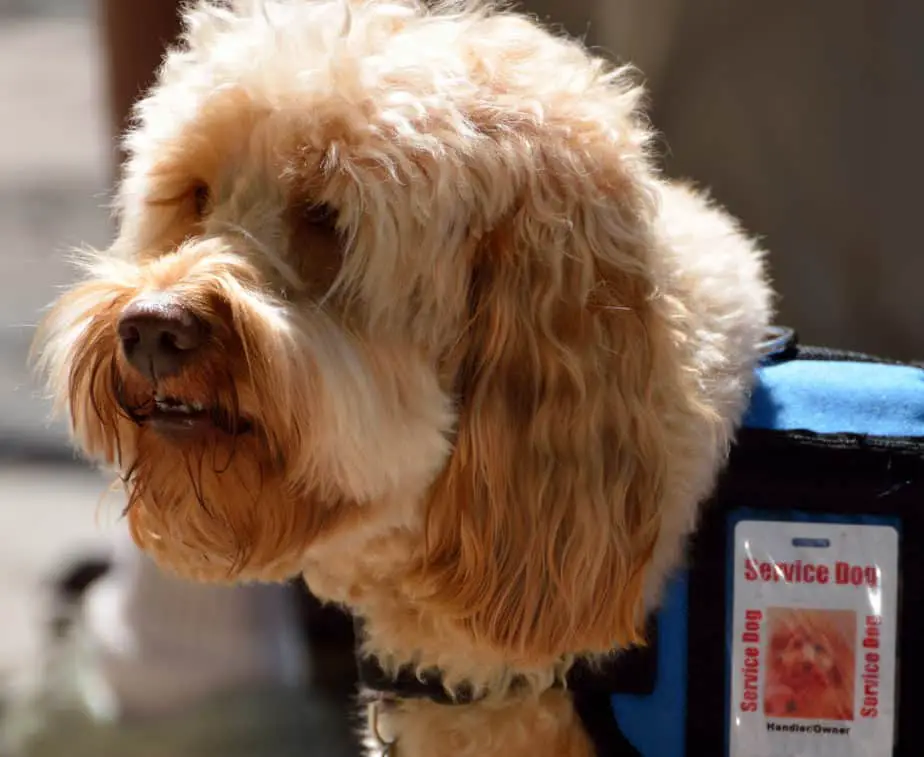 You have seen people taking their dogs places, such as on airplanes and into hotel lobbies, where dogs are not typically allowed because they are service animals, meaning that businesses are required to allow them to accompany their owner. However, these dogs are usually larger breeds wearing a discernible vest identifying them as a service animal.
Can a miniature poodle be a service dog? Yes, a miniature poodle can be a service dog. Any type of dog can be a service dog as long as the owner has a documented physical, mental, or emotional condition that can be treated with the help of the service animal, and the animal completes the appropriate service dog training course.
Of course, just because a miniature poodle can be a service dog does not necessarily mean that he or she should be a service dog. Deciding if your miniature poodle is the right choice to become a service animal depends largely on what kind of condition you need service for and if the strengths of your miniature poodle are well aligned in helping with this condition.
Service Dog Requirements
Any dog is capable of becoming a service animal. However, it is not as easy as saying that you need a service dog and slapping a tag on him or her. The following are some requirements that need to be met before your miniature poodle can start the steps to becoming registered as a service dog:
The owner must be at least 12 years of age unless you are applying for a child with autism. If you are applying for a child with autism, the child must be between six and 12 years of age
Have no other dog in the home
Have a diagnosed physical disability or anxiety disorder. Those with chronic illnesses or neurological disorders affecting the limbs are also likely to be approved. Children with autism must be in a continuing education program that involves speech, physical, occupational, or recreational therapy
The owner must reside in a stable home. This is true for children with autism as well, and they must live with a parent or guardian over 18 years of age who resides in the same home as a trained facilitator
The owner must be physically and cognitively capable of participating in up to one hour a day of service dog training
The owner must be able to independently handle and command a service dog, as well as meet the physical, emotional, and financial needs of owning such a pet
If you are able to check all of these boxes, then there is a series of paperwork that you will need to file with the Dog Knowledge Service Dog Foundation, including a signed letter from your physician that indicates the condition you have been treated for in the past six months, in order to begin the process of getting your miniature poodle registered.
How to Register Your Miniature Poodle as a Service Dog
Before starting the process of getting your miniature poodle registered as a service dog, you must be able to answer the question: What do I need a service dog for?
If you have a major physical disability that will require protection and/or frequent assistance with tasks, a small dog may not be the best idea.
In addition, the vast majority of seeing-eye dogs are larger breeds, as larger dogs are more likely to alert bystanders that a vision-impaired person may need some extra room or accommodations when out in public.
However, if you need assistance with a trauma-related issue and are seeking an emotional support dog, then your miniature poodle may be a great option, as they are very loving, intelligent, and easy to train.
Check the Medical Status of Your Miniature Poodle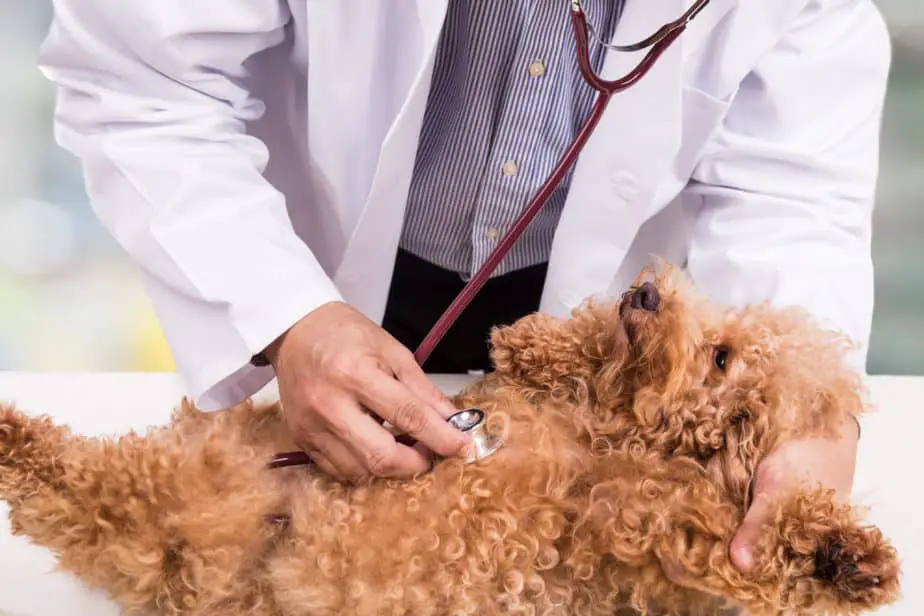 While it is against the law for dogs to be denied the status of service dog based on their breed or weight, you must honestly ask yourself if your miniature poodle is up to the task of becoming a service dog.
Some of the considerations you must ponder early in the registration process include:
Is my miniature poodle capable of doing the work I need service for?
Is he or she healthy? Will the duties and stresses of being a service dog put his or her health in danger?
Does he or she have enough life remaining to make service realistic? For example, if your doctor prescribes ongoing psychiatric therapy for a condition such as PTSD and your poodle is at an advanced age, will it do more harm than good to try and make him or her a service dog?
Know your miniature poodle's personality. Simply put, while most breeds carry general personality characteristics, this can change from individual to individual, and your poodle may not have a compatible personality for the work required.
Train Your Miniature Poodle to be a Service Dog
Although some people can obtain the applicable service dog training materials and train their miniature poodles themselves, the majority prefer to have their dogs professionally trained.
There is no American Dog Association certificate needed as proof of training, so the choice is really yours as to whether or not you want to spend some money for the convenience of a professional trainer or take a little extra time out of your day and do it yourself.
Educate Your Service Dog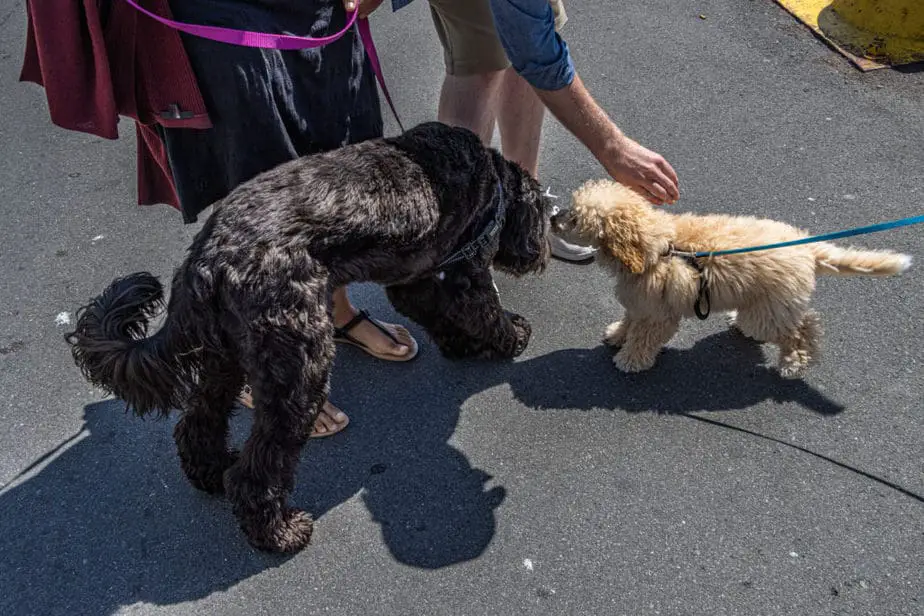 Most training programs take place over six months and require at least 120 hours.
However, even when your poodle is not in training, additional time needs to be spent on socializing your service animal. It is recommended that at least 30 hours need to be spent teaching your service poodle in public.
Moreover, each dog needs to know how to respond if his or her owner has an episode, so additional time needs to be spent in the area specific to the owner's condition. Some of the skills your poodle may need to have include, but are not limited to:
The feel of a medical warning
Triggering action during a manic state
Grounding in public places
Complete the NSAR Public Access Test for Service Dogs
In order for your miniature poodle to be fully legitimate as a service dog, he or she must be able to pass the public access examination. Some items that your poodle must be able to do in public include:
No assertive characteristic that could potentially make members of the public feel uncomfortable or threatened
No sniffing of people or places unless instructed to do so
Must not petition for food or attention in public
The Assistance Dog International offers a full list of topics for the public access examination on its website.
Certify and Qualify Your Miniature Poodle for Service
Although there is no actual certificate required to prove that your miniature poodle is a service dog, many public places will ask for it.
To help thwart this and avoid any headaches in taking your dog with you, it is best to be proactive in making it known that your poodle is a service dog. Some best practices include:
Carry with you, or have available on your mobile device, any documentation or proof of your dog's completion of a therapy dog training program
Keep any doctor's notes or therapy prescriptions handy as well
Mark your miniature poodle as a service dog, such as through the wearing a special collar, bib, sweater, or vest
Have an open line of communication with people when making reservations so that they know you will be accompanied by a service dog
While you are not required by law to perform any of these steps to prove the legitimacy of your service dog, following them can save you some headaches when dealing with people who do not know your rights.
Must Have Products For Poodles And Doodles
Thank you for reading this article. I hope you found it helpful. Here are some products that I personally believe every owner should employ to help ensure the best quality of life for their dogs. These are affiliate links, so if you do decide to use any of them, I'll earn a commission.
But in all honesty, these are the exact products that I use and recommend to everyone, even my own family.
Lemonade Pet Insurance: Lemonade Pet Insurance has enabled me to afford a very high level of veterinary care for my dog, Angus. Even after he was diagnosed with cancer a few years back. Lemonade is a great company, and I can't recommend them enough!
Brain Training For Dogs: Brain Training for dogs is an amazing online training program I found that actually helped me to understand and ultimately stop my dog's separation anxiety and destructive behaviors when I left the house. This program actually works, and at a small fraction of the cost of hiring a dog trainer!
Pet Plate: I first learned of Pet Plate when the company was featured on the TV show "Shark Tank" back in 2016. Pet Plate is the dog food subscription service I use to provide extremely healthy, pre-portioned meals for my dog. Pet Plate gives my dog Angus the highest quality nutrition at a very affordable price.
BarkBox: Without a doubt, my dog enjoys Barkbox more than anything else I buy him. BarkBox delivers a customized box of themed toys, treats, and other products to your door each month. In addition, I like that a percentage of proceeds is donated to local animal shelters.
Pawp.com: Pawp is not insurance. It's a membership program that gives you access to unlimited video calls or texts with a licensed vet 24/7 and includes up to six pets on a single membership! I Purchase this service for my dog Angus and have saved hundreds of dollars over visiting his local vet with questions or more minor health concerns. Pawp will even pay up to $3,000 if your pets experience an emergency situation! Check out Pawp's website to see why Pawp can help you save money and increase your pet's quality of care.