Running is one of the best ways we can keep our bodies healthy. Running with your best friend is great for the mind AND body! As well as your friend's mind and body. Are you wondering what kind of pup might be best as your running partner? Or if your existing best friend is a match for your favorite form of exercise?
Standard poodles make great running dogs due to their great stamina and endurance. Most poodles can run up to five miles when physically fit and properly conditioned. When undertaking any new running routine with your dog, it's important to start with a brisk walk and work up to a comfortable pace for you and your dog.
Poodles are intelligent, active, and loyal dogs that are easily trained to run on a leash. as a result, there are many qualities of standard poodles that make them such good running partners. Keep reading to find out those qualities, as well as some helpful information that you will want to know when you and your pooch start running together.
What Makes Standard Poodles Good Running Partners?
It's hard to erase the images of curly-haired poodles often being dyed silly colors, let alone picture them as running dogs. Standard Poodles have been the long-time poster dog/child for fancy pups.
Their pristine appearance seemingly puts them in the high maintenance category. Many of the poodles' characteristics contribute to them being great running partners…
Intelligent
Poodles are very smart and naturally quick learners. This makes it much easier to train them to run on a leash without pulling or chasing after every squirrel they see.
Active
These dogs are natural-born runners. They love to exercise and be free. Trail runs and dog parks are excellent places to jog with your poodle.
Instinctual
Standard Poodles are very aware of their surroundings and pick up on environmental cues, poodles are able to focus on potentially dangerous situations.
Loyal
The age-old idea of dogs being "man's best friend" definitely applies to this breed. Poodles are devoted to their owners.
Protective
When you pair a Standard Poodles' instinct with loyalty, they can be the perfect amount of protective. It's just important to make sure their protectiveness stays at a safe level, so they don't become overprotective in a dangerous way.
Size
Standard poodles, as opposed to their toy poodle counterparts, are sized for action. They're taller than 15 inches at the shoulder and can weigh up to 70 pounds. That's a dog that's ready to run! Because of their size, poodles should be regularly exercised.
And even though poodles are incredibly smart, they still can't speak. So, they won't try to talk to you while you're running. That makes them even better than human jogging partners.
Why Standard Poodles Might Not be Ideal Running Partners
Poodles do have subtle protective instincts, but they're not known to act out on their own, without provocation. But any dog can be trained to attack. If a poodles' protective instincts aren't controlled, they will bite. Because of their size and protective nature, poodles can make good watchdogs.
Poodles actually used to be hunting dogs, if you can believe that. In many countries, poodles are even still used as work dogs on farms and ranches for herding. It's not natural for poodles to walk on a leash because their instincts are for corralling farm animals. However, this doesn't mean they can't be leash trained.
Leash Training Your Standard Poodle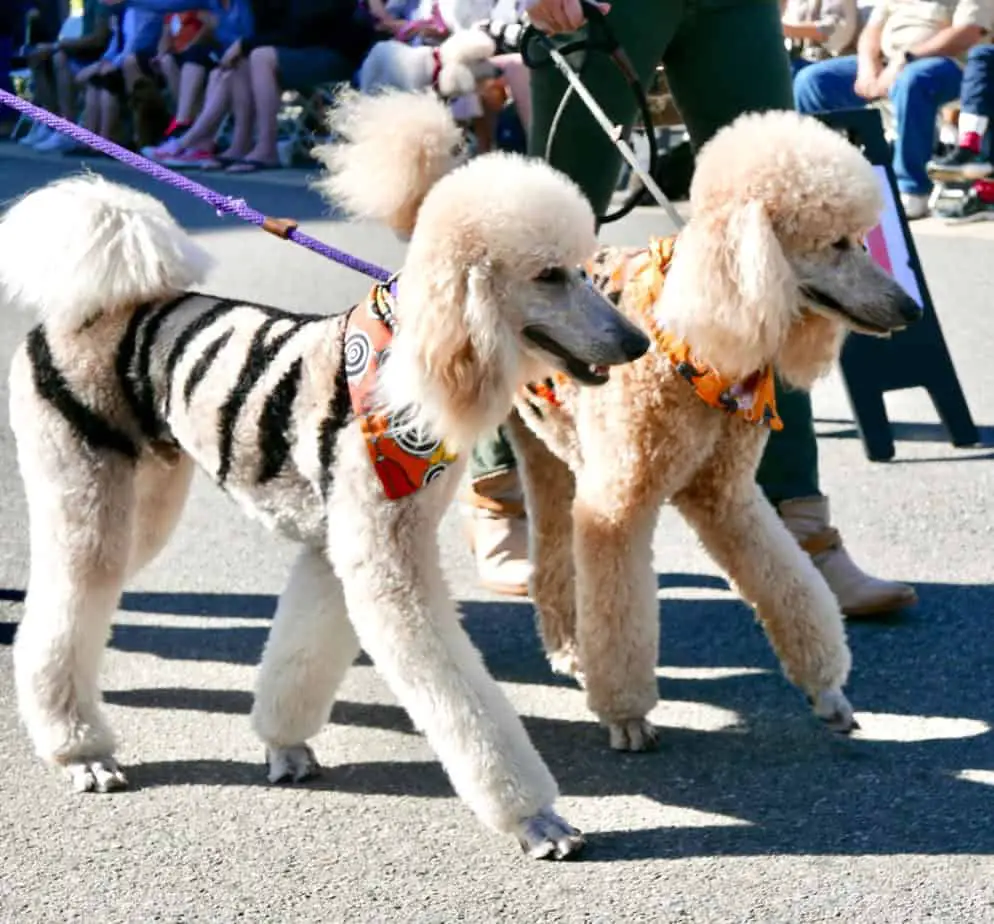 If you've ever taken a big, beefy dog on a run, you know the feeling of almost having your arm pulled out of the socket from it pulling on the leash. Here are a few helpful hints on how to get your poodle to walk on a leash, without dragging you along…
Start small… when your dog is a puppy, that is.
Bribery…er, rewards, are a great incentive for puppies to learn self-control.
Teach your poodle to stay put when he or she spots a squirrel so you don't end up face down on the sidewalk.
Use those same bribes/rewards while your puppy is walking with a loose leash.
If your dog is pulling you, stop walking. It may take a while for him to get the hint, but practice makes perfect and the pulling will eventually stop.
With any kind of training, consistency is key. If you take your brand new puppy on a walk and check off all of these things, he will not magically walk next to you the next time you go for a walk. It will take lots of time and energy. And treats!
A great behavioral training course can really help when leash training your dog. I found a fantastic training system called Brain Training for Dogs. I really liked the private member's area where I was able to connect with other dog owners to get solutions to issues I had with his training. If you need any behavioral training at all for your dog, I would highly recommend this course! Check it out here
Equipment for Running with Your Poodle
Because of their temperament, poodles are ideal for long jogs. They appreciate a steady pace. Also, their history of being bred as work dogs means they need to exercise their minds and bodies. They need to feel important and have a job. Taking them on your morning run before work is the perfect way to engage their brain and wear them out before you leave for work.
But, to make your dog comfy on their journey, there are a few things you may want to have on hand for your next jog. Here is a list of items I recommend before taking your poodle running. Click on the product name to see more information and current prices on Amazon.
Getting Ready to Run With Your Poodle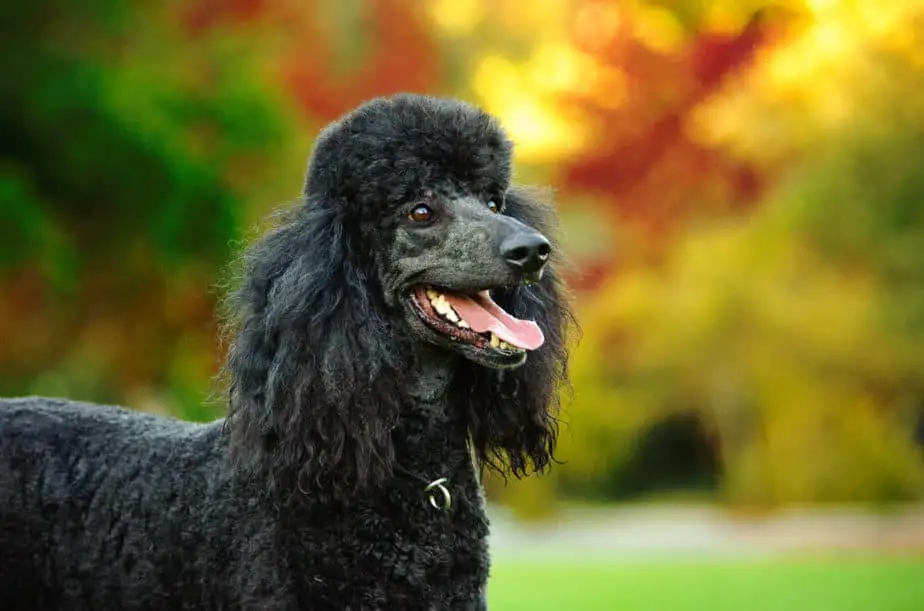 You've got the doggie, you've got the gear, and you feel like your new running partner is leash trained enough to give it a try. Keep a few of these things in mind before going on a 10 mile run together…
Start small and slow, just because you love to run doesn't mean your dog does. Do a few test routes first.
Test routes are also a great way to find any possible obstacles that might make your run a little less fun. Your neighbor's old cat, for example, always has the potential to spoil the fun… why not go the opposite direction and avoid that mess altogether?
Remember to do a little warm-up first. It's important for your body and your pup's! Start with a brisk walk and work your way up a comfortable pace for you and your dog.
Always make sure your dog is up to date on all of his or her shots as well as flea and tick protection. This is especially important if you frequent any off-leash areas or dog parks.
Bring water! You both will need to stay hydrated.
While there's so much evidence making a case for standard poodles as running partners, it's still hard to shake the image of a tiny little toy poodle on a leash.
So try to erase that thought of a perfectly groomed poodle with bows, running along with you on a muddy trail. The standard poodle is so different from the toy breed; they probably shouldn't even have the same name.
So whether or not you're looking for a new running partner or just curious if you should pick up running as a hobby because you have a poodle, the answer is yes. Get out the leash and go! Take that curly-haired pet of your on a jog. You'll feel better, and so will your furbaby.
Related Questions
Are Goldendoodles good running dogs? Goldendoodles are great running dogs. They're a very active breed and are great for people who have active outdoor lifestyles.
How many miles can a dog run? How far a dog can run depends on many factors including the breed and age of the dog. However, most dogs can run between 2 and 5 miles.
Must Have Products For Poodles And Doodles
Thank you for reading this article. I hope you found it helpful. Here are some products that I personally believe every owner should employ to help ensure the best quality of life for their dogs. These are affiliate links, so if you do decide to use any of them, I'll earn a commission.
But in all honesty, these are the exact products that I use and recommend to everyone, even my own family.
Lemonade Pet Insurance: Lemonade Pet Insurance has enabled me to afford a very high level of veterinary care for my dog, Angus. Even after he was diagnosed with cancer a few years back. Lemonade is a great company, and I can't recommend them enough!
Brain Training For Dogs: Brain Training for dogs is an amazing online training program I found that actually helped me to understand and ultimately stop my dog's separation anxiety and destructive behaviors when I left the house. This program actually works, and at a small fraction of the cost of hiring a dog trainer!
Pet Plate: I first learned of Pet Plate when the company was featured on the TV show "Shark Tank" back in 2016. Pet Plate is the dog food subscription service I use to provide extremely healthy, pre-portioned meals for my dog. Pet Plate gives my dog Angus the highest quality nutrition at a very affordable price.
BarkBox: Without a doubt, my dog enjoys Barkbox more than anything else I buy him. BarkBox delivers a customized box of themed toys, treats, and other products to your door each month. In addition, I like that a percentage of proceeds is donated to local animal shelters.
Pawp.com: Pawp is not insurance. It's a membership program that gives you access to unlimited video calls or texts with a licensed vet 24/7 and includes up to six pets on a single membership! I Purchase this service for my dog Angus and have saved hundreds of dollars over visiting his local vet with questions or more minor health concerns. Pawp will even pay up to $3,000 if your pets experience an emergency situation! Check out Pawp's website to see why Pawp can help you save money and increase your pet's quality of care.