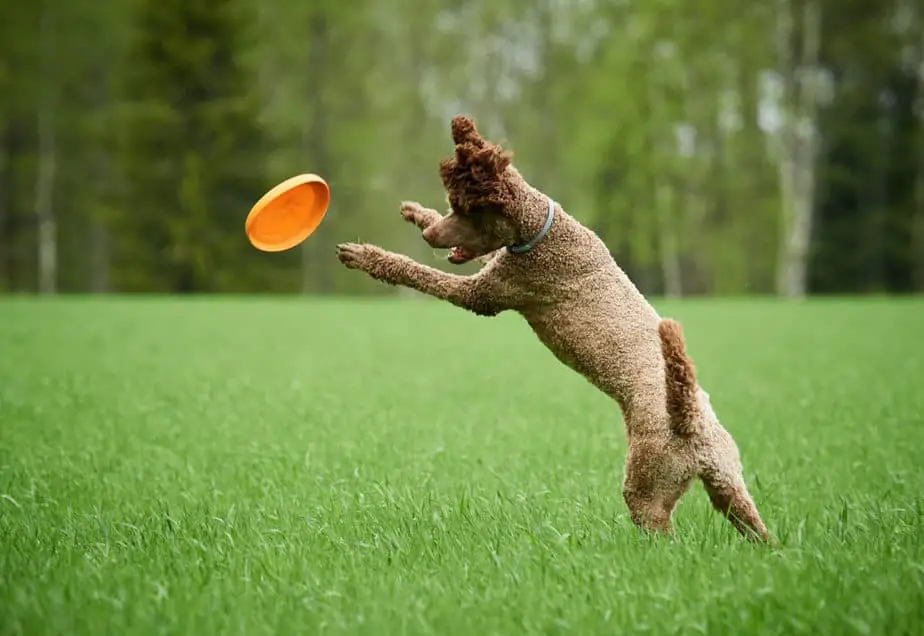 Poodles are smart, active, energetic dogs.  They are known to have superior intelligence and good tempers. Because they are active dogs, poodles need plenty of playtime.  Finding the best toy for your furry friend can help him learn, grow, and stay active. 
What are the Best Toys for Poodles? The best toys for a poodle will depend on what phase of life or needs your poodle might have. The best toys include:
Many toys have multiple uses, but below are the top two toys in each need category that works for different areas of play found on Amazon:
Some people have preconceived notions that poodles are wimpy city dogs, only good to be paraded around by wealthy people. This is far from the truth. Poodles are athletic, friendly, and smart dogs.  Poodles can be easily trained and are an eager breed. 
Poodles love to stay active and challenged. The right toy can be an effective and fun way to interact with your poodle. Depending on which size of poodle you get, there are many toys on the market that can fit your poodle's needs.
What Toys Do Poodles Like to Play With?
Toys are a great way to stimulate and encourage your poodle.  It is essential to find the best toy for their stage of life. Ideally, one that they will enjoy and will help keep them active.
Even though Poodles are associated with France, poodles were originally a duck hunter dog in Germany. Hunters wanted a dog that could swim and move well in the water.
That is why poodles have their famous haircuts.  They wanted them to keep their fur around their midsection for warmth but shave parts of the neck, legs, and tail to allow them to move better in the water.
Toys For Teething Poodle Puppies
Poodles usually teeth from about 4 to 8 months.  Poodles are known to be late bloomers, though, when it comes to teething. Teething could last longer than the eight-month mark. It is important to be patient with your teething poodle, and chew toys are a great help in this stage. 
Some qualities to look for in a teething toy for a poodle puppy include:
Several types of surfaces for the teeth to experience.  Knobs, grooves, ropes, and different materials can help get just the right stop when it comes to teething.
A temperature element can be soothing.  Freeze toys can be wet or cold can help your teething puppy find relief.
Make sure the Teething Toy is the correct size. You want the toy to be big enough that it will be safe to chew on but not too big where your puppy will struggle to use it.
The following two puppy teething toys are great options for your poodle puppy to have fun and find some comfort for their sore gums.
This pack of chew toys is great for a poodle puppy because it has a toy for different teething stages and comes with a healthy treat.  The toys are durable and have a great flavor your dog will love.
It comes with a soft textured bone for your young teething pup, and then as your dog's permanent teeth grow in, they can chew on the more durable power chew toy.  
When your poodle is teething, his gums can be sore and tender.  This chew toy's outer shell can be frozen, and this can provide your puppy with a cooling sensation on those sensitive gums as the teeth.  The different ribbons and elements can also entertain your poodle as they play. 
Toys For When Your Dog is Bored or Home Alone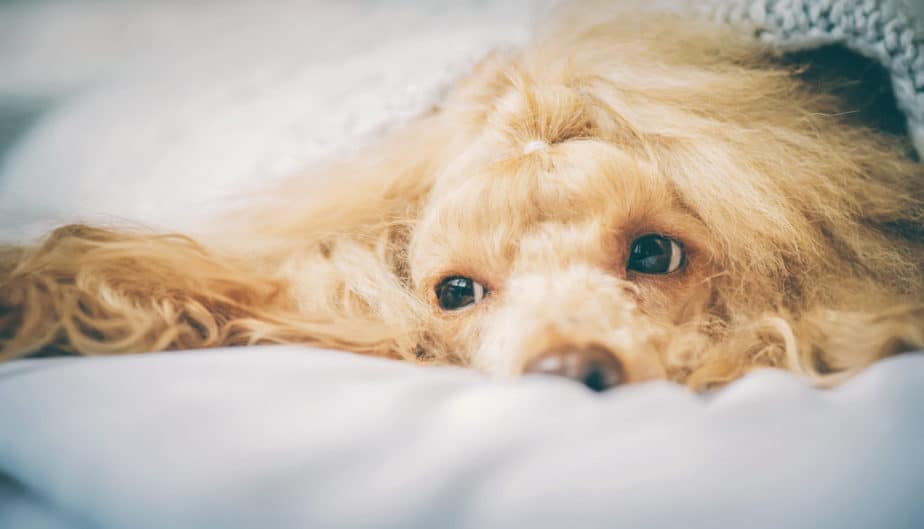 Poodle puppies need companionship and stimulation. However, it can be impossible to be engaging with your pet at all times.  Sometimes you have to leave for work or errands, and your poodle is left to entertain themselves. 
If poodles are left too often on their own without any motivation to be active, they can become bored. Boredom can lead to depression in dogs. Toys can be a great help to keep your poodle entertained when you are not home or able to play with them. Make sure these toys are simple enough that they can be figured out by the dog on its own. 
This interactive toy is great for your poodle while you are away because it is motion-sensitive.  It will even turn on just by your dog's breath. The Babble Ball can provide hours of play for your dog to keep them entertained. It will also turn itself off when your dog has left it alone.
It is made of durable material can withstand your dog's rough play. It comes with over 20 sounds so that your poodle will not get bored. The more they interact with the toy, the more it will talk back to them. 
Poodles are people-oriented dogs. If you see that your poodle is destroying things while you are away, they might be suffering from separation anxiety. A more interactive approach with the dog owners while they are left alone might be helpful to stop some more destructive behaviors.
This pet camera has 2-way audio so you can talk with and comfort your poodle while you are not there.  It will alert you when your dog is barking. You can fill it with your poodle's favorite treats and play an interactive game of fetch with your friend even if you are gone.
Separation Anxiety in Poodles
Poodles can experience anxiety if they are left alone for just one hour or all day. There are some signs to look for in your poodle to determine if they have separation anxiety.  This can happen in any age of your poodle, sometimes puppies will outgrow this phase, but it can also be a problem among older poodles.  
Signs of separation anxiety include:
Barking continually
Destroying things around the house
Depression
Crying
Acting out or out of control when you are leaving the house
Extreme excitement when you return
Increased number of bathroom accidents
Along with making sure your poodles have plenty of toys to keep them active while you are gone, here are other ways to help them with their separation anxiety.  Leaving the television or radio on to something calming is a good idea.  
Poodles also like to watch the things that are going on around them, setting up an area for them by a large window or screen door can be helpful. Always make sure to leave a light on or allow or lots of natural light.  A dark house can make your poodle feel lonelier. 
Best Toys to Get You Poodle to Stop Chewing
When your poodle is done with teething, it doesn't necessarily mean they won't want to chew anymore. As mentioned earlier, many times, when dogs are bored, they often tend to chew more.  If you don't want your poodle chewing on your favorite pair of shoes or the leg of your chairs, it is best to get them some durable chew toys to play with. 
Some tips to encourage approved chewing include. 
Redirect their chewing to a new toy.  Poodles love new and exciting things, have two groups of toys, and only keep one group out at a time.  Once you notice your dog getting bored with those toys, swap them for the other group. Keep things exciting.
If your poodle is not interested in playing, try making a game.  Poodles love social interaction. Making it a contest to find their chew toy might get them more excited about their chew toys.
Make sure to give a firm "No" when they are chewing on something that is not approved.  Let them not what things are not acceptable to be chewed.
If your poodle continues to chew on non-chew toys like furniture, you can spray those things with a chew-deterrent spray.
Here are some great durable chew toys to help your poodle redirect their chewing:
This pack of three chew toys is an excellent option for an energetic chewing poodle.  With three different toys, you can give your poodle a variety and switch things up to combat boredom. The different textures, shapes, and flavors will help keep your poodle entertained and chewing on these for hours. 
This is another excellent chew toy for a small, medium, or large dog.  It has different textures, the rope, knobs, and tube center to keep your poodle engaged.  It is durable and safe to chew. It can also be used as a training or fetch toy.
Having plenty of durable chew toys can also help to combat other negative behavior your poodle might be displaying.  Poodles are known to be friendly, well-tempered dogs, but like any breed, they can begin to develop some more negative behaviors. It is important to recognize these behaviors and redirect them into positive behaviors. 
Most Common Behavioral Problems Among Poodles
Hyperactivity– It is normal for poodle puppies to be hyper, and they usually grow out of this in the first year or two.  If this behavior in your poodle continues, make sure you are providing them plenty of exercise.
Poodles can also sense their owner's moods.  If they feel like you are angry or frustrated, they might act out in a more hyper mood. Try to remain calm around your poodle to help them emulate your calm spirit. 
Too clingy- Make sure your poodle is allowed to explore all approved areas of your house, this way, they know where they can most comfortable. Introducing your poodle to new environments and situations will help them feel more comfortable in different circumstances.
Always make sure you are giving your poodle the attention they need. Quality time throughout the day with their owner will allow your poodle to feel safe and secure when they are left alone. 
Nipping- Poodles are not naturally aggressive, and all dogs nip a little in the puppy phase as they learn to play.  If this action continues into adulthood, it is vital to train and teach your poodle that this behavior is not okay. Poodles respond best to positive encouragement.
Marking territory If your poodle is marking their territory, they might be trying to assert their dominance in the household, leave a mating signal, be having a response to visitors, or it might even be a response to a new family member.
It is crucial in this situation to establish yourself as the head of the family with your poodle. Let them know that you are the leader.  You can do this by having them sit first before you give them their food or treats. Having them sit before you enter or leave a room is also helpful in letting them know you are in charge. 
Another way to help them stop marking is to get them spayed or neutered. It would help if you also cleaned your home with an enzyme cleaner.  Soap and water will not get rid of the smell entirely and your poodle will continue to mark when they smell it. 
Growling- growling is different from barking and is something an owner needs to be aware of right away. Finding the reason for the growling is important–is your poodle in pain, scared, marking their territory, or being aggressive?
It is important to identify the trigger so you can help change the situation.  If your poodle has begun to grow aggressively, proper training right away is vital to stop the behavior before your poodle thinks that it is acceptable to behave like that.  
Jumping- It is common for poodles to jump up when they are saying hello or excited to see someone.  If you have a bigger poodle, this could potentially cause a problem or even frighten your guests. 
Training your poodle to not jump with treats and the "sit" command is a good start.  It is also important to make sure you are helping your poodle release their extra energy in other ways, like walks throughout the day.
Disobedience- Poodles are a highly intelligent breed.  They are great problem solvers and good at learning commands.  Poodle owners must train their poodles with commands and rules. 
 If you find that your poodle is continually disobeying you, it is important to understand what might be triggering them.
Poodles are emotional dogs, they might be frightened or lonely, and that could be causing some of their disobedience.  Understanding why they might be disobeying will help you find the right steps to take to get them back on track.
Poodle Play Together Toys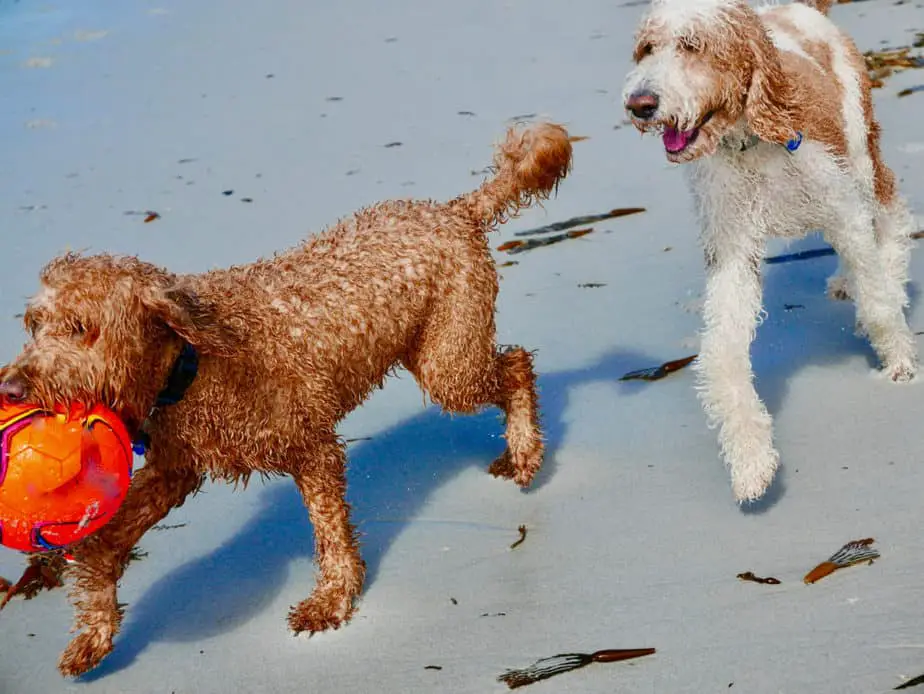 Dogs, especially poodles, love human interaction and contact.  Poodles are athletic and smart dogs and can be easily trained. Finding a good toy that will help you interact with your poodle is a great way to show them your love and affection.
It is best to find a durable toy that is easy for them to fit in their mouth when looking for a toy to play with your poodle.
If you have a toy, small, or puppy poodle, these balls are the perfect size to play fetch with.  They are durable and waterproof, so you can throw them in the water and let your poodle show off their swimming skills to retrieve it.  They are also bacon-scented, which all dogs love!
Another great toy for poodles is this assortment of rope toys.  Tug a war is always a favorite game among poodles. These toys are strong and durable, and your poodle will love playing a game of fetch or tug of war with one of these many shapes. 
Poodles and Exercise
I mentioned many times how much energy poodles have and the importance they stay active. There are many other reasons for proper exercise other than just behavioral benefits. Exercise can help lengthen your poodles life-span and combat many other health problems they might experience. 
 Making sure your poodle exercises for the correct amount of time, on a daily bases, and at the right level can have the following benefits. 
Digestion help- prevents constipation and helps with regular bowel movements
Increase of muscle tone which can prevent injuries
Increase of blood circulation which helps combat cardiovascular disease
Decrease the occurrence of UTI because it promotes healthy urination
Slows down the development of arthritis
Playing fetch is an excellent exercise to release quick amounts of energy, but regular walks with your poodle are the most beneficial type of activity for this bread of dog. Here is why:
Walking is low impact and easy on their joints and muscles.
It can be adjusted easily by increasing length or speed, depending on your dog's abilities.
It doesn't require a lot.  All you need is a leash and harness.  
Puppy Poodles-The The duration of your walks or the amount of time you exercise your poodle depends on its size and type.  For toy and miniature poodles, it is important not to over-exercise them as puppies. This can affect bone growth.  Keeping walks shorter and at a slower pace for these small puppies is important
Adults Poodles-As your poodle reaches adulthood, you can increase your walk time and pace. Most adult poodles need about 60 minutes of walk time a day, and it is best if this is done in two 30 minute sessions or three 20 minute ones. 
Senior Poodles-Even as your poodle reaches his or her senior years, it is vital to keep up their walking routine.  Don't think that just because they are older, that they can not take their much-needed walks. Fresh air is known to help their moods. Just make sure to decrease the duration and pace of your walks.
Walking Poodles in Different Weather Conditions
Whether it is hot or cold outside, weather can affect your desire or ability to walk your poodle.  Make sure you are prepared for the elements for both you and your poodle
Hot Weather
Protect your poodle's paws. You can find comfortable doggie shoes or paw wax that can protect your poodle's paws from the hot pavement
Avoid walking your poodle during the hottest parts of the day.  Try morning and cooler evening walks.
Always bring water and take a water break in the shade.
Protect their nose with sunscreen.
In the summer, swimming is another excellent exercise for your poodle.  They are great swimmers, and it is an excellent low-impact activity. Make sure you wash their coat off with shampoo afterward, and if you are in an area with deeper water, a doggie life vest is always a safe option.
Cold Weather
Again, protect those paws. Paw wax or no-slip paw show to keep those paws warm
Dress you and your poodle appropriately.  A vest or sweater can help keep your poodle warm during those colder winter walks.
Protect their noses from getting chapped with a nose butter.
If it is just too cold to go outside, make sure to play and give your poodle plenty of playtime in the house.  Playing fetch and letting them run a little more in the house will help them get out their energy. 
Best Treat Toys for Poodles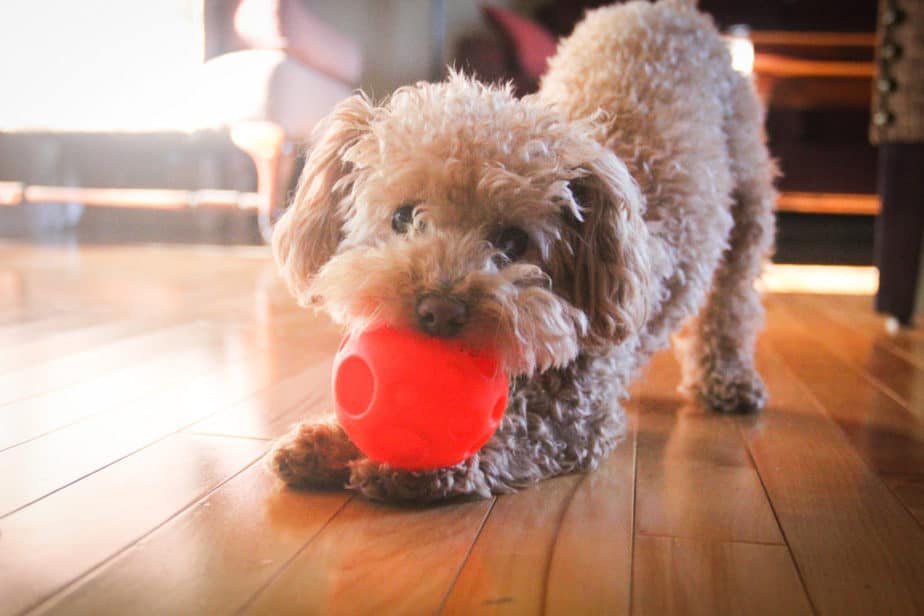 Poodles love treats, and treats can be a useful training tool.  They can also be a motivator to play and help keep your poodle active. Some qualities of a good treat toy include:
Capacity-It can hold a good amount of treats.  You do not want to have to refill it after only a few minutes of play.
Variety-It can hold many different sizes of treats.
Difficulty– It is not too easy for your poodle to get the treat out of it.  If your dog can get all the treats out in one minute, it doesn't encourage long term play or help with boredom.
Strong-You definitely want it to be durable.  
Size-make sure the size fits the size of your poodle.  Poodles come in many sizes, so making sure the toy is appropriate for their size is important.
These are some great options for treat toys for poodles:
One of the great things about this toy is that it comes in a variety of sizes small up to XX-large.  Depending on the size of your poodle, you can pick the size that will fit them best.It is durable and machine washable.
The unique shape of this toy will provide your poodle with extra entertainment because they will not know which way the toy will bounce.  This toy is great for stuffing all different kinds of treats inside, and it can even be frozen before play to add an extra level of excitement. 
Not only will this toy dispense a treat to your poodle, but it will also exercise their mind.  Poodles are highly intelligent, and it is important to also stimulate their minds and keep them thinking.  Puzzle games that dispense treats are a great way to accomplish this.
This puzzle game can help reduce boredom and destructive behaviors.  It will make treat giving stimulating and interactive. This game is a level 2 puzzle game, so it will not be too easy for your smart poodle.  It is hand washable and easy to clean. 
Keeping Your Poodle Happy and Healthy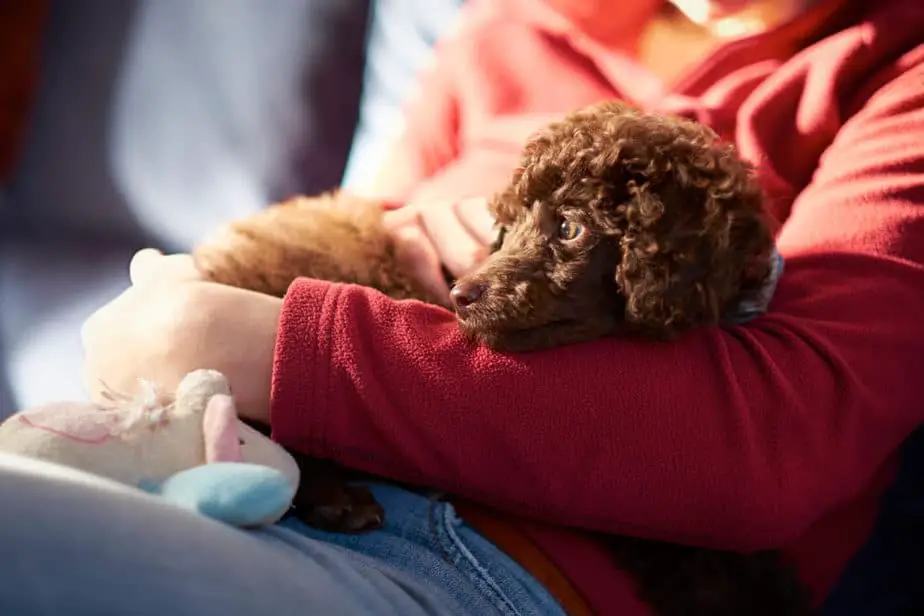 The bond between you and your poodle can be very special.  Poodles love affection and the attention of their owners. Through proper training, play, and exercise, you can establish a routine and lifestyle that will bring happiness and longevity to your poodle. 
Toys are a great way to interact with your poodle and provide them with fun. They can be used to help train and discipline your poodle. They can also help give your poodle comfort when you are not physically there.  The most important thing is to find something that your poodle loves and will help increase their quality of living.